PLU Alumna Named Western Washington's "New Journalist of the Year"
Posted by:
Todd
/ June 23, 2015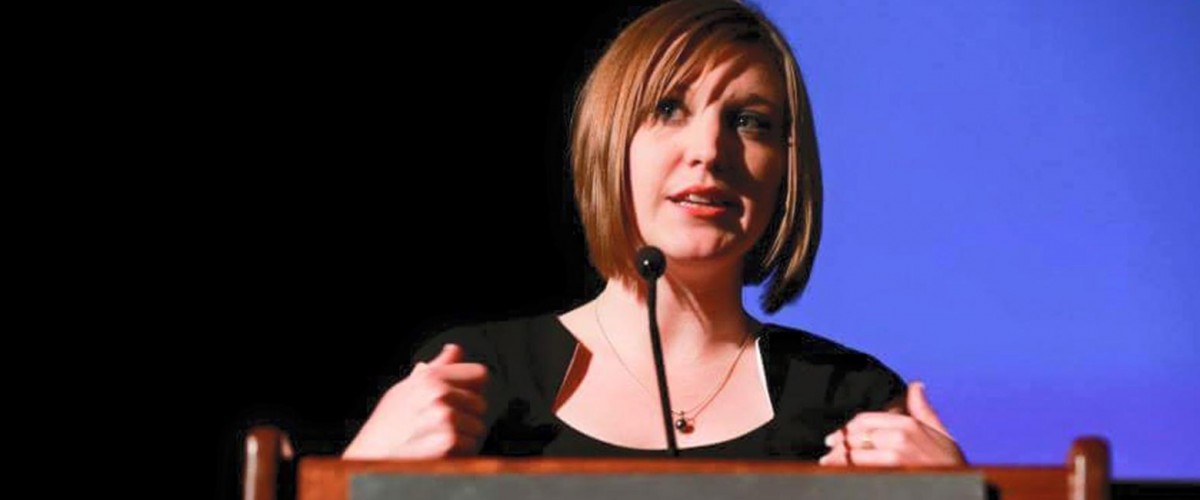 June 23, 2015
By By Zach Powers '10
PLU Marketing & Communications
Kari Plog '11 has spent her first two years as a reporter for The (Tacoma) News Tribune covering stories ranging from sexual harassment in a jail facility in Fife, to a deadly boat ramp in Tacoma, to Super Bowl XLVIII in New York City.
Earlier this month, Plog was named "New Journalist of the Year" by the Society of Professional Journalists of Western Washington. Plog, who as a PLU student majored in Journalism and served as Editor-in-Chief of The Mast, a producer for Media Lab, and student writer for University Communications, says she's loved nearly every moment of her career thus far.
When and why did you decide you wanted to be a journalist? 
After 9/11, I realized how little I knew about current events and the world around me — and that really bothered me. At that point, I realized that the best way to learn about the world is to explain it to other people. After I started working with student newspapers in junior high and high school, I developed a deep desire to tell other people's stories. I believe that storytelling is what separates humans from other species, and everyone has an interesting story to tell. I love being the one to tell those stories.
What did being awarded Western Washington's "New Journalist of the Year" mean to you?
In my young career, I've been so fortunate to have opportunities come up that I didn't expect would present themselves until much later. I grew up reading The News Tribune and worked really hard to eventually land a beat covering the area I grew up in. I was humbled and honored to get recognition so early in my career, and it makes me even more excited for the future.
What do you cover for The News Tribune and what opportunities and challenges accompany that particular beat?
I am the East Pierce County reporter for The News Tribune, covering communities and city governments. It is often challenging to write about smaller communities because their resources are scarce and it makes it more difficult to get necessary information to write stories about important topics. I also have to prioritize my topics because I cover about 10 towns and cities, and I can't be in 10 places at once. That often means making hard decisions about what and what not to cover.
What are 2 or 3 of your favorite stories that you have covered for The News Tribune?
It is hard to pinpoint one or two stories, because I write so much about so many different things! But I will say that being involved in the coverage team for the Super Bowl in New York City was a highlight of my career. I wrote more than two dozen stories and met celebrities, athletes and very committed fans who all had interesting stories to tell.
How was your experience covering the U.S Open? Did you have a specific focus area within The News Tribune's coverage of the event?
I drew from my experience covering the Super Bowl while covering the Open. The event had a similar workflow and amount of content to be written. I focused primarily on the fan experience, writing items of varying lengths about the sights and sounds around Chambers Bay. It was really exciting to be part of an internationally renowned event here in Pierce County's backyard. The energy level was high and I was honored to be a member of such a rock star coverage team that spent several years preparing for the championship.
Can you explain how your work at The Mast and elsewhere at PLU, along with your coursework, prepared you for your career?
The Mast helped me learn how to jump into stories head first, as well as showed me how to learn from my mistakes. I believe that you learn more from your mistakes than your successes, and it is important to be gracious in your quest for accuracy. I also think that the well-connected bunch of professors and advisers at PLU helped me network in this area. MediaLab, meanwhile, taught me what it means to be a professional in this and any industry.