Q&A: Student experiences art in the big city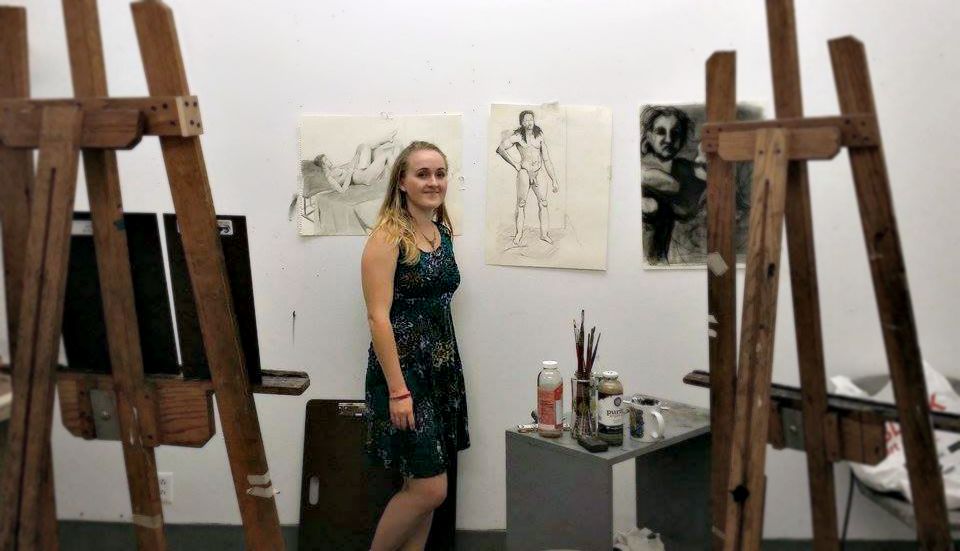 August 12, 2015
Elly Vadseth '16 – New York Academy of Art
On any given day chances are you can find Elly Vadseth in the painting studio in Ingram Hall. As a senior this year, she's looking towards grad school, and she has big dreams of studying art in the heart of a bustling metropolis. She's already tasted those dreams at the "New York Academy of Art."
What's your internship?
My internship was a residency at the "New York Academy of Art," a figurative graduate school in Manhattan that teaches traditional techniques in figurative drawing, painting and sculpture.  The residency started in the beginning of June and lasted a month. There were 11 residents, mostly juniors from all over the world. During the residency we had classes in figure drawing from live models and lessons in painting the figure. We also had several guided tours to the major museums and galleries in the city.
What has the experience been like?
I learned a lot while I was in New York, and I'm still processing all the impressions and information. First of all, just living in New York was very intense and inspiring, at any given moment there was so much going on. Walking through the city it was not uncommon to see people carrying huge stretched canvases or to stumble across someone filming a TV show. I found the bustling creative atmosphere to be exhilarating.
All the residents lived together in apartments that overlooked the city and we became fast friends. In the program we had artists from India, Dublin, Norway, US, Cuba, Mexico and Turkey. This eclectic mix of people contributed to very interesting conversations about different techniques, philosophy and artists that inform our work.
Through the classes at the school, I gained a deeper understanding about proportions and strategies for translating a model from life to page. As well as teaching technique, the teachers also shared art philosophy and theoretical framework. During the week we would go to museums and galleries to see exhibits both traditional and contemporary. These visits broadened my understanding of contemporary art and the context for these works. I enjoyed seeing all the different forms of expression and processes the different artists employed.
What are your goals, either for the internship or your artistic career?
I want to continue developing and making art. After undergrad I dream of going to graduate school in one of the major art cities in the world. I'm going to apply to schools in New York and London.
What did you do at PLU to prepare for this?
My journey at PLU has gone by so fast and now there is only a year left. I think the most important thing I have done to prepare for the residency and the time after PLU, is being curious, hardworking and dreaming big. Spending time in the studio amongst my peers has been essential and continues to inspire me.