Spencer Ebbinga – "Office Hours"
September 14, 2016
In our new series, "Office Hours," faculty open their doors and give you a look into their creative spaces. Join these faculty for their own office hours at PLU. Come in, sit down, have a conversation, you might just learn something new!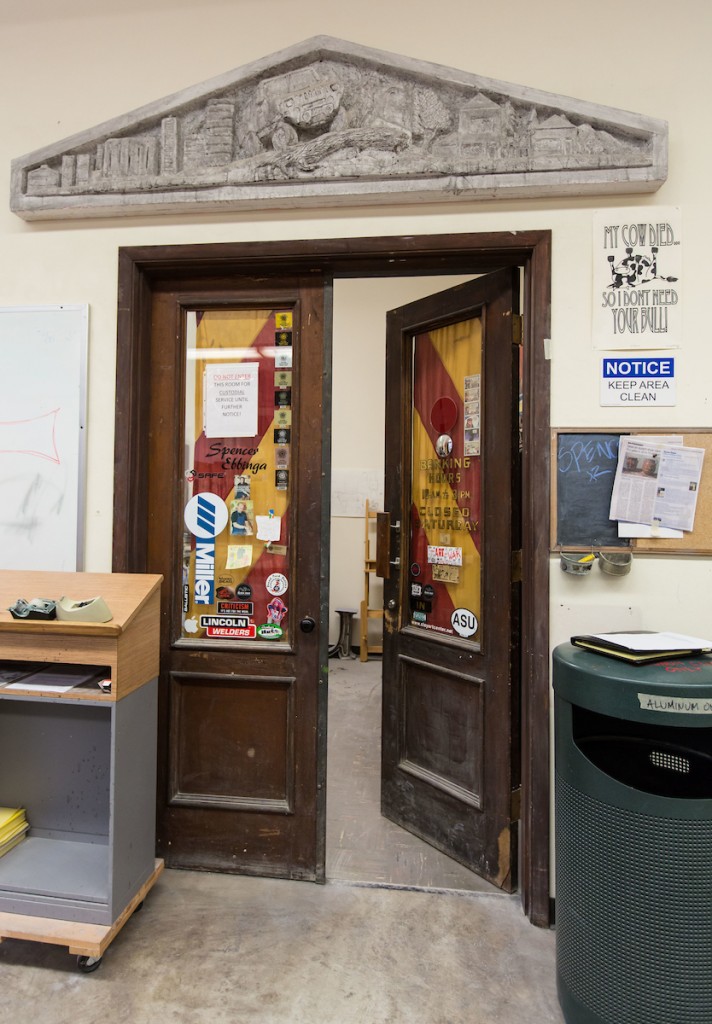 Associate Professor Spencer Ebbinga
Office: Ingram 138A
Email: ebbingsk@plu.edu
Courses taught: Upper level Ceramics, Sculpture, Rhino 3D
Office Hours: Tuesday & Thursday, 1pm – 3pm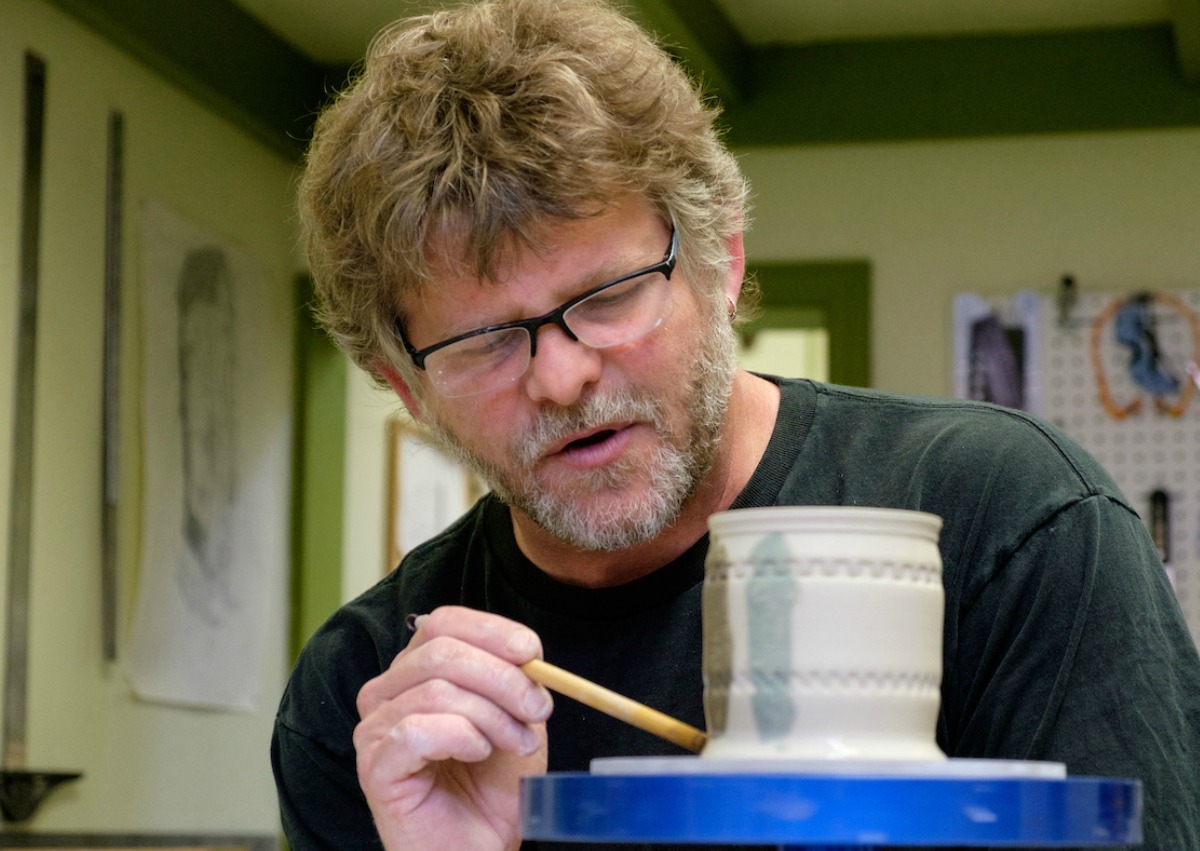 These are test pieces and examples for our new glaze library. The thing with ceramics is that drawing, throwing, and trimming, is only 50 percent of the work, the other half is glazing and firing, which is also the most difficult. You spend all that time making pots or sculptures or whatever it is, and if you never thought about surface color and finish, or tested the glaze in the first place, you can very easily ruin your work. Unfortunately you will have wasted all that initial work and time, not to mention materials. I don't have the time or energy to deal with that.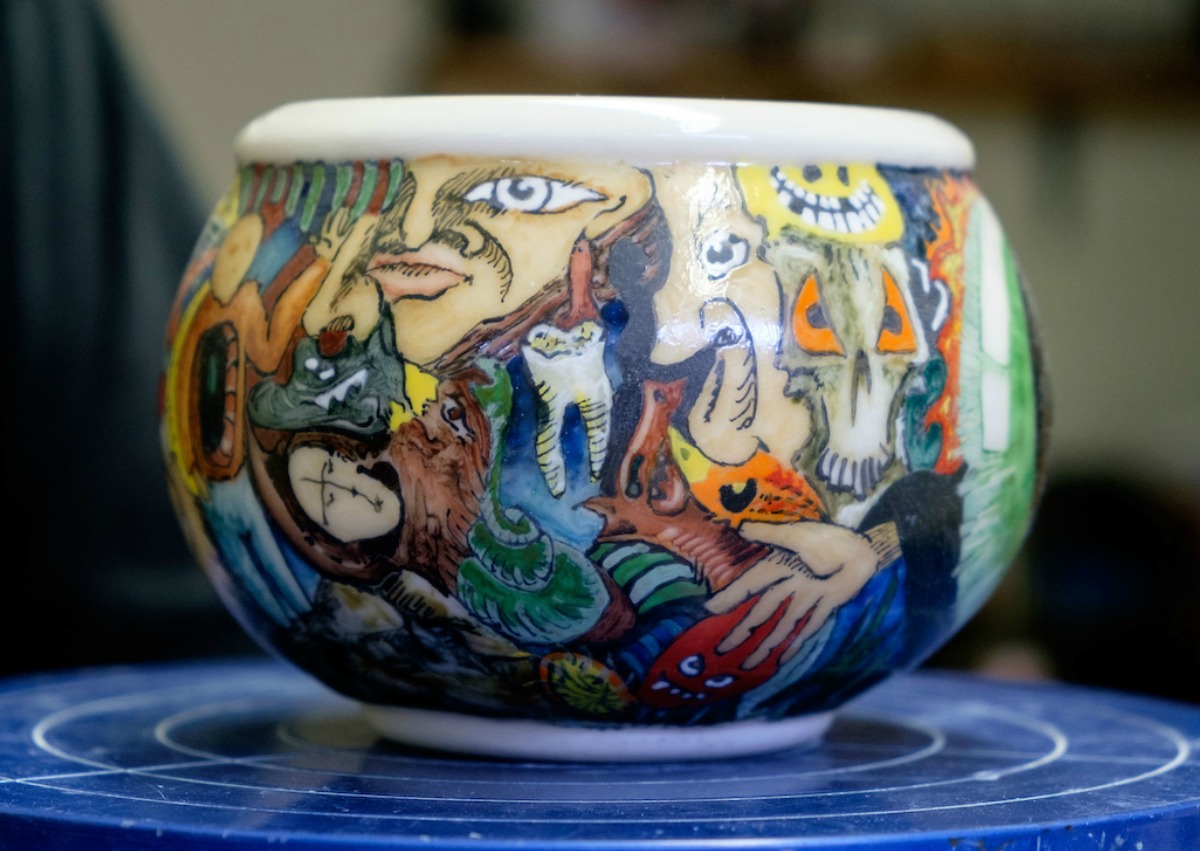 At the Archie Bray a couple summers ago I attended a China painting workshop with Kurt Wiser, one of the professors at ASU where I did grad school. It's a really beautiful glaze technique. It's a painterly process, like painting with watercolor on glass. It's all very low-temperature, so we would work on a piece during the day and then fire it that night, and repeat that process all week. You're constantly processing.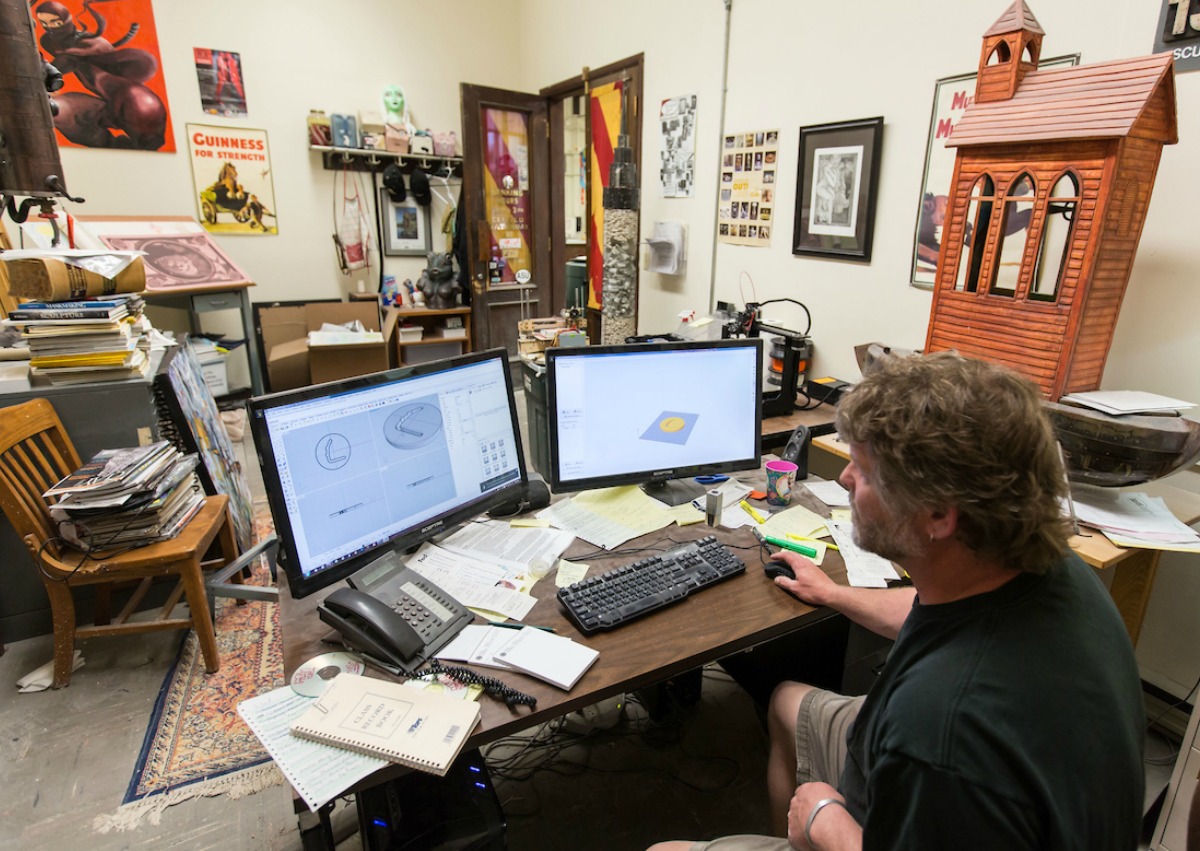 I was lucky enough in both undergrad and grad school to have mentoring relationships that were significant and that I keep to this day. It was a lifestyle that I learned. Learning how to be a teacher not only through specific instruction and words, but just spending time with them and respecting who they were. One thing I won't forget: "more tools equals more possibilities." The teacher who told me that was talking about regular tools: hammers, saws, welders, you name it. But what I realized was that it applies just as much to mental tools.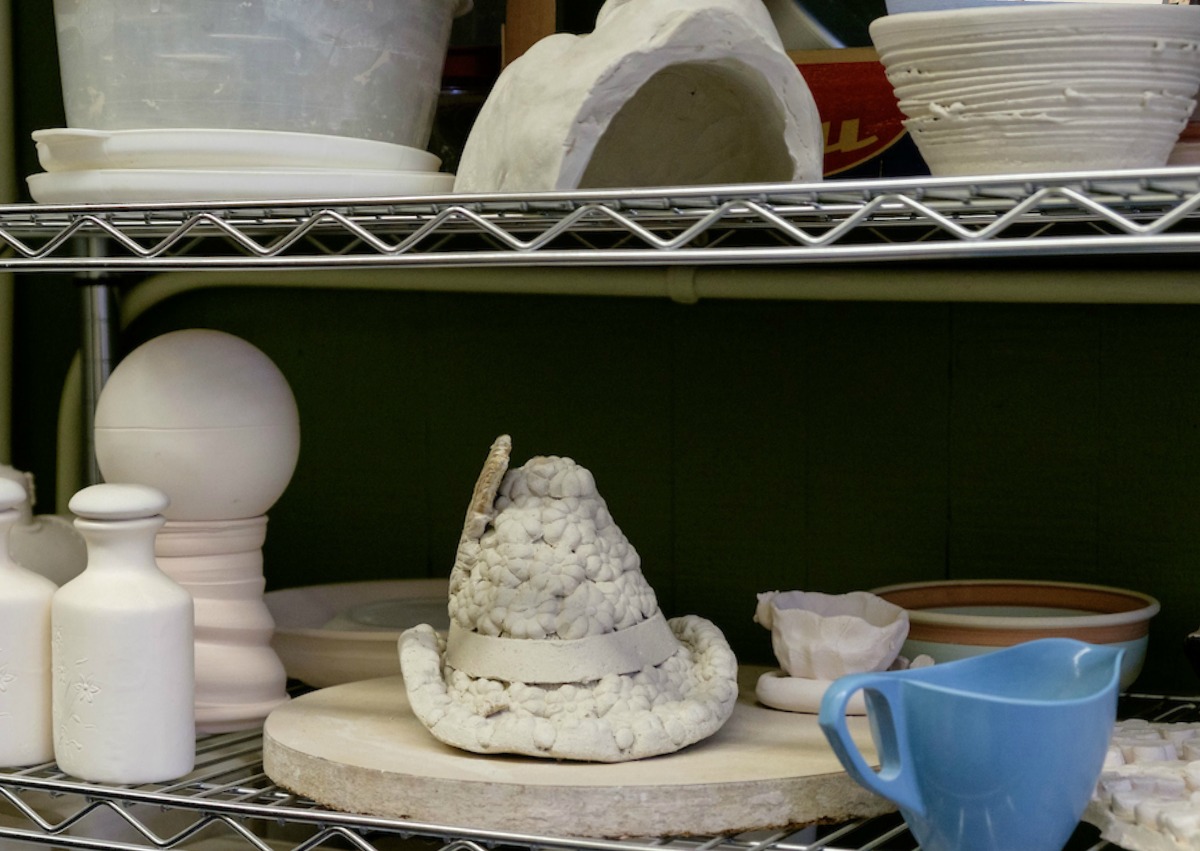 These are pieces that I have thrown for demonstrations in class, there are a lot of test pieces. The big, white blocky things are all molds that I use in my work, and some of those pieces are slip-casts and molded forms that are up above. It's a junk collector shelf. There are a few, kind-of-nice test pieces that are done.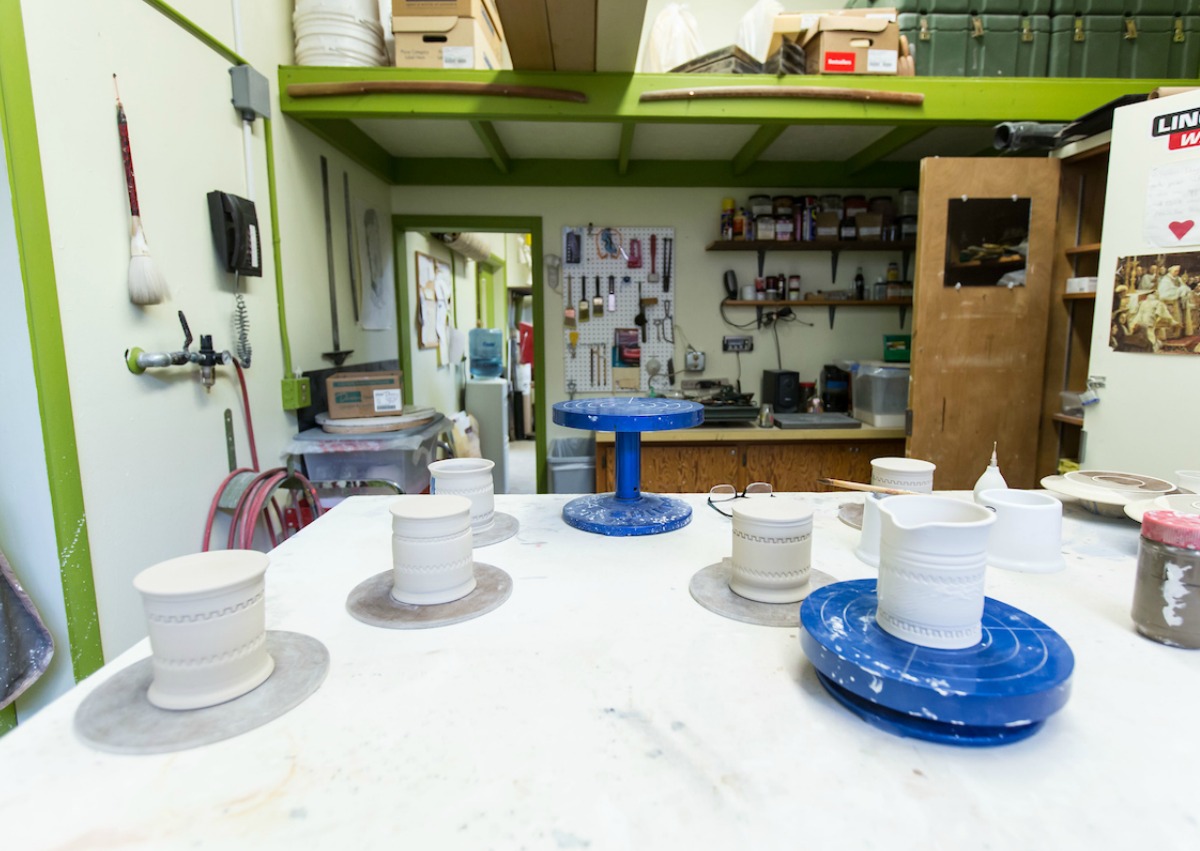 My favorite day of the week is Sunday night because I am coming back to the studio. My worst day of the week is Friday afternoon. I love to be around my kids and my family, and you've got to do things around the house, but I love being here. This year's Father's Day gift: go to the studio all day and all night! I came in at 6:30 in the morning and I was here until 10 at night. This stuff is in my blood. I love making and creating.
In school there were plenty of things that I struggled with in terms of learning process, but I was tenacious. I stuck with it- you know, keep going, keep going, keep trying, keep trying. I also realized that college was a really safe place to take risks and blow it. If I wasn't blowing it, I wasn't pushing myself. I challenge students with the same thing now when I see them making beautiful things that are too easy. I start to ask the questions, "Are you in a comfort zone, what's next for these forms, where do you go from here, how do you keep pushing yourself?"