Fourth annual Ruth Anderson Public Debate talks third-party vote
Posted by:
Todd
/ September 28, 2016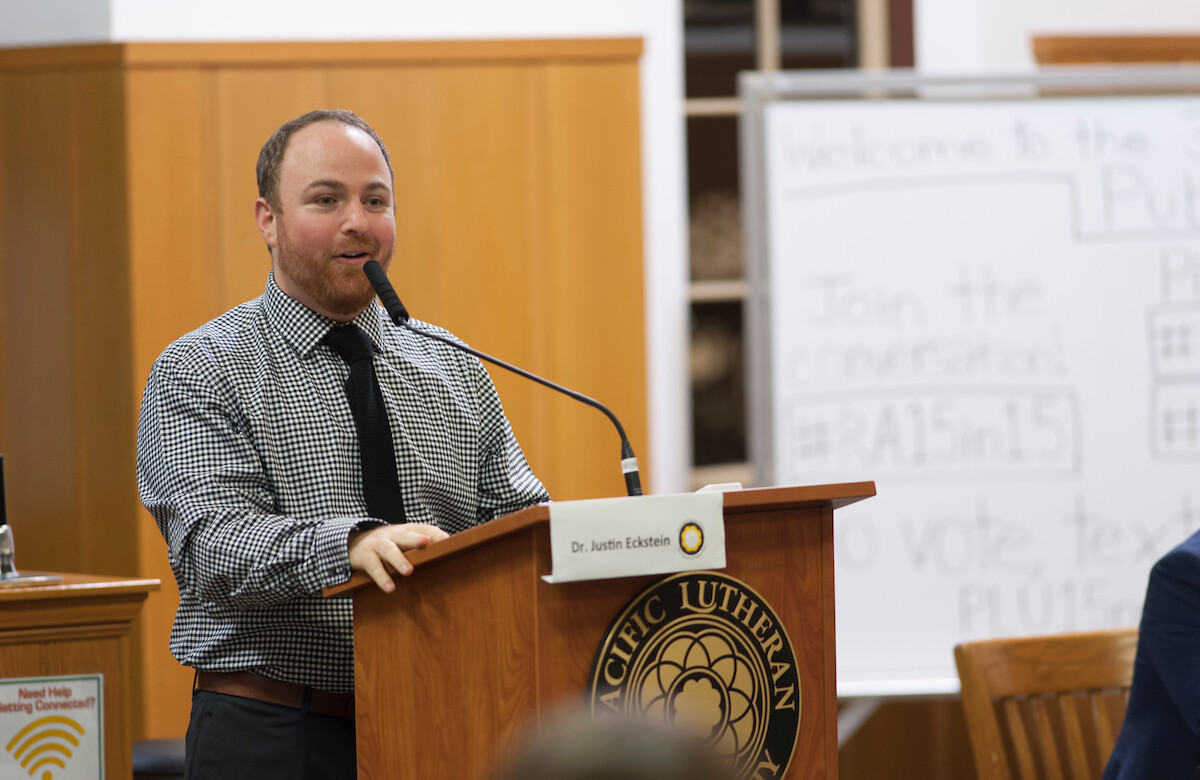 September 28, 2016
Students and experts debate October 4
Members of the Pacific Lutheran University Speech and Debate team will partner with local policy experts on Oct. 4 to publicly debate the potential benefits and pitfalls of voting for a third party in the 2016 presidential election.
Democratic Communication Specialist Aaron Sherman and student debater Mariah Collier will speak for the proposition, "a vote for a third party is a wasted vote." Ben Meiches, University of Washington-Tacoma professor of security studies and conflict resolution, and student debater Tate Adams, will argue for the opposition.
"I think that the viability of a third-party vote is one of the most important problems that we face, as Americans, in the context of this upcoming election," Adams said.
Collier agreed, voicing she believed this topic was key to discuss in a public forum.
"I'm really excited to be a part of this debate and share the importance of this topic with the public," Collier said. "It's important to debate the value of voting for a third party as it raises questions about the purpose of voting within a democratic system and the role of bipartisanship in the US."
PLU Assistant Professor and Director of Forensics Justin Eckstein said he hopes Tacoma voters who have yet to come to a definitive conclusion regarding their presidential vote will attend.
Eckstein said pairing seasoned debaters with issue experts will create dynamic synergy.
"These two debaters will bring with them excellent training, honed through many practices and college competitions," Eckstein said. "The experts will bring a wealth of knowledge and practical experience with the debate topic."
The Ruth Anderson Public Debate represents an opportunity for students to engage with community leaders in a timely policy discussion — an opportunity that Eckstein said he believes is a rarity in local and national civics.
"Honestly, how often do you see college students given (public) space to advocate or doubt a position?" Eckstein asked. "Students are too often relegated to the margins of the public sphere, as if they do not have something productive to add to the public discussion. We think that students have unique perspectives that enrich public debate."
Event Details
7 p.m. Tuesday, Oct. 4, 2016 at Eastvold, Karen Hille Phillips, Pacific Lutheran University
Admission is free, and the program also will be streamed live online via www.plu.edu/lutecast.
Debate Format
The debate will occur in three rounds. In the first round, each debater will give a seven-minute speech. The second round will be a 20-minute question-and-answer session. In the third round, each speaker will deliver a three-minute closing speech. The audience will vote at the beginning and the end of the program. Whichever side persuades the most people wins the debate.