PLU places in English and Spanish Worlds at Mark O. Hatfield Memorial
Posted by:
Todd
/ February 22, 2017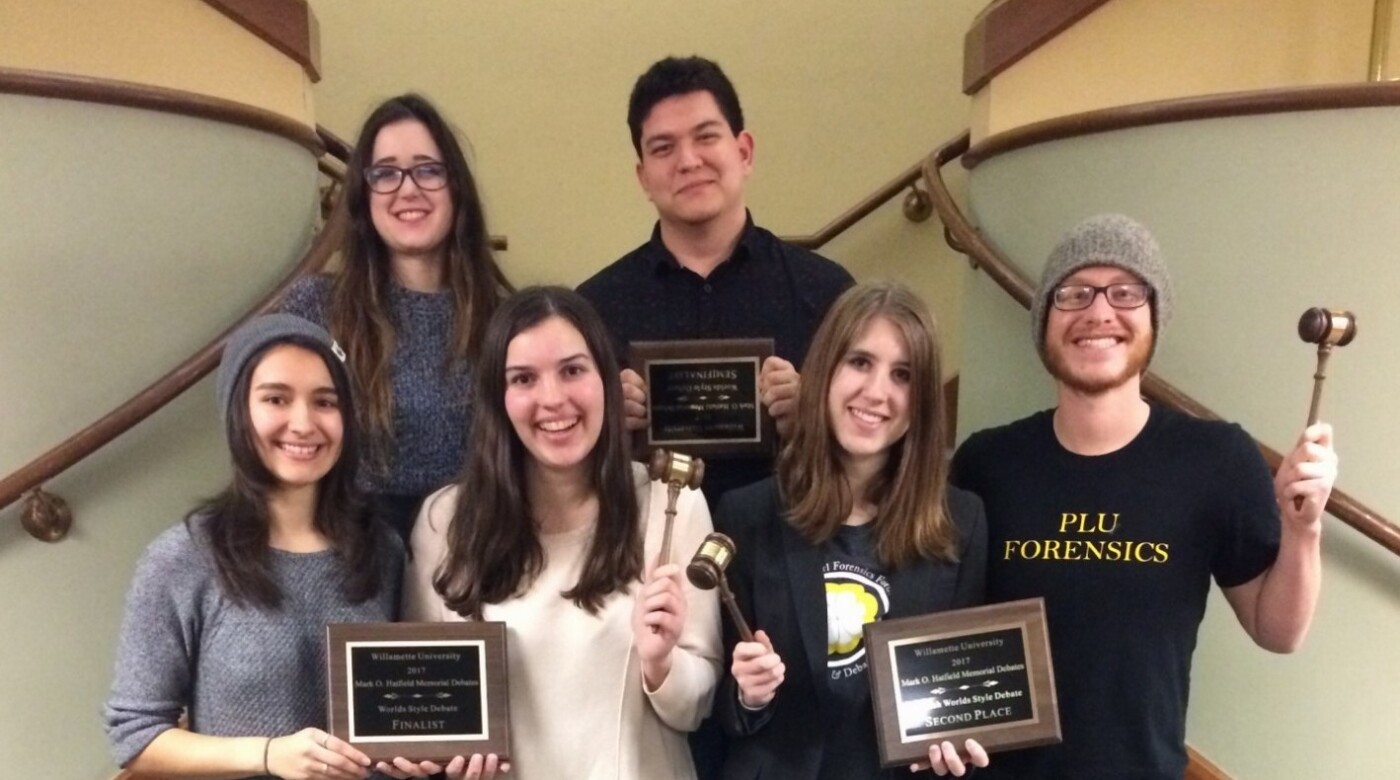 February 22, 2017
Tacoma, WASH. –  ¡Sí se puede! For the first time in T.O.H. Karl history, debaters participated in a bilingual tournament with simultaneous divisions in English and Spanish.
Eight varsity English Worlds teams and one varsity Spanish Worlds team from Pacific Lutheran University competed at Willamette University Feb. 18-19 and led in preliminary and elimination rounds against national and international competitors.
Two varsity teams advanced to semifinals, and one English varsity team and one varsity Spanish team both advanced to finals, placing as finalists and in second place, respectively.
"I'm proud to see that we are carrying forward our tradition of success at the Willamette tournament," Director of Forensics Justin Eckstein said.
The 2017 Mark O. Hatfield Memorial Debates tournament marks the fourth year in a row Pacific Lutheran University teams have debated in the final round.
A diverse pool of motions spanned topics from international alliances to addressing low birth rates, providing military aid to the Ukraine, and small government, testing debaters' knowledge of diverse ideologies and politics at a national and international level.
Junior Megan Bowen and sophomore Tate Adams led the varsity rounds, earning first seed with 15 points moving into semifinal rounds. Junior Tori Sullivan and sophomore Mariah Collier broke in eighth seed with 12 points, earning a spot in semifinals with high speaker points.
Seniors Matt Aust and Kaitlyn Hall broke to Spanish Worlds finals with 11 points after 5 rounds.
"One group of debaters I've always admired are ESL debaters," senior Matt Aust said. "I was happy for the opportunity to step into their shoes for a weekend and promote a debate community that works to be as inclusive as possible."
PLU also took home 20 percent of the speaker awards with award-winning speeches against local schools including Willamette University, Seattle University and Gonzaga University.
In the Spanish Worlds division, Matt Aust and Kaitlyn Hall won third and second speaker, respectively, while in English Worlds, Tori Sullivan took sixth speaker and partner Mariah Collier won fourth speaker.
PLU debate continues their competitive season at the Pan American Championships  March 9-13 in Los Angeles, Calif.
Additionally, PLU will host the United States Universities Western Regionals Championships March 25-27, 2017.