Faculty Feature: Meet Mare Blocker, Visiting Assistant Professor of Art

April 2, 2020
A diverse and dynamic artist and educator, Mare Blocker has been teaching at PLU since 2014. Her classes include Art of the Book and Typography among others. Read more about Mare in this extended interview.
What is your educational background?
I have a BFA in ceramic sculpture from the University of Washington, and an MFA in 2D Studio Arts from the University of Idaho. I've taken numerous studio workshops too as continuing education! I think it's super important to be a lifelong learner, and taking classes makes me remember what it's like to be a student.
Why did you decide to study art? What sparked your interest in art and how did your academic path and career develop from there?
I come from a family of artists, makers, and crafters. My first job as an artist was when I was five years old and I painted trees in the background of my grandfather's landscape paintings. He had a few booths at the Seattle Center in the 60's and 70's, right after the World's Fair, and I spent a lot of time there with him and my grandmother. I like to say I grew up in the Fun Forest. We dressed up and did "quick draw" portraits. So corny.
My grandparents silkscreened sayings on small pieces of wood and called them plaques or desk signs. They sold them for .35 or 3 for a dollar, by the thousands. If you've seen a piece of wood with a moose on it and a piece of jute as a tail…that says "Moose Barometer: if tail is wet rain, if tail is dry sun, if tail white snow." That is my heritage. Fast forward to the future me. I too believe in the democratic multiple, although it is only due to my education that I name it that. I make printed pieces of paper with poems and sayings on them, limited edition books and prints and some paintings. My grandfather was a storyteller, and so am I.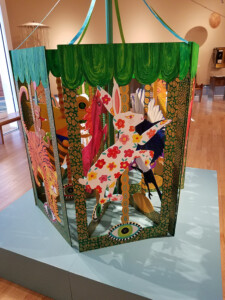 I came to PLU as a freshman because I wanted to be a Lutheran minister. I had been a youth minister at the church my family helped found in Seattle. I soon learned that wasn't really a viable career path for a young woman in the 70's, so I began down a social work path. Spring term, I took ceramics, Poetry and the Mystical Experience, and Lutheran Studies, and had an epiphany about my calling and became an art major. I ended up transferring to the UW to study with Patti Warashina and Howard Kottler, because I was more into handbuilding than throwing. While I was at the UW, I worked in fiber and textile arts and creative writing as well. Bookbinding was a required craft class for textiles, and we went to the Special Collections at the Suzzallo Library to look at "Artists' Books." That day literally changed my life. I realized I could incorporate all of my passions into one form and have been a book artist since. Later that term I sold my first artist's book to the UW for $35.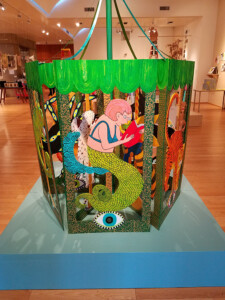 I believe a "lucky" art career comes from hard work, perseverance, and taking leaps of faith. I have taught off and on since the early 80's, in a variety of settings. I've had some career detours from teaching, like, coaching a swim team, and owning a biker bar, and being a rural librarian, and a few other wacky things. I follow my curiosity. Through it all, I have been a prolific maker, I have documented my stories and adventures. My work can be found in over 90 public collections and art museums throughout the world, including the Victoria and Albert, the Library of Congress, The Getty Research Institute, The National Museum of Women in the Arts and the PLU University Special Collections. The Seattle Art Museum Gallery shows my work locally.
Why did you want to teach at PLU?
I love teaching in small liberal arts schools, it was near my family, and it felt like a circle that needed to be completed.
What is your favorite class to teach and why?
Picking a favorite class is like picking your favorite child isn't it? No one wants to admit they do that… My favorite is probably the Capstone series, because while I love teaching skills and techniques, I really adore mentoring and getting to know my students better and helping them transition from student to peer. My main goal is to help them succeed in our field beyond PLU and there's nothing I like better than to receive notices of shows and exhibitions with their names on the listings.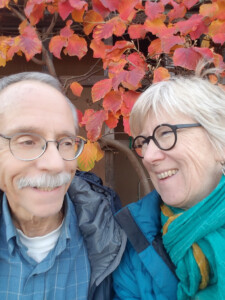 What do you hope your students take away from your classes?
I want them to be skillful artists, intentional communicators, and good humans.
What makes you proud to be a PLU faculty member?
Hope, courage and care.
This past fall, my husband learned he had a fast-moving leukemia, which he recently died from. I try to teach and model that we are in community. I teach my students the need to be intentional communicators, and sometimes if you don't tell others around you what's going on, you don't give them the opportunity to step up. I shared, and my students stepped up. My faculty peers, Pastor Jen and the SOAC staff stepped up and supported me. They showed me so much care, it was really a gift. All of the words of encouragement and the reminders to practice hope and courage, those are the things I am proud of our community for. We say we're a big family, but I learned we really are a big family.
What should potential PLU art students know before they apply to PLU/declare the major?
Art sometimes gets a bad reputation as being an easy degree. You will work hard here, and we'll push you to get uncomfortable and GROW.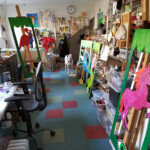 Share a few fun experiences, professional or personal, that you've had since you began teaching at PLU.
My friendships within the PLU community are a joy to me. I really enjoyed helping the Thorniley Collection find a new home at PLU.
I made a giant carousel book for the Bainbridge Island Museum of Art, which my husband Buzz helped me with.
Favorite way to unwind after a long week of teaching and grading?
I'm an avid gardener. I love to walk my dog (especially when it's sunny). Working in my studio.
Just for fun!
Cats or dogs? Dogs
Coffee or chocolate? Not choosing! BOTH
French fries or hash browns? Hmm. Fries.
Mac or PC? Mac!
Instagram or Twitter? Insta—I'm a visual person first.