Confucius Classrooms
Confucius Classrooms are local institutions, based in U.S. schools, which stimulate and support innovative teaching and learning of Chinese language and culture. Confucius Classrooms adopt flexible teaching patterns and adapt to suit local conditions when teaching Chinese language and promoting culture in foreign primary and secondary schools. The Confucius Institute of the State of Washington serves as a liaison for Confucius Classrooms established in Washington State.
Confucius Institute sponsored Confucius Classrooms in Washington
The Confucius Institute of the State of Washington works with local schools throughout the state of Washington that would like to develop a sister school relationship with schools in our K-12 partner organization, the Chongqing Municipal Education Commission.
On April 23, 2016 at the CIWA 6th Anniversary celebration, CIWA celebrated the unveiling of three new CIWA-sponsored Confucius Classrooms in Washington:
Chief Sealth International High School (Seattle)
Happy Valley Elementary in (Bellingham)
Skyline High School in (Issaquah)

These partnerships are a symbol of friendship and a commitment to Chinese language and cultural activities in the region. Read the Hanban news article.
The Confucius Institute of the State of Washington is working with additional schools in Washington to develop Confucius Classroom relationships with schools in Chongqing, China through CIWA. If you are interested in pursuing this opportunity, email ciwa@uw.edu or our Chinese Director Wang Wenqiu wewang@seattleschools.org.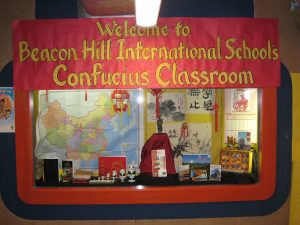 Confucius Classrooms sponsored by the Asia Society's Network
Asia Society's Confucius Classrooms Network is a national network of exemplary Chinese language programs. The Network serves as model sites for developing the field of Chinese language teaching in American schools. For more information, visit: Asia Society > Confucius Classrooms Network.
Washington State currently has five Confucius Classrooms that are part of the Asia Society Confucius Classrooms Network:
Beacon Hill International School (Seattle)
Dearborn Park International School (Seattle)
Peninsula School District (Gig Harbor)
Samammish High School (Bellevue)
Tyee Middle School (Bellevue)