On (Virtual) Exhibit: Media Literacy J-Term Projects
exhibit has closed
March 24, 2021
During J-Term 2021, students in Assistant Professor Kate Drazner Hoyt's Media Literacy COMA 388 explored topics such as:
– the role that the press plays in sustaining democracies;
– the different forms of online misinformation and disinformation;
– the rise of conspiracy theories on web platforms and forums;
– the decline of public trust in institutions and experts;
– and what to look for to ensure the credibility of online information.
The class culminated in a final "Critical Making" project, where students built, designed, or mocked up a media literacy tool. The goal of the assignment was to envision a web that prioritized the circulation of credible information. Critical making is a process where students apply theories and concepts to a creative project or artifact, and where imaginative design – focusing more on engagement with theory and concepts, rather than functionality – is encouraged. Students created designs and mock-ups of browser extensions, mobile apps, and other online utilities for users to help determine the credibility of online information.
Here are the students' projects:
Seley Nemish
TrustMEdia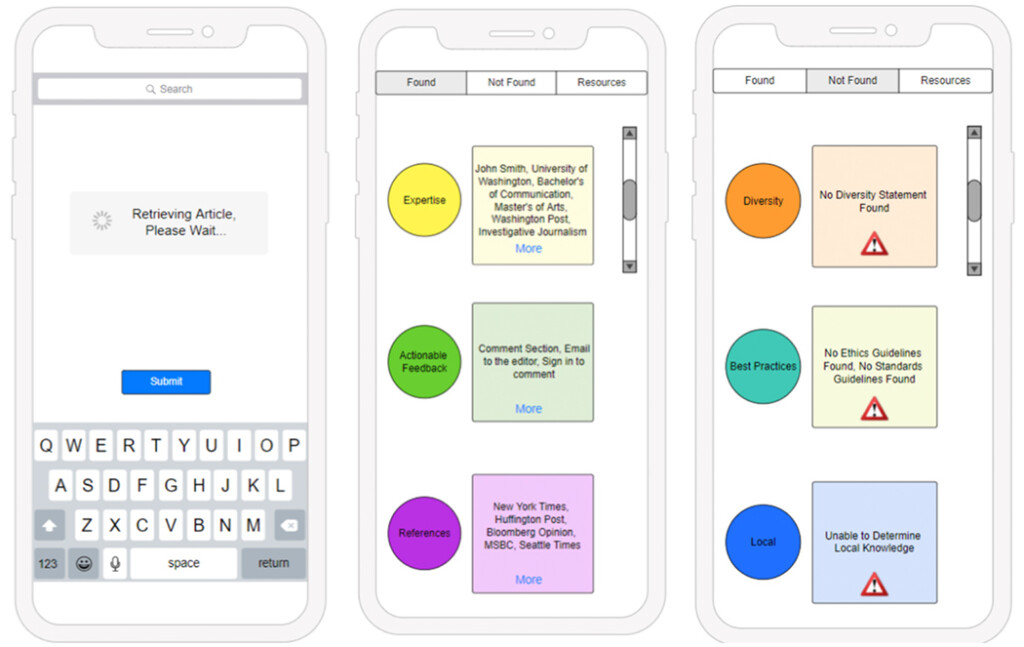 Full project link, https://www.plu.edu/library/wp-content/uploads/sites/479/2021/03/seley-nemish-project.pdf
Artist statement: This app mockup outlines the idea of an iPhone app that would identify the 8 Trust Indicators, or lack thereof, of any written article that was inputted into the app. The 8 Trust Indicators originated from The Trust Project, a team dedicated to making journalism more transparent and fighting misinformation (The Trust Project). . . The hope is that this app would be a convenient and fast way for people to be able to check how trustworthy the articles they read are. One of the biggest issues I've noticed with media literacy is that it's not readily accessible to the general public, and more often than not, the public does not know where to start with understanding how to gauge whether an article is trustworthy or not.
Jalyn Turner
Should Social Media Companies De-Platform Users?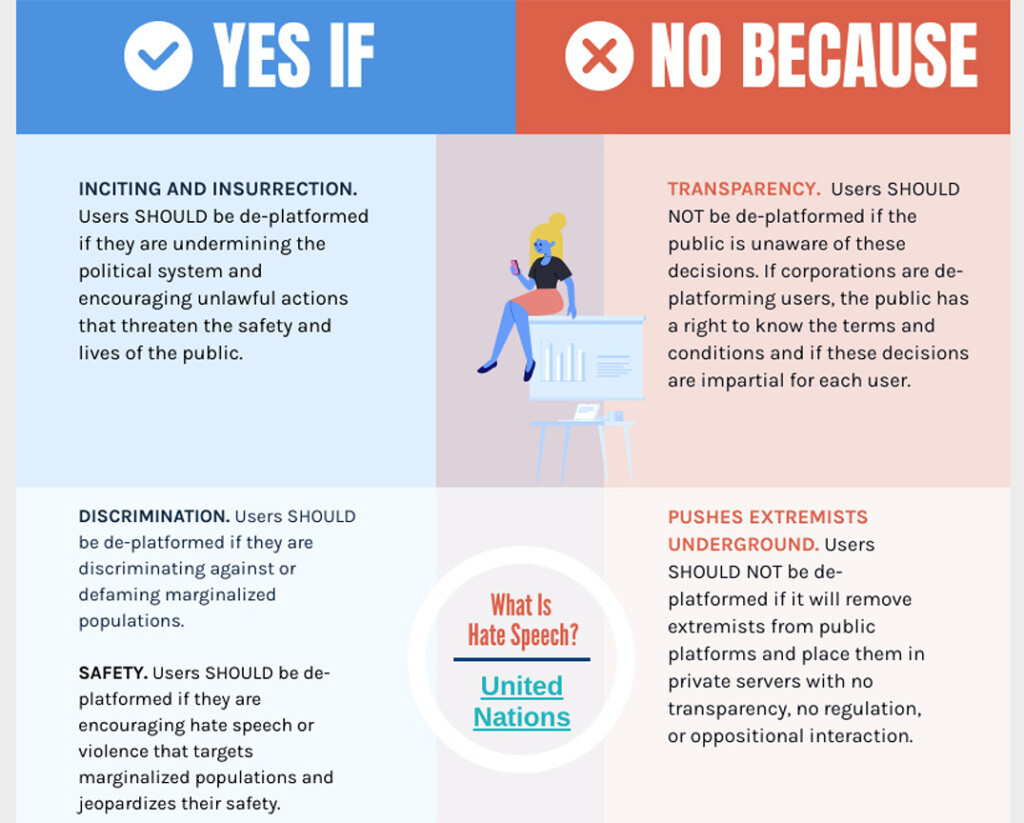 Full project link, https://www.plu.edu/library/wp-content/uploads/sites/479/2021/12/jalyn-turner-project-copy.jpg
Artist statement: For this critical making assignment, I made an infographic discussing why social media companies should and should not de-platform users. This infographic aims to be impartial and weigh the costs and benefits of each side.I used information from our discussions on "Social Media & Free Speech," but specifically borrowed topics from our class Padlet, including, "inciting and insurrection, pushing extremists underground, discrimination, transparency, the first amendment, and social media as a public utility" (Hoyt, 2021, Padlet). . . This infographic helps break down each argument in terms that are easy to comprehend and ultimately allows for individuals to form educated conclusions about each conversation.
Casey Brown
Social Media Affordances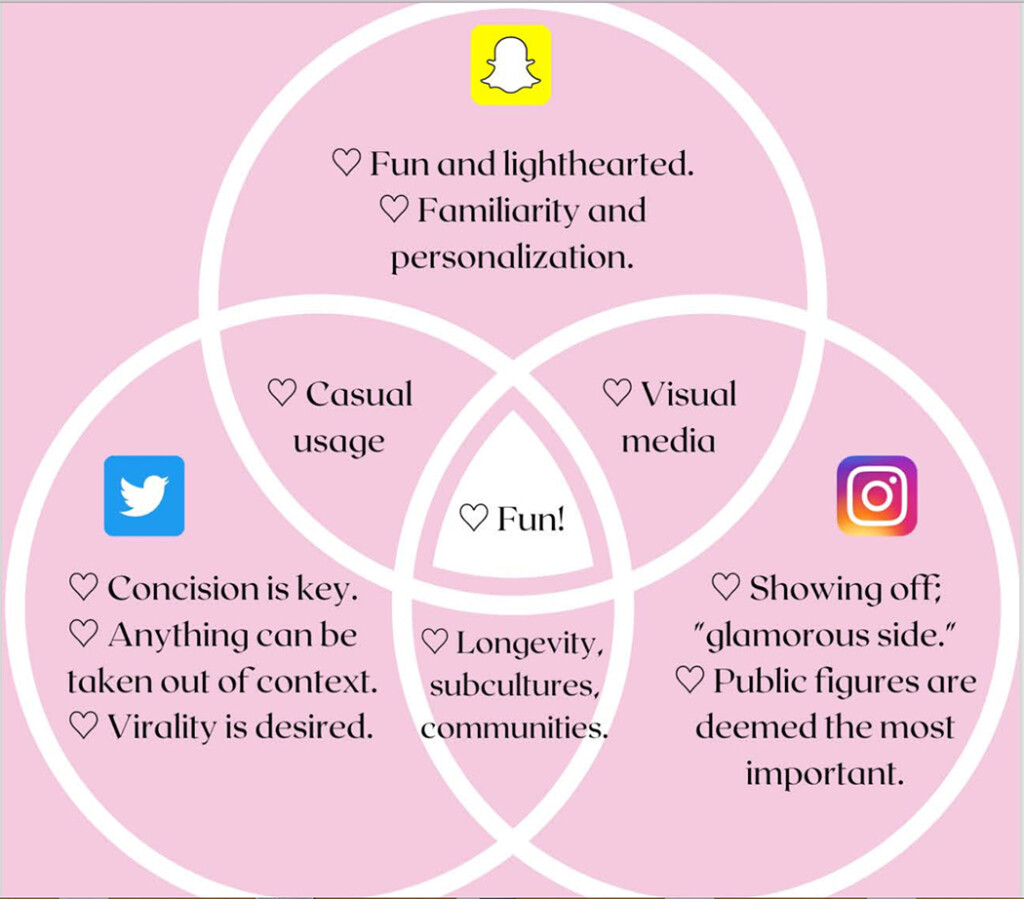 Full project link: https://www.plu.edu/library/wp-content/uploads/sites/479/2021/03/casey-brown-project.pdf
Artist Statement: My social media affordances infographics are designed to summarize the features on Twitter, Snapchat, and Instagram, and what cultures and behaviors are established through these features. This media literacy tool functions as a guide, a brief 'social media 101' for people with little to no knowledge of anything of these social media publications. This doesn't explain every feature, rather it highlights utilities that may or may not have any convenient explanation published anywhere. . . After reviewing this media literacy tool, people should understand the acceptable communicative behaviors on these apps. They should also come to an understanding that these are all sources meant for forms of social interaction. As long as people approach social media with a basic understanding and critical thinking skills, social media will generate more educated and healthy online communities.
Lovely McKay
8 Things to Look For: Identifying Reliable News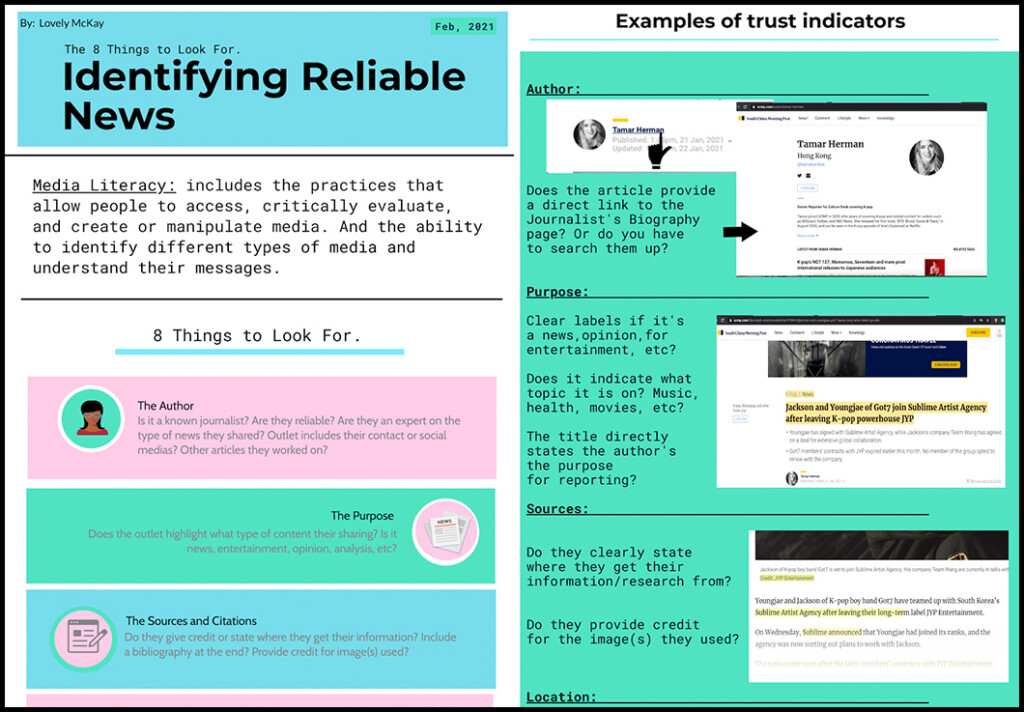 Full project link: https://www.plu.edu/library/wp-content/uploads/sites/479/2021/03/lovely-mckay-project-scaled.jpg
Artist Statement: I created an infographic for people to consider while they're looking through their news articles. It explains the Trust Project's 8 trust indicators to look for, to see if an outlet is reliable or not. They can have another tab open, save the infographic to reference whenever, and/or print out the "8 things to look for" section to have it physically to take it wherever. And they can also print it as a bookmark if they want the whole thing. . . As the media changes and evolves each year, people find new ways to manipulate and influence others about anything. So media literacy is important for people as it becomes a part of their daily lives. Such as reading news articles, social media posts, doing research, online shopping, etc. Everyone is constantly having to dictate and evaluate whether or not what their reading online is real or fake.
Andrew Sullivan
Google Form: Media Trustworthiness Test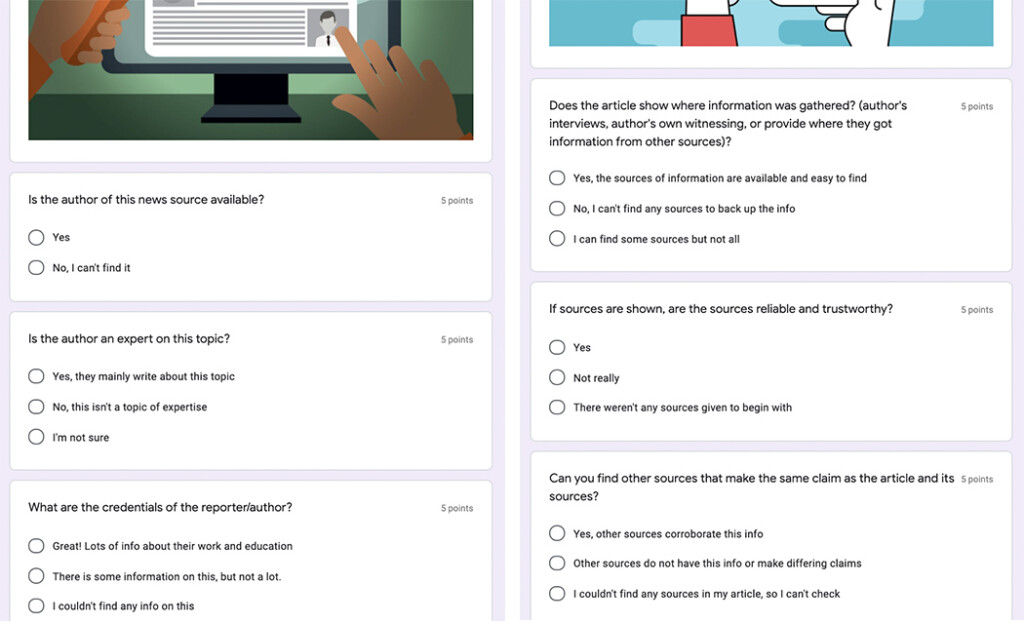 Full project link: https://docs.google.com/forms/d/e/1FAIpQLSecFwlcA9X7Gn_-mAVErYoZdEx130gtX55yq5SxclGXStSPDg/viewform?usp=sf_link
Artist Statement: My media literacy tool is a fully functional quiz that one can take to check the reliability of their media source. Based on the 8 Trust Indicator Article from the Trust Project, I have created about 30 questions (that can either be answered upon reading the article at hand or doing a small amount of research) that allows a consumer to understand whether they should trust the source/media that they are using to get information. . . Quiz takers are also able to review their answers, where they will find added information on each question, explaining the importance of the aspect being questioned. . . My Media Trustworthiness Test is one step towards training the public to consume media smartly, and gives them a helping hand to reference when they are unsure.
Full project link: https://www.plu.edu/library/wp-content/uploads/sites/479/2021/03/max-tucker-artist-statement-and-project.pdf
Artist Statement: Lexicon is an App idea created to improve media literacy and to function as an information resource tool. Lexicon functions as a media library that constantly updates articles and information. These articles are rated through a process of trust factors, as outlined by The Trust Project, and are rated based on their reliability as primary resources. Users will be able to find articles in the library through search terms. . . Statistics show that the majority of users on Facebook and Twitter also use these mediums for news and information. Our vision is to include our app for these users to include terms found in the trending sections of these sites to access our library of trusted articles with a link to our trust rating format. By doing this, we can engage users in media literacy and critical research to increase media literacy for our users.
Full project link: https://www.plu.edu/library/wp-content/uploads/sites/479/2021/04/charlynn-aldan-project.pdf
Artist Statement: To gain a better understanding and help determine what is real or fake media, I designed an infographic on the concept of the 8 Trust Indicators. I focused on making my media literacy tool simple yet educational, and that is how I came up with the idea for the Indicator Tree. From the roots to the trunk all the way up to the branches, the tree represents that everything working together makes a strong foundation. As I apply that concept to my Indicator Tree, being able to follow the 8 trust indicators can help determine if what is being shared has a strong foundation to stand on and if the source is credible.