PLU interns combat climate change one tree at a time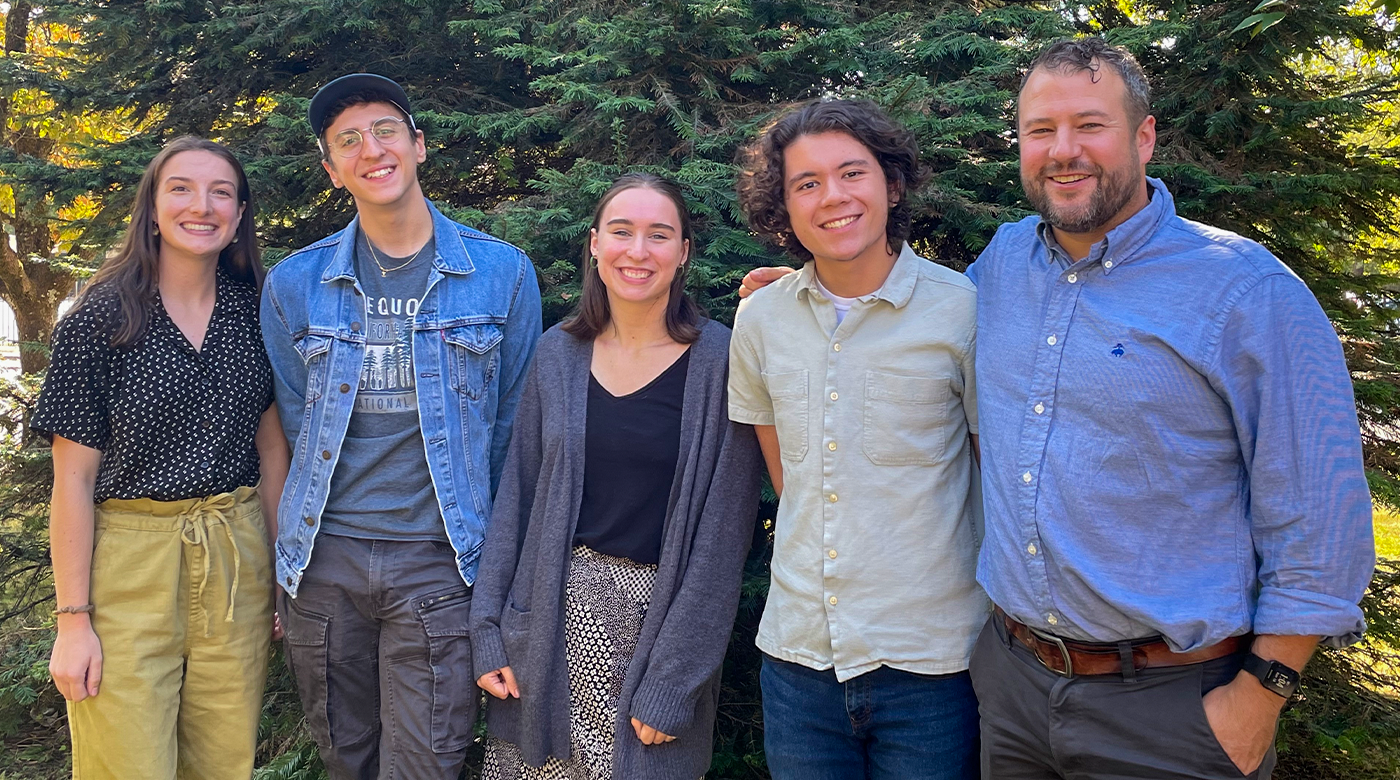 November 8, 2022
By Veronica Craker
PLU Marketing & Communications
A group of PLU students interning with the Tacoma Tree Foundation spent the summer increasing the number of trees in the city to reduce polluted stormwater runoff and heat during the summer months and improving the livelihoods of those who live in urban areas.
The team consisting of Dalen Todorov '23, Elijah Paez '24, Autumn Johansen '23, and Zoee Kooser '22 began distributing trees near the Tacoma Mall before moving into the Parkland area.
"The reason that it is so important to focus on areas like Parkland is that there are significant disparities in tree canopy cover when it comes to race and income demographics," environmental studies major Paez said. "Poor health is correlated with a lack of trees, so increasing greenery in underserved areas is a social justice issue."
The students have been working with the Tree Foundation for the past year, learning how tree coverage in urban areas can combat climate change.
"Our generation is tasked with the mending of the earth in many different ways due to climate change," psychology major Todorov said. "Our only power is knowledge and understanding of our local communities, because only at that level can we make dents in the monumental task that lies ahead. I want to be able to educate my community, make steps in creating a change, and be a part of it instead of doing the easy thing like dreading the continual destruction."
The Tacoma Tree Foundation is a nonprofit with a community-based approach to growing the urban forest. Their mission is to "educate, empower, and support community members in neighborhood-based greening."
"I enjoy going door to door asking if people want free trees. It's really sweet to see someone's face light up to not only get something for free but also something that will benefit them down the line," Todorov said. "This service we are providing is really important for environmental equity and summates the whole reason we do what we do at Tacoma Tree Foundation."
This paid internship opportunity was made available to PLU's students to help them take what they were learning inside the classroom and out into the real world.
"I sought out this internship to move beyond the academic and participate directly in the service of others," Paez said. "I am incredibly passionate about my studies, but I wanted the opportunity to perform for the community and act on my environmental convictions."
The internship may have wrapped up, but the students say they have learned a lot and will continue to find ways to preserve the earth.
"We understand that trees won't fix our damaged earth or underserved communities, but any positive change and active community discourse can make for something truly beautiful," Todorov said.