Profiles - Physics
Kelvin Adams:
"PLU offered the opportunity for me to simultaneously pursue my passion for engineering and my love for music, and I just could not turn down an opportunity like that."
Joseph Olson:
"My professors here at PLU were amazing and instantly acted as mentors, shaping my beliefs and values. Outside of physics, I embraced the liberal arts side of my education, gleaning the most of my non-major classes to better prepare me for my role in the larger world. PLU provided the opportunity to truly define who I am; I can't say that I would have been so well off at another school. PLU has prepared me for the next stage in my life and I am incredibly honored to have been a part of the PLU community."
Ryan Page:
Ryan Page (Physics '16 &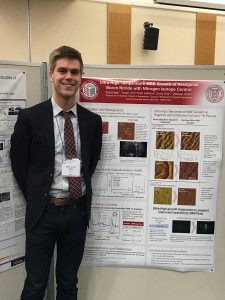 current Cornell PhD student in materials science) just received a Chateaubriand Fellowship! The fellowship is a grant offered by the Embassy of France in the United States and supports outstanding Ph.D. students from American universities who wish to conduct research in France. Chateaubriand fellows are selected through a merit-based competition, through a collaborative process involving expert evaluators in both countries. What an honor!
Jana Strasburg:
Physics and electrical engineering double major Jana Strasburg '98 talks about the building blocks of innovation in this November 2017 TEDx Talk at TEDxRichland.