The W.M. Keck Observatory at PLU
The W.M. Keck Observatory at PLU is utilized by PLU faculty and students for undergraduate research and serves as an integral part of the Physics Department's introductory Astronomy course (PHYS 110). The observatory is also a valuable community resource that is opened for public tours after the last few PLU Jazz Under the Stars summer concerts each summer. PLU student organizations are also welcome and encouraged to request tours of the facility during the school year.
Undergraduate research at the observatory has concentrated on a variety of solar system objects, including the Sun, asteroids, Jupiter, and Saturn. In recent years, students involved in these summer research projects have had the exciting opportunity to deliver oral presentations describing their research at the Murdock College Science Research Conference. These students have also undertaken subsequent astronomy-related senior research projects of their own design.
The observatory was built with the support of a $500,000 grant in 1998 from the W.M. Keck Foundation of Los Angeles and saw "first light" in 2000. It houses an automated 16-inch Schmidt-Cassegrain reflecting telescope built by Meade Instruments. In addition to the familiar mode of direct observations through an eyepiece, data at the PLU observatory can be collected digitally through either a Santa Barbara Instruments Group CCD camera or Celestron NexImage Planetary Imager mounted to the telescope.
The W.M. Keck Foundation is best known for supporting the construction of much larger professional research telescopes at remote locations such as the twin 10-meter Keck 1 and Keck 2 telescopes currently operating on the peak of Mauna Kea in Hawaii and which rank among the largest ground-based telescopes in the world. Their support of the PLU observatory has contributed significantly to the quality of astronomy education at PLU and to the university's public outreach efforts.
Astronomy Research at PLU
Dr. Katrina Hay and Dr. Sean O'Neill served as co-mentors for undergraduate research teams in the summers of 2016 and 2018 as part of PLU's Natural Sciences Undergraduate Research Program. The advertisement for the 2018 research project is below.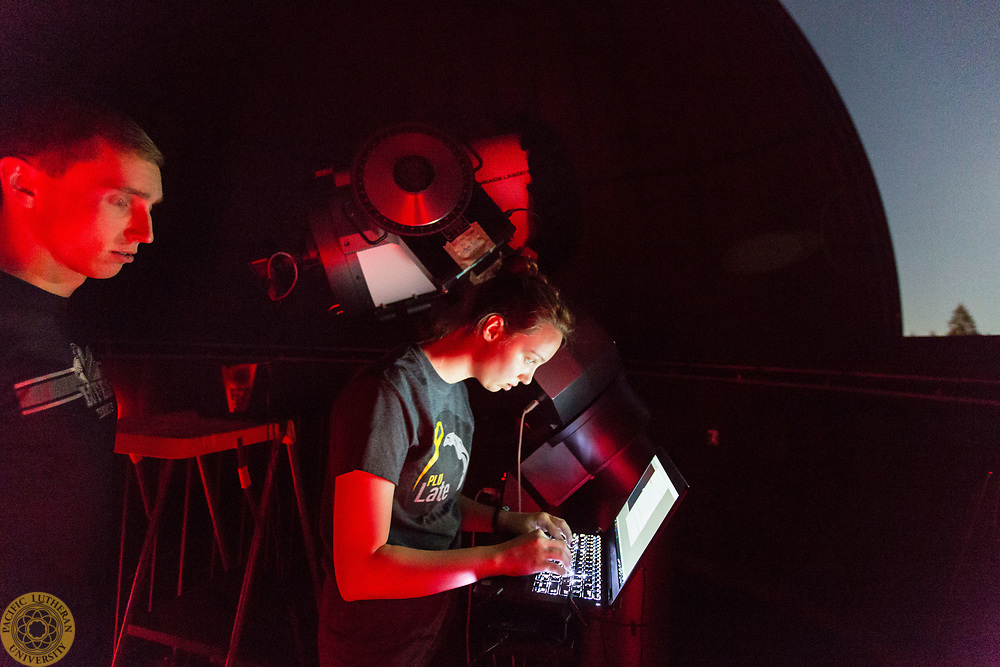 In summer 2018, the research team had fun sharing images, stories, and descriptions of their work in a detailed public blog.