Cece Chan: First-Year Student, Long-Term Goals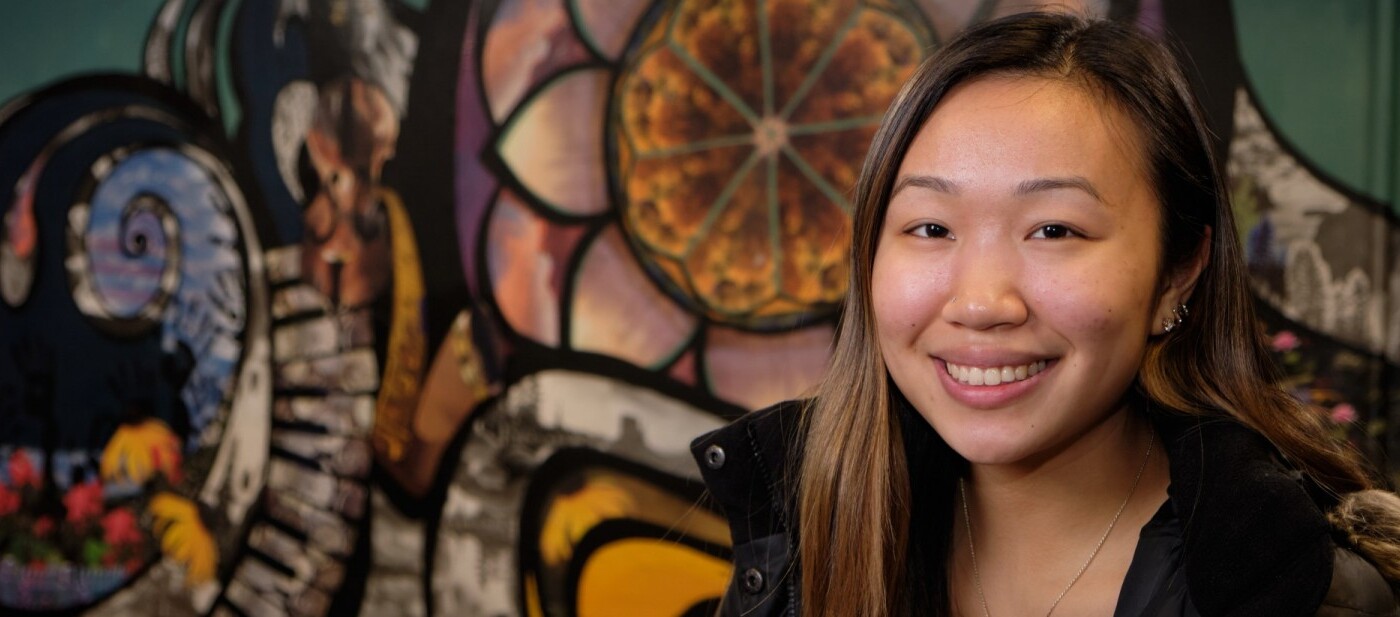 March 3, 2020
By Lora Shin
PLU Marketing & Communications guest writer
TACOMA, WASH. (Feb. 28, 2020 ) — Cece Chan's activism awakening came in high school. As a third-generation Asian young woman, she realized Seattle Public Schools' majority-white institution and Eurocentric curriculum had damaged her own cultural understanding due to lack of representation within textbooks or classroom leadership.
"In middle school, I disassociated with being Asian. In high school, I had to work harder to be confident in my cultural identity," Chan says. "I reflected on what I'd been through, the microaggressions that piled up."
Students asked if she ate dogs; a teacher asked her to contribute thoughts on China. The language arts curriculum presented just two books for her Asian identity, more specifically her Chinese culture — through "Joy Luck Club" and "Born Chinese" — but in-depth classroom discussions on racial equity were paltry at best.
"I feel like I could've been more confident and engaged and loved myself more if the educational system saw me and supported me," Chan said. "As a woman of God and faith reflecting on this, I realized God told me to love, value and make people know they matter. That's why I do what I do, and it drives my activism."
Chan does the work for children who come after her, too. Her sister tried using makeup in fourth grade to deflect harmful comments about her eye shape. "It was the saddest thing, that same damaging and devaluing feeling," Chan said.
Film Reflections
Chan's passion for social justice has primarily focused on education and the experiences of people of color. As a high school student, she created a documentary, "For the Culture," focused on the importance and need of ethnic studies.
Using a Canon camera to shoot the documentary and a laptop to edit the film, Chan taught herself necessary skills. "I really enjoyed using film as a cool way to tell my story, which is not often talked about in education," she says.
Chan visited Seattle Public School high schools to talk to students, teachers and activists. She researched how the Eurocentric focus within history, literature and STEM education fields has affected people of color in damaging ways.
For her achievement in film and activism, Chan won one of three $1,000 Black Education Matters Student Activist Awards (BEMSAA), presented by former Seattle Seahawk and bestselling author Michael Bennett and ethnic studies teacher Jesse Hagopian. The annual award is given to SPS student leaders who demonstrate "exceptional leadership in struggles against racism — especially with an understanding of the intersections with sexism, homophobia, transphobia, Islamophobia, class exploitation and other forms of oppression — within their school or community."
As a high school senior on the Washington State National Association and Advancement of Colored People Youth Council, Chan carried her message far and wide. Her audiences included school board meetings, the Washington Education Association and classrooms of fourth-graders.
PLU and Politics
Chan chose PLU because she wanted a small, private institution that would allow her to know peers and students. She also fell in love with Stuen Residential Hall's second floor, where students of color have their own living space and dorms. "It gave me a community to lean on," she says.
In her first year at PLU, Chan has contributed to and lead on matters of social justice within education while pursuing a major in political science.
As an ASPLU senator, she helps to write bills and advocate for students. As a dCenter Rieke scholar, she volunteers in PLU's diversity center and participates in social justice campus activities, and helps to tell high school students about PLU. This spring, she'll travel to Arizona with the NAACP for an education conference.
And as a filmmaker, she's offered a two-night documentary screening to enthusiastic crowds and keynote speakers Jesse Hagopian and Tracy Castro-Gill, SPS Ethnic Studies Program Manager.
Beth Craig, her 20th-century U.S. history teacher, is a favorite professor (so far). "She's not afraid to talk about hard things," Chan says, and Craig incorporates topics that interest the class. This quarter, Chan is also taking two of Maria Chávez's political science classes: "Latino Experience in America" and "Local State and Government."
Future Plans
What's next? For an upcoming film, Chan wants to investigate the training educators receive before going into the workforce. "Are they even having the conversations about race and equity to support ethnic studies?" she asks.
While making changes at the classroom or district level is commendable, she hopes to work on a larger scale, changing policies and systems to incorporate more voices. After gaining a graduate degree in educational administration, she hopes to become the Secretary of U.S. Education. "I want to go into social justice and racial education and make big changes," she says.
When burnout or stress starts to weigh heavily, Chan reminds herself that she's doing work for the greater good. She also listens to music, or heads to Wingstop or Popeye's with friends.
But her faith is central. "Activism and faith go hand in hand, and I wouldn't have the strength to do what I do without God, and remembering how much God loves me," Chan says. "All the things God has done for me — all the grace and love I've been given — is how I see activism and fighting for people."