VALEDICTION LECTURE BY SAMUEL TORVEND, PROFESSOR OF RELIGION

Crumbs from the rich man's table
In this public lecture, Dr. Samuel Torvend will narrate how a student's crisis significantly shifted his teaching and research.
Livestream (3/3 at 7 p.m.)
Crumbs from the rich man's table: How a poor, single-mother Lute changed my life
Valediction Lecture by Samuel Torvend, professor of religion
Thursday, March 3, 2022  |   7:00 p.m. (PST)   |   Scandinavian Cultural Center, Anderson University Center
Also Livestreamed for those who cannot attend.
This event is free and open to the public.
Masks are required
In this public lecture, Samuel Torvend, professor of religion at PLU who holds a doctorate in History of Theology, will narrate how a student's crisis significantly shifted his teaching and research. From that encounter, new questions emerged that demanded collaborative research with students and faculty colleagues here and abroad.
Such research has led to asking critical questions regarding the inability of the U.S. to provide the most basic element of life – food and drink – to all its inhabitants. Throughout this presentation, Torvend will draw attention to visual artists who have served the work of food justice.
Livestream on 3/3 at 7 p.m.
This is the valediction or farewell public lecture by Samuel Torvend, Professor of Religion, who will be retiring from full-time teaching at the end of the SpringTerm 2022. His presentation in word and visual image will focus on his encounter with a student who changed his research trajectory and the university's limited engagement with the critical issue of food justice.
Samuel Torvend, Professor of the History of Christianity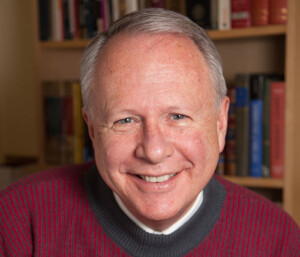 Samuel Torvend teaches courses in the history of early, medieval, and reformation Christianity as well as historical courses on the reform of social welfare, Christian responses to local and global hunger, Christian art and architecture, and Christian rituals. He has taught in PLU's International Honors Program and has led student and regent study tours in Rome and central Italy. Since 2005, he has led faculty, staff, and student workshops on the liberal arts and higher education, published extensively on the origins, development, and gifts of Lutheran higher education, and represented PLU at international conferences in ritual studies and reformation studies. Dr. Torvend served as the first University Chair in Lutheran Studies from 2011-2017 and established the annual Lutheran Studies Conference at PLU. He continues to serve in the Wild Hope Center for Vocation as the Director of External Relations and as a contributor to the Office of Congregational Engagement. In addition to his work in the academy, Dr. Torvend also serves as a theological consultant to various regional and national church agencies and societies. He holds the Ph.D. from Saint Louis University, the M.A. from Aquinas Institute of Theology, the M.Div. from Wartburg Seminary, and the B.A. from Pacific Lutheran University, with study in Egypt, Israel, and Greece through the graduate School of Theology at Saint John's University in Collegeville, Minnesota. He is the son of the Rev. E. Silas Torvend (PLU '47) and Alice Kjesbu Torvend (PLU '47).