Study Away
Study Abroad Opportunities Abound for Religion Majors
As a global phenomenon, religion flourishes on every continent. While PLU students study the presence of religion in the world's many cultures in PLU classrooms, there are opportunities to study religion in contexts outside the United States.
Religion 220: Early Christianity in Rome, Religion 221: Medieval Christianity in Central Italy, and Religion 213: Religions of the Ancient Mediterranean in Greece have been offered recently by faculty members as January Term courses. In January 2015, Religion Department faculty members are offering courses in Greece and Trinidad.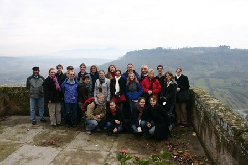 In addition to J-Term study overseas, Religion majors and minors are strongly encouraged to study abroad for a semester. Consultation with the student's department adviser or the department chair is necessary before a student applies to a semester away program. Departmental requirements cannot be waived and thus travel abroad for a semester needs careful coordination with the schedule of required courses offered by the department.
PLU students who seek general education credit for a religion course taken in another program overseas must make an appointment with the Department of Religion chair prior to completing the Credit for Study Away materials.
Photo Information: Students and faculty in Religion 221: Medieval Christianity in Central Italy stand on the fortress platform of Orvieto, a medieval hill town north of Rome. Photo by Samantha Porter.