Why Study Criminal Justice?
As a student of criminal justice at Pacific Lutheran University, you will investigate theories of criminal offending, the functioning of the criminal justice system, and the experiences of crime victims. Our sociologically-informed criminal justice program emphasizes an understanding of the social and structural contexts in which crime and criminal justice system take place.
Why Study Criminal Justice at PLU?
Complete an internship with a criminal justice agency
Explore career paths in policing, law, corrections, and victim services
Connect with our vast alumni network
Collaborate with faculty mentors
Study criminal offending and the criminal justice system
Internship
One of the hallmarks of the PLU Criminal Justice Program is our inclusion of a required internship. Examples of recent internship placements include:
Crystal Judson Family Justice Center
Our Sisters' House
Pierce County Department of Assigned Counsel
Pierce County Juvenile Court
Rebuilding Hope! Sexual Assault Center of Pierce County
What Can I Do When I Graduate?
Criminal justice majors generally enter careers in policing, law, corrections, and victim advocacy. Our alumni work as crime prevention specialists, police officers, detectives, lawyers, legal assistants, victim advocates, probation officers, juvenile detention officers, and correctional officers. Some of our alumni choose criminal justice-related careers in social service such as investigating child abuse or serving as bilingual legal advocates, others go on to graduate programs in fields like law, criminology, and public policy.
Students who graduate with a B.A. in criminal justice will find themselves with distinct advantages on the job market: applied experience in an internship, as well as knowledge of key social factors that influence crime and justice, and a firm grasp of research design and methodology. An applied, sociologically-informed criminal justice major provides breadth and the potential for adaptability.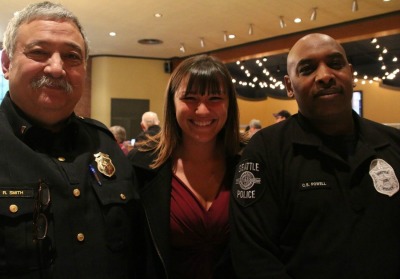 The PLU Sociology department helped me find my passion for criminal justice through various classes that touched on issues of crime, as well as through an internship with a probation department. In my senior year, the professors in the PLU Sociology department helped me find and apply for a Masters of Arts in Criminal Justice program.
Without the background in sociology that I gained at PLU, I would not be where I am today: working for the Seattle Police Department (SW Precinct) as a Crime Prevention Coordinator.
Jennifer Danner, Class of 2014