You Ask, We Answer: What is public transportation like around PLU?
Posted by:
shortea
/ October 20, 2023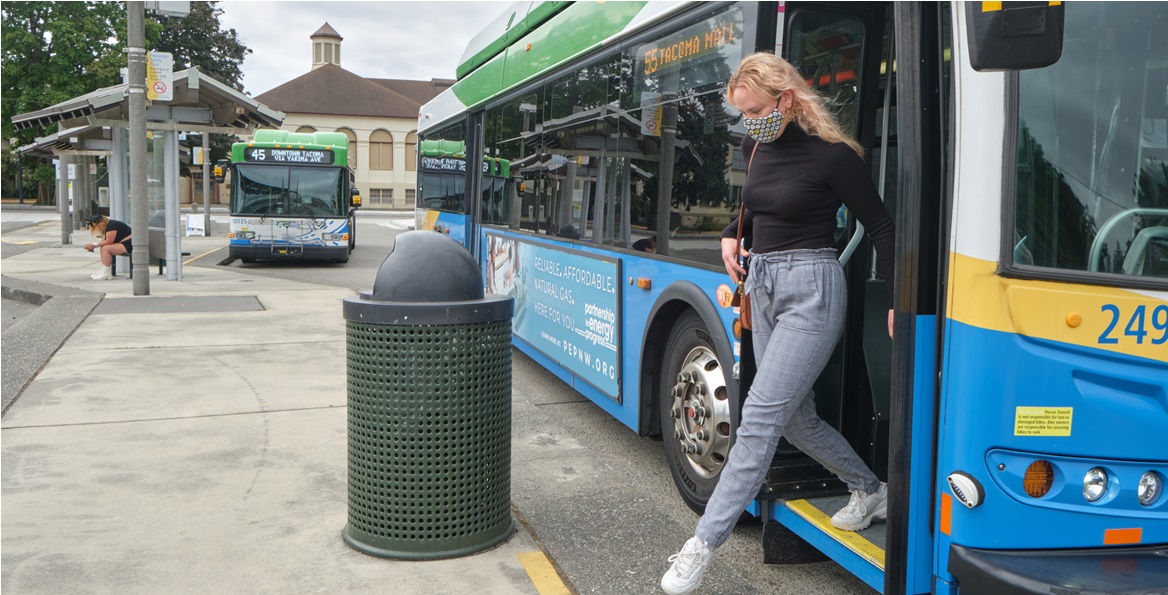 October 20, 2023
While PLU's Campus is neither in an urban or rural area, our middle of the road residential location of Parkland has plenty of public transportation options through Pierce Transit. Just a block from campus sits the Parkland Transit Center. The two main bus options here include Route 45 and Route 55.
Route 45 will get you into downtown Tacoma typically in under 45 minutes. The route ends in downtown Tacoma and the adjacent Theater District, putting you right in the middle of restaurants, shops, historical theaters like The Rialto and Pantages Theater, Tacoma's popular Thursday Farmers Market, and Thea's Park. Tacoma's independent movie theatre, the Grand Cinema, is just a short walk away, and offers student discounted tickets for first-run movies.
Route 55's main draw is the Tacoma Mall. In a short distance, you'll be at the closest mall to PLU, which offers over 100 stores and restaurants, everything from Nordstrom and Express to The Cheesecake Factory and L&L Hawaiian Barbecue. REI, Costco, and Half Price Books are also really close to the Tacoma Mall.
Another option is Route 1. This covers the main drag on Pacific Avenue just off campus. It can take you south to several grocery stores including Albertsons, Marvel Food & Deli focusing on European goods, or Saar's featuring discounts with an array of international items. Or head north into the heart of downtown Tacoma. This route will run by some of Tacoma's best museum options, including the Museum of Glass, Washington State History Museum, and Tacoma Art Museum. Tacoma Dome, the largest indoor concert venue in the state of Washington, is also off this route.
Love trains? You can also reach the Amtrak station in under a 10-minute-walk from Route 1. From the Tacoma Dome Amtrak Station, Portland and Seattle are quick train rides away, oftentimes for one way tickets as low as $22; Vancouver B.C. is a bit further but typically under $100 as well. (Savings tip: the earlier you buy your train tickets, the cheaper they can be!) Through Sound Transit, there is also access to the Sounder South Line which will take you into downtown Seattle for just a few bucks with stops blocks from Lumen Field and T-Mobile Park – great affordable options for game day. If heading to the airport, you can pick up Sound Transit's 574 bus from here too.
Just a few blocks from campus, students can also access Route 4 on 112th Street South. This will take you to either Lakewood Towne Center with offerings including Target ( a college student staple) and AMC; go the opposite direction, and it'll take you to South Hill Mall in Puyallup, also with a Target and Regal theater- some local students say they even like this mall over Tacoma Mall.
Lastly, there is always Uber or Lyft available. If you're looking for the quickest way into downtown or even to some other Tacoma neighborhoods like Proctor or Old Town that require multiple buses, this can be the quickest option. Cheap Airporters (professional mini buses that run passengers and luggage to SeaTac airport hourly) stop through Tacoma, and it is not uncommon to Uber to their Tacoma stop before heading to the airport as well. Bremerton-Kitsap Airporter and Capital Aeroporter are examples.
So, PLU has options for public transportation. Rides cost $2 one way, $5 all day, and a super cheap $72 for the whole month to travel regionally. Students can pay in cash, load funds on an Orca Smart Card (worth getting if you are new to the region as it is used throughout the Seattle-Tacoma area), or purchase a ticket on the Transit app. And for the 2023-24 academic year, the PLU Student Transit Benefit offers students the opportunity to purchase a $15(!) Pierce County ORCA Card, which allows students to travel by bus for unlimited rides anywhere within Pierce County. If this new program goes well, it will (fingers crossed) continue in following years. Safe travels!
Guest Blogger: Shaun Antrim, Admission Counselor