Cumulative Competencies for the Anthropology Major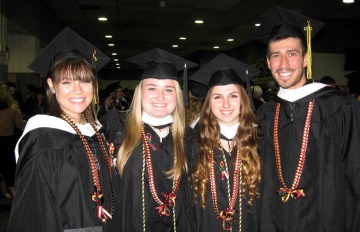 Level I: Anthropology 100 Level Courses
By the end of their first year, majors should have taken 2 Anthropology 100 level courses and:
know and use anthropological concepts
know the major perspectives of anthropology (linguistic, cultural, archaeological, biological) and be familiar with the general orientation of the two of these perspectives
appreciate and be aware of the diversity of humans in space and time
understand the effects of social race, class, and ethnicity on human life
have experience writing anthropologically
be able to think critically
Didn't begin as a First Year student?
Students take different paths in their educational journey. A few come to the university with a clear view of being an anthropology major. Many more recognize their vocation after they have studied for a number of semesters. In any case, by the time you graduate with the anthropology major you should have all the skills an knowledge defined in the competencies. This is a guide for recognizing the skills and information you will be building as you continue through the anthropology major.
Level II: Anthropology 100 & 200 Courses
By the end of their second year, majors should have completed their 100-level course requirements, and:
be able to integrate the perspectives of three areas of anthropology
be able to apply anthropological concepts to specific cultures
know how to find anthropological literature on relevant topics (articles, ethnographies, research projects)
be able to develop oral presentations
Level III: Anthropology 300 & 400 Level Courses
During their third year majors should be able to:
understand a culture area, including the similarities and diversities in it
look at a cultural topic in a large number of cultures throughout the world
read and use scholarly literature
recognize theory and method in the anthropological literature
develop an integrated research paper using professional sources
consistently and accurately use the American Anthropological Association and American Antiquity style citation formats
Level IV: Anthropology 480, 499
The final level of skill development in the anthropology curriculum takes place in the Capstone sequence courses (480, 499). By the time the majors complete these courses they should:
know the basic history of American anthropology
recognize and be able to use major anthropological theories
be able to use a variety of anthropological research methods
have strong writing and oral communication skills
be able to critically evaluate professional anthropological literature
be able to generate anthropological questions based on anthropological literature
research and analyze data in a more extensive research paper utilizing anthropological method and theory