Chamber of Commerce CEO, Union Strategist to Team with PLU Students for Minimum Wage Debate
Posted by:
Todd
/ October 6, 2015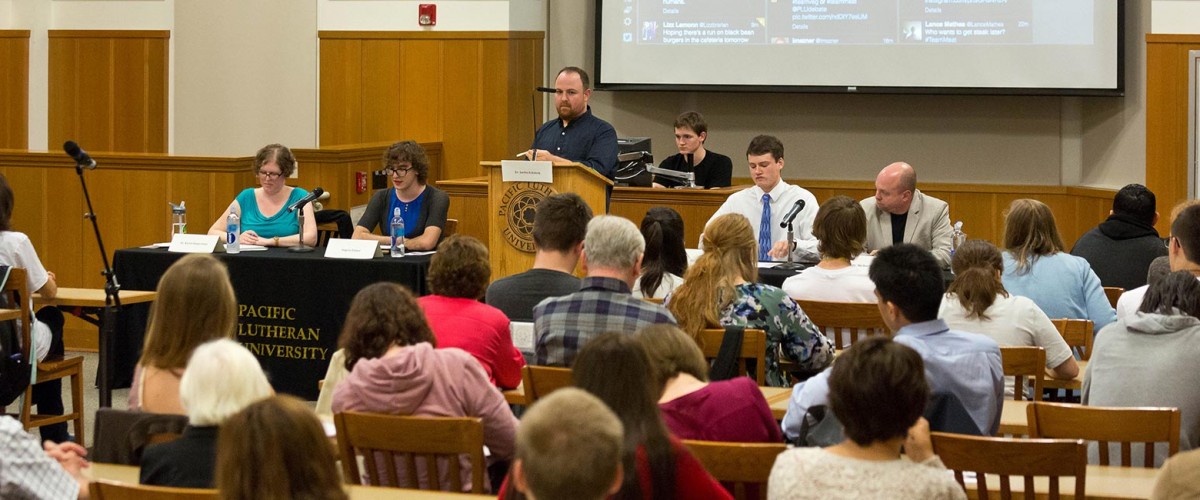 October 6, 2015
Chamber of Commerce CEO, Union Strategist to Team with PLU Students for Minimum Wage Debate
On Thursday, October 8, 2015, members of the Pacific Lutheran University Speech and Debate team will partner with local policy experts to publicly debate the potential benefits and pitfalls of Initiative 1, an initiative posed to Tacoma voters that, if approved, would raise the city's minimum wage to $15.
Speaking in favor of Initiative 1 will be SEIU 1199 NW Strategic Researcher Vince Kueter and PLU Chinese Studies and History double major Angie Tinker '16. Speaking in opposition will be Tacoma-Pierce County Chamber of Commerce CEO Tom Pierson and Communication major Matt Aust '17.
Event Details
Thursday, Oct. 8, 2015 @ 7 p.m. at Pacific Lutheran University (Xavier 201)
Admission is free, and the program also will be streamed live online via www.plu.edu/lutecast.
PLU Director of Forensics Justin Eckstein hopes Tacoma voters who have yet to come to a definitive conclusion regarding Initiative 1 will attend the debate at PLU.
"The advocating and doubting of standpoints, publicly, offers a mechanism for a community to determine the best course of action," says Eckstein. "Tacoma citizens are invited to come hear the best reasons for and against an issue that we'll be voting on a few weeks later."
Eckstein, who also serves as a Clinical Assistant Professor of Communication at PLU, believes that pairing seasoned debaters with issue experts will create a dynamic synergy.
"These two debaters will bring with them excellent training, honed through many practices and college competitions," he says. "The experts will bring a wealth of knowledge and practical experience with the debate topic."
The event, which represents the 2015 installment of PLU's annual Ruth Anderson Public Debate, represents an opportunity for students to engage with community leaders in a timely policy discussion — an opportunity that Eckstein believes is a rarity in local and national civics.
"Honestly, how often do you see college students given (public) space to advocate or doubt a position?" asks Eckstein.
"Students are too often relegated to the margins of the public sphere, as if they do not have something productive to add to the public discussion. We think that students have unique perspectives that enrich public debate."
Debate Format
The debate will occur in three rounds. In the first round, each debater will give a seven-minute speech. The second round will be a 20-minute question-and-answer session. In the third round, each speaker will deliver a three-minute closing speech. The audience will vote at the beginning and the end of the program. Whichever side persuades the most people wins the debate.