Lutes shine at Northwest Emmys
Posted by:
Todd
/ June 23, 2016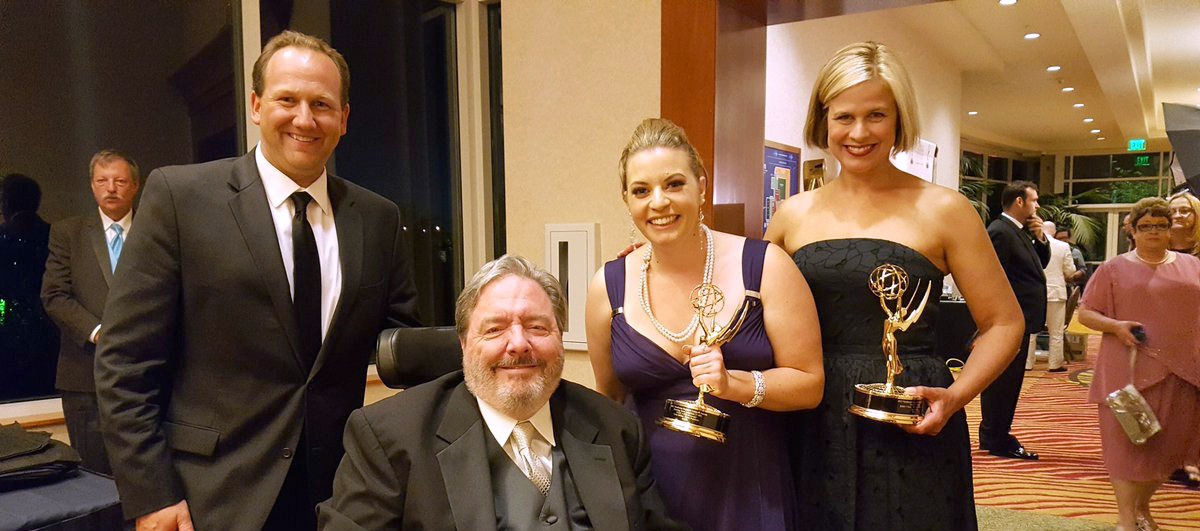 June 23, 2016
Lutes were out in full force at the Northwest Emmy® Awards Ceremony on June 4, at the Hilton Seattle Airport & Conference Center. Ray Heacox '76 took home two honors, an induction to the Silver Circle and an Emmy for Overall Excellence for his work with King 5. Carla Miller '06 and Alison Grande '95 also took home awards.
The Silver Circle honors media professionals who have a record of making contributions to the industry and their community for more than 25 years. Heacox is a senior executive with experience in television, technology and higher education and serves on the SOAC advisory board. Heacox's resume includes time as a network executive in New York and Los Angeles with NBC, and the first director of the Paul F. Harron Graduate Program in Television Management at Drexel University. He currently serves as president and general manager of KING 5, KONG and NWCN.
"The best part of my job is watching people work together at the top of their individual games. With a unified mission, individuals can contribute to a common goal," Heacox writes. "Success enjoyed and recognized as a team is the sweetest success of all."
Under his leadership, KING 5 has been the recipient of two national Edward R. Murrow awards for overall excellence, two Peabody awards for KING 5 investigations, a DuPont Award from Columbia University, four regional Emmy® awards for overall excellence and the National Association of Broadcasters Service to America Award.
Along with Heacox, Grande and Miller were also recognized at the ceremony for their work. Grande was honored as part of the team at KIRO that broke the news story on the Seattle Ride the Ducks tragedy in September 2015. She has been working for KIRO for 18 years.
Miller serves as a news producer for KOIN TV 6 in Portland. She won best evening newscast for "News at 11 p.m." Miller's award winning newscast featured coverage of the deadly mass shooting that took place in Oregon in the fall. This, Miller says, is a hard fact to reconcile.
"I struggle with the fact that nine people died, yet I win an award?" Miller said. "It just shows you can deliver compassionate, compelling stories in a way that resonates with viewers, no matter what the topic."
Miller remains active at PLU and has visited the university's student media office to give advice to students. As a senior producer, she also helps mentor younger producers at KOIN.
"Carla's mother had me in tears at the Emmys," Professor Joanne Lisosky said, who was also present at the awards show. "She said she recalled the exact words I said to her when we met at graduation. Carla's mother said, 'You told me she was very talented and would some day hit the big time…and look where we are now.' I was right."
For more information on the winners and to watch the winning videos, visit natasnw.org.