PLU wins Pan-American Debating Championships
Posted by:
Todd
/ March 16, 2017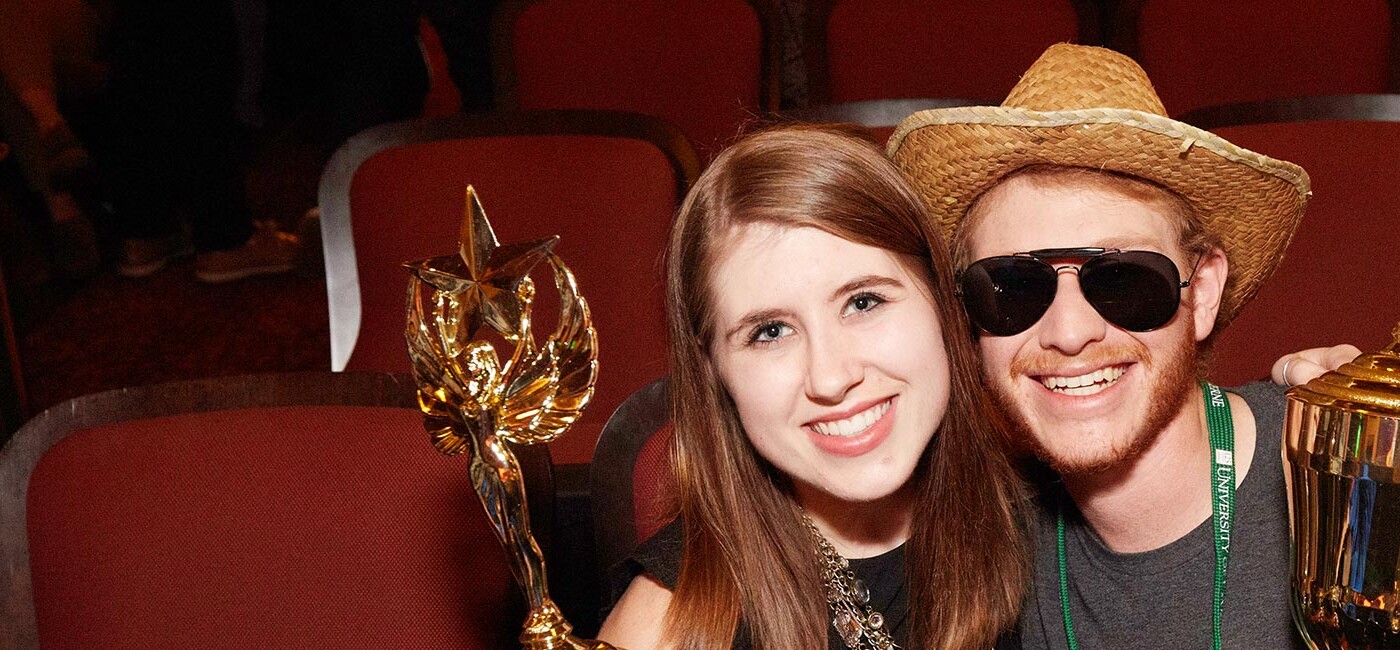 March 16, 2017
PLU returned victorious from the Pan-American Debating Championships March 10-12 at the University of La Verne in Pomona, Calif., where debaters from universities nationwide and more than nine different countries gathered for divisions in English and Spanish Worlds Style debate.
In a difficult final round against Cornell University and University of Denver, Pacific Lutheran University seniors Kate Hall '17 and Matt Aust '17 won the tournament's Spanish division. This is the university's first international debating championship.
"This victory represents our teamwork, our perseverance through linguistic challenges and our creativity," Hall said. "But at the end of the tournament, we have something to be even more proud of: we were part of cultivating a connected debate community."
In six rounds of preliminary debate, competitors explored the implications of diverse motions considering feminism, immigration, economy and democratic elections, testing their knowledge of multifaceted concepts and ideologies.
Hall and Aust entered Spanish semifinals in eighth seed after mixed success in preliminary rounds. They faced two international teams from Colombia as well as a team from University of Denver, advancing to finals on a 2-1 split decision.
Varsity debaters Tate Adams and Megan Bowen competed in the tournament's English division and narrowly missed breaking into quarterfinals with 11 points after six rounds.
"I am so proud of the way PLU competed at this tournament," Director of Forensics Justin Eckstein, said. "Being the Pan-American Champions is just the cherry on top of an incredible weekend."
Continuing a tradition of encouraging thoughtful inquiry, interdisciplinary collaboration and student growth, the T.O.H. Forensics Forum expanded its participation in national tournaments this year to include Spanish Worlds, additionally placing in finals earlier this season at Willamette University.
The debate season continues at the United States Universities Western Regionals Championships March 25-27, 2017, hosted at Pacific Lutheran University. For more information, visit http://www.forensicstournament.net/WesternUSU/17.
About the T.O.H. Karl Forensics Forum
T.O.H. Karl Forensics Forum's mission is to provide undergraduate students a democratic laboratory to craft and test arguments, explore new literature, hone critical reasoning, practice public speaking, and develop leadership skills. The T.O.H. Karl Forensics Forum balances competition with service to the local community through forensics mentoring programs and public debates.
The T.O.H. Karl Forensics team is housed in the Department of Communication and Theatre at Pacific Lutheran University, which offers approximately 3,100 students a unique blend of academically rigorous liberal arts and professional programs. Students develop skills in decision-making, analysis, communication and reasoning that prepare them for a lifetime of success – both in their careers and in service to others.
For additional information, call the Department of Communication and Theatre at 253-535-7761 or coth@plu.edu. Connect at twitter.com/pludebate or facebook.com/PLUdebate