February 23, 2022
By Rylan Moulton

Nicole Renee Jordan '15 self-describes herself as "a very values driven young adult."
During her time at PLU she was involved in many different aspects of life on campus, enough to have a box full of gold name tags. Her work ranged from Admissions to Res Life to the Diversity Center, all with a focus on fostering community and sustainability. In addition, she was a Rieke Scholar (2012-2015) and a Diversity Advocate (2014-15).
As a black woman at a primarily white school, Nicole was looking for a place to meet other people of color on campus. This desire led her to the Diversity Center. During her time there, Nicole was able to find her community and, with its support, explore her identity ("Shout out to Dr. Angie!"). Later, she would help other students do the same through her roles as a mentor and a Diversity Advocate. It would be an understatement to simply say that Nicole likes mentoring. She thinks of her mentees as "like my kids." She jokes, "I fed them, burped them," and describes the pride she feels for their success as a "proud mommy moment."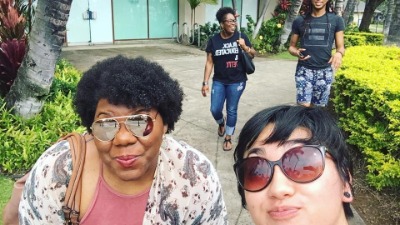 Nicole fondly remembers the Students of Color Retreats she attended as a student for the valuable memories she made, as well as the concepts she learned. "The Students of Color Retreat [is] where I learned about the 5 Stages of Minority Identity Development. That language has stayed with me since 2012, and we use it as alumni to lean on each other." Even after graduating, Nicole remained in touch with the Diversity Center, still going on every Students of Color Retreat, whether it be to present or just show up. "It's been important for me to stay connected to that international alumni because of the opportunities to mentor again."
She hopes that at some point in the future, PLU students will have the same connection to the Diversity Center and its community that she had and in many ways, still has. "I would love for the future of the Diversity Center to be a space that people can claim again and feel deeply rooted to. It was such a home. I hope our students can still have that camaraderie and, like, just a dedication to the continued learning." She fondly recalls people sleeping on the couches often enough to make a calendar of those photos. "That's how homey and warm it was."
Nicole came to the Diversity Center seeking community with other students of color. In 2015, she graduated with that community, a renewed sense of her identity, and many happy memories. And in 2020, she came back to that community as the Coordinator for the Center of Gender Equity in order to support students in the same way that the Diversity Center has supported her.