Spring 2023 Move Out
May 19th – June 1
Traditional Halls close Fri May 26 @ 6pm
South Hall closes Wed June 1 @ 6pm
Donation Bins starting May 12th
Outside Dumpsters May 15th
What do you do with your couch you no longer need?  Or the extra snacks you didn't get around to eating?  
Move-Out can be a hectic time each year as students are both studying for finals and preparing to leave their residence halls.  To help ease the stress and maintain PLU's commitment waste diversion, we coordinate a campus wide Move Out experience to encourage diverting as much as possible from the landfill.  In year's past, we have diverted 200,000+ lbs of material from the landfill!  In addition to our on campus recycling program and on campus SurPLUs Store, during Move Out we also partner with the NW Furniture Bank, Goodwill, and Trinity Lutheran Food Pantry whose missions are to connect furniture to people in need.
This website serves as a guide to assist you in participating in the Move Out waste diversion efforts and the changes to landfill and recycling collections during this time.  If you have an item that you are unsure how to dispose of properly, contact the Waste Diversion Department.
Return
A first step to packing and moving is returning items back to your friends and the proper campus locations.
Dining Utensils and Dishes – Return to The Commons dishroom or in the drop off bin located in the first floor lobby of your residence hall
Library Books – Drop these off at the bin in your residence hall, Center for DJS, Mordvet Library circulation desk or in the return bin outside the front doors
We encourage students, when able, to donate items that may otherwise be sent to the landfill.  This encourages a closed loop system and contributes to a culture of reuse.  During Move Out, gently used items for donation can be placed in the bins located in the first floor lobby of your residence hall.  Once collected, these items will be sorted and delivered  to SurPLUs and NW Furniture Bank for redistribution.
Donation items will be collected multiple times throughout the day.
BEDS/FRAMES/MATTRESSES/BOX SPRINGS

Matresses & Box Springs (all sizes, must be dry, fees apply

Bed Frames: Metal and complete (plain metal frames without a headboard/footboard)

BOOKCASES (60" max height or width

CHAIRS (upholstered)

CHEST OF DRAWERS/DRESSES

CLOTHING

DESKS (36" max height or width)

DINING TABLES & CHAIRS (min. Set of 2 chairs)

FILE CABINETS (metal)

GLASS TOP DINING TABLES

HOUSEHOLD ITEMS

Dishes, posts & pans, silverware, lamps, linens, pillows, small appliances

KNICK-KNACKS

LIGHT FIXTURES

NIGHTSTANDS

NON FURNITURE/HOUSEHOLD ITEMS

Books

Bicycles

Exercise Equipment

SCHOOL SUPPLIES

SOFAS/LOVE SEATS

TV'S (small to medium)

TV STANDS (small)

UNOPENED NON-PERISHABLE FOOD
PERISHABLE OR OPENED FOOD ITEMS 
DESKS (larger than 36" x 36"; metal) and 
ENTERTAINMENT CENTERS (tube TV Cabinets)
Much of our waste on campus is able to be recycled, and thus diverted away from the landfill.  However, knowing what and how to recycle ensures that your efforts don't go to waste.  Learn more about Recycling at PLU.
During Move Out upper floor Recycle Rooms and fenced corals will be locked.  Please take all CLEAN, DRY, AND EMPTY items for recycling to the first floor Recycle Room.  Items recycled at PLU:
Bottles & Cans

Paper

Glass

Cardboard boxes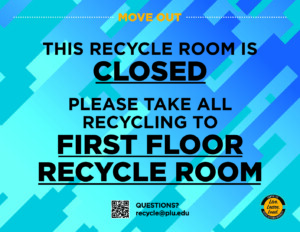 When your items are not able to be donated or recycled, they must go to the landfill.  During Move Out 4 large dumpsters are brought to centralize our landfill collection.  Trash totes in residence halls will be removed requiring all landfill items to be hauled to one of these dumpsters. 
Landfill dumpsters open Friday morning May 19th 
Please use the landfill dumpster location associated with your residence hall:
Harstad – Directly behind the building.
Tinglestad & Pfleguer – East side of Pfleguer facing Tinglestad
Stuen & Ordal – Across from Ordal, next to Hong
Hinderlie & Kreidler –  Across from Hinderlie, next to Hong
South – Parking lot past the recycling corral