RecycleMania
RecycleMania is a friendly competition and bench marking tool for college and university recycling programs to promote waste reduction activities to their campus communities. This year the competition spans from February 3rd to March 30th. Over an 8-week period each spring, colleges across the United States and Canada report the amount of recycling and trash collected each week and are in turn ranked in various categories based on who recycles the most on a per capita basis, as well as which schools have the best recycling rate as a percentage of total waste and which schools generate the least amount of combined trash and recycling. With each week's updated ranking, participating schools follow their performance against other colleges and use the results to rally their campus to reduce and recycle more.
The overall goals for RecycleMania (as found on their website here: RecycleMania About) are:
Motivate students and staff to increase recycling efforts and reduce waste generation.
Generate attention and support for campus recycling programs.
Encourage colleges to measure and benchmark recycling activity in their effort to improve their programs over time.
Have a fair and friendly competition.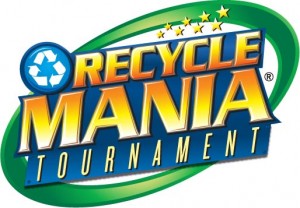 Current Results
Check out the RecycleMania current results page to see how PLU stacks up against other colleges and universities! Then head over to our Recycling at PLU page to see how you can help us improve our recycling.
Garbology - The Study of Garbage
In 2013 PLU hosted it's first campus wide Garbology or waste audit. Hosted by RHA and ASPLU with support from the Sustainability Department at the time. This event helped show the PLU community that there were quite a few items that were being thrown in the trash that were actually able to be recycled or composted. ASPLU Sustainability Director, Sara Patterson, and RHA Sustainability Director Anna Pfohl organized the event in Red Square and invited students to get their hands dirty and sort through the trash collected in just one day! RecycleMania even featured an article about it: Pacific Lutheran University