Resource Conservation Management
Understanding the cycle of material and energy flows through our campus is a very significant part of trying to create a more sustainable campus community. The Resource Conservation Manager in Facilities Management primarily focuses on conserving natural resources (Electricity, Water, and Natural Gas) through infrastructure efficiency improvements, maintenance and operations, and behavior change campaigns. We strive to accurately assess the full Life Cycle Cost of our facilities needs to ensure our infrastructure management practices accurately value the needs of the People, the Planet, and Prosperity for all, both now and into the future.
Energy
Green energy is defined as energy generated from clean, renewable resources, such as wind, solar, geothermal, small hydro-electric and biomass. Green energy is the sub-set of renewable energy that has the lowest environmental impact. Current energy use on a campus-wide level at PLU is shown in the following diagram. To learn more about our energy usage at PLU, please refer to the 2014 Facilities Master Plan.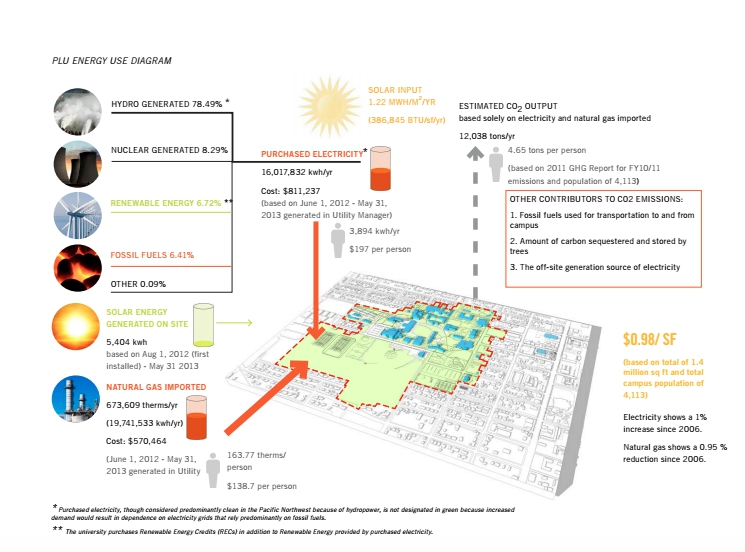 Water
The cycle and flow of water in a given environment are very complex. Water arrives naturally through precipitation and local surface runoff and leaves through infiltration, vegetation, streams, soil, evaporation and transpiration. Existing water service is provided by Parkland Light and Water, and the Water Mains on campus consist of four-, six-, and eight-inch Main Lines. Current water use on a campus-wide level at PLU is shown in the following diagram. Please refer to our 2014 Facilities Management Master Plan for more information.