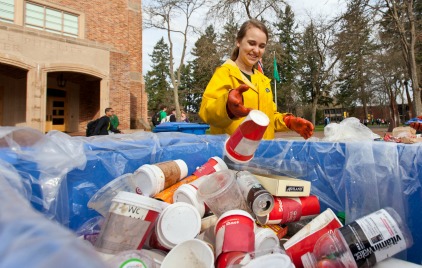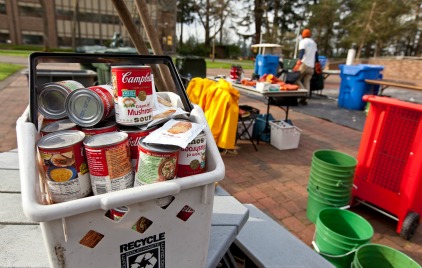 The Waste Diversion department is a largely student operated department as a part of Environmental Services. If you see a student carrying a bag full of recycling, or trading out your office compost, that's a Waste Diversion technician!
The Waste Diversion department focuses on maintaining the university's waste diversion practices, including recycling and compost, in an effort to improve the campus waste diversion rate.  Currently PLU's waste diversion rate is approximately 65%, meaning that approximately 65% of PLU's total waste has been diverted from the landfill and instead been recycled or composted.
The Waste Diversion Ethic
Typically when discussing waste diversion most refer to the three R's, "Reduce, Reuse, Recycle." In the Waste Diversion Department at PLU we work towards the five R's, which add, Refuse and Repair to the three R's. For more information about the five R's and how they might be utilized in your life, check out the tabs below.
Sustainability
The Waste Diversion department is only one component of Sustainability on PLU's campus. For more information on other Sustainability focused departments, projects, and more, please visit the Sustainability at PLU website.