Welcome to the Parkland Literacy Center
The Parkland Literacy Center (PLC) is an organization at Pacific Lutheran University (PLU) that establishes, implements, and conducts various programs that serve the academic needs of our local community. The PLC is composed of PLU student staff as well as student volunteers.
The mission of the PLC is to serve the greater Parkland community through literacy training and academic support. Currently, we provide any subject of tutoring to K-12 students within the Franklin Pierce and Bethel School Districts. In addition to our academic tutoring services, we offer language tutoring assistance as well. This includes English Language Learners (ELL) for people of any background and/or experience, as well as assistance in learning Spanish, and preparing for the STAMP test (allows for students in high school to earn language credits in college).
The PLC is an encouraging and safe space. We want to challenge common myths that some students are naturally better students, better readers, or better writers. The truth is that every student has a wealth of experience to share and any student can be an excellent reader, thinker, writer, or speaker. What does it take to improve? It takes support! And we're here to offer it. We help students learn by building confidence, supporting skill development, and demystifying the learning process. We offer these resources through tutoring drop-in hours and/or through virtual or in-person appointments by emailing us at literacy@plu.edu.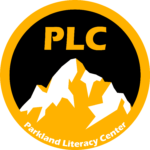 Fall 2023
The PLC is open for drop-in hours beginning September 25, 2023.
You can also email us to schedule appointments outside of these hours, based on tutor availability: literacy@plu.edu
Please specify the area(s) you need help with, as well as the times you are available.
Clases de inglés / English classes for adults will begin again in the fall!