Communications and psychology double major Alex Reed '23 explored film and storytelling at PLU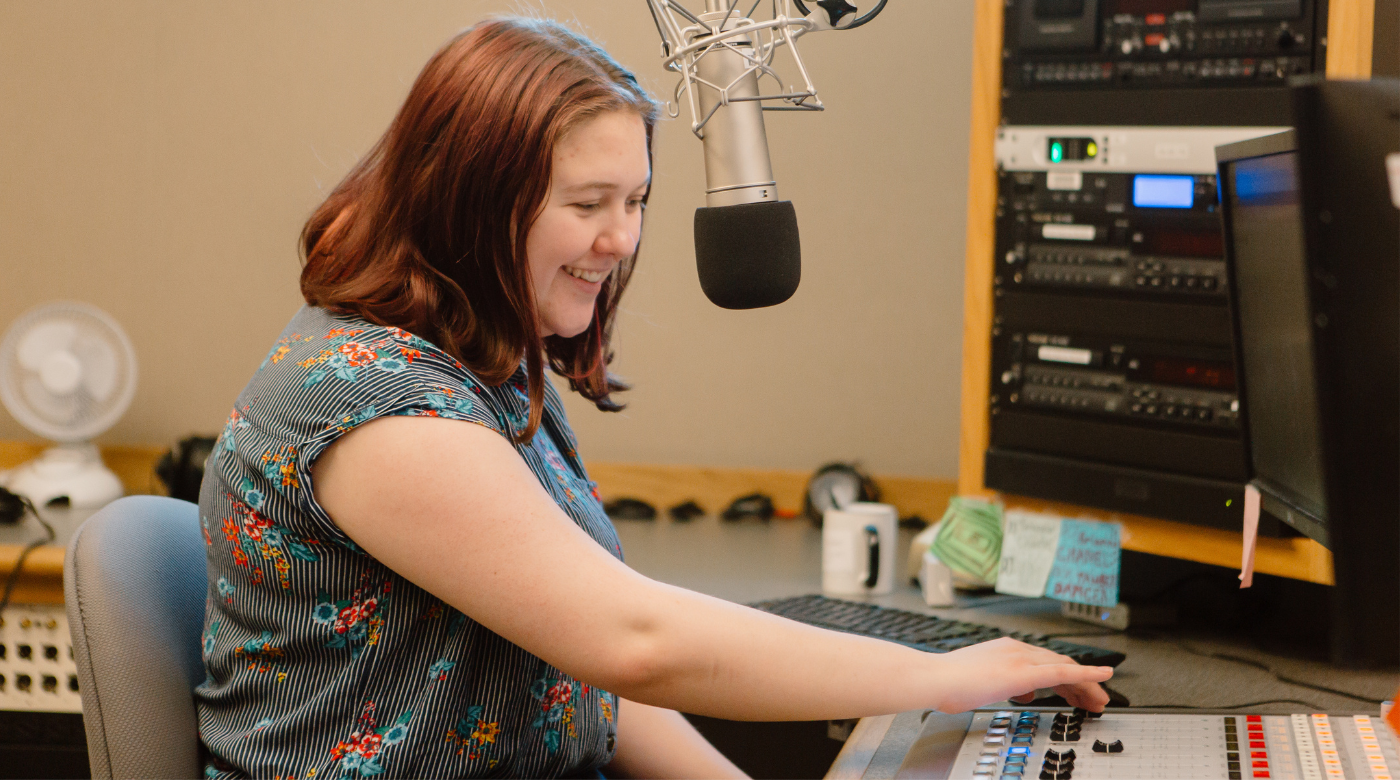 May 19, 2023
By By Lisa Patterson
Marketing & Communications Guest Writer
Sometimes the most random moments leave lasting impressions.
Alex Reed's first experience at PLU happened when she was a high school sophomore, when her school band came to the university to attend a music clinic. "This trip definitely put PLU on my radar as I started looking at colleges," she said. What sealed the deal were the people during her campus tour. "Everyone I met that day was super welcoming." PLU may have made a mark on her, but she has also made a lasting mark on it. Reed is a double major in communications and psychology with a minor in gender and sexuality studies. She also is a member of MediaLab, an award-winning student-run media organization that offers public relations, graphic design, writing, event planning and more. And she DJs at Lute Air Student Radio (LASR).
We caught up with the busy senior to learn more.
How has your PLU experience prepared you for your future?
My PLU experience has prepared me by letting me have hands-on experience that I know I wouldn't have gotten at a bigger university. Through MediaLab and several other communications classes, I've had the opportunity to work with and create content for real clients. Because of this, I have been able to start a portfolio of projects I've worked on to show potential employers, as well as establish connections with contacts outside of PLU.
Secondly, being able to have personal connections with my professors has been the mentorship I needed to help me flourish. Leaving PLU, I have at least five references, most of which are professors, that I know will vouch for me moving forward, which is a pretty great feeling! Overall, I feel confident that my education at PLU has prepared me for my future.
Tell us more about your experience with MediaLab and your roles.
This spring is my third semester in MediaLab. I've had the privilege of working with many different teams, and even leading a few. I've really enjoyed helping run MediaLab's social media accounts, as well as working with the Grand Cinema in Tacoma to create promotional videos for them (Tacoma students can see movies there for free so I definitely recommend going!). Spring of '22 I had the opportunity to lead a team working with the Tacoma Area Literacy Council, a local nonprofit that helps adults learn English. My team was able to shoot and edit a video for them, as well as redesign their website. This project solidified the fact that I want to pursue a career in media creation going forward. This semester I am leading a team to create a promotional video for MediaLab, and I'm super excited to see how it turns out.
Tell us about your capstone.
For my communications capstone, I am creating a documentary called "Their Journey." My documentary focuses on the coming out stories of six LGBTQ students on campus, as well as several coming out scenes in popular TV series from the last couple years (for example "Heartstopper," "Queer as Folk" and "Sex Education"). In the wake of groundbreaking queer representation on TV, I'm investigating the questions: What's still missing from the mainstream coming out narrative? And how could these stories be better told to more accurately depict people's real life experiences? My goal in creating this documentary is to prompt a conversation about coming out culture and stress the importance of centering queer voices in the media.
What's next for you?
I am currently applying to marketing and other communications positions, so I plan to go from there and see where it takes me!