Law school-bound Jasneet Sandu '23 is passionate about global studies, anthropology, computer science and religion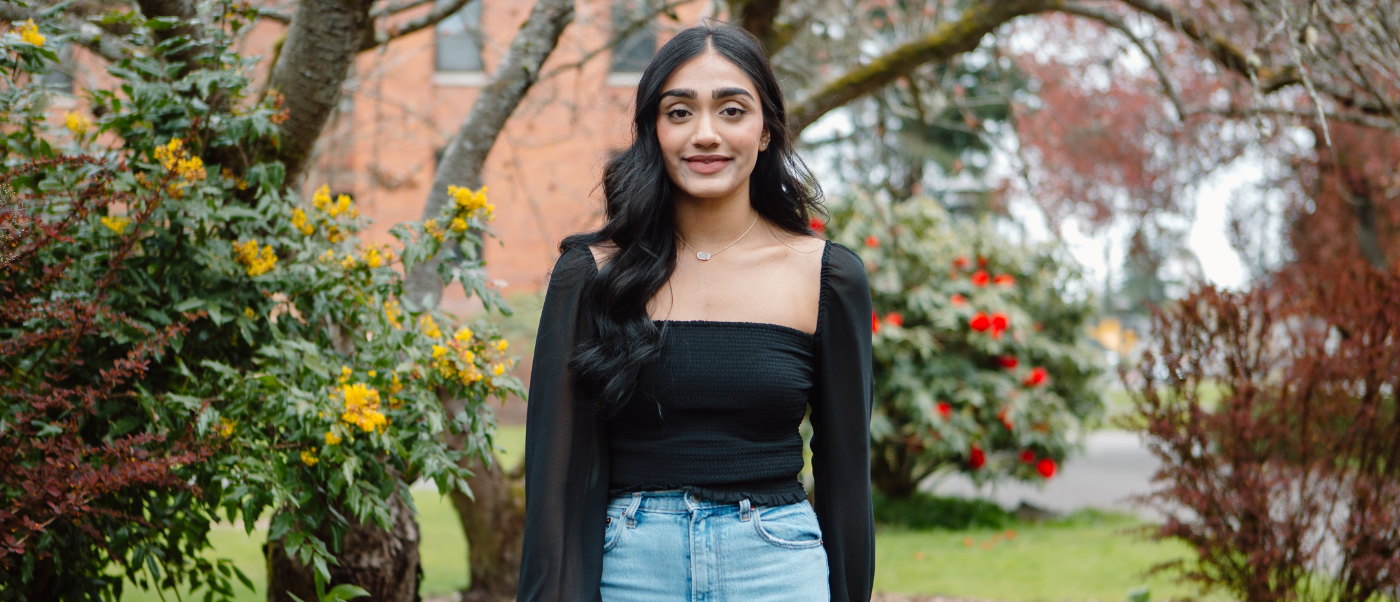 May 16, 2023
By By Lora Shin
PLU Marketing & Communications Guest Writer
Jasneet Sandhu had planned to minor in global studies. But soon into her PLU experience, she decided to double major in it, along with computer science. She added anthropology and religion as double minors—as part of a strategy to enjoy her college experience at a reasonable pace.
Which might seem contradictory at first. But Sandhu transferred to PLU with two years of Running Start credits as a 17-year-old, with plans to graduate in two years. The pandemic was in full force, and classes were online. When in-person classes started in Sandhu's senior year, she felt a little behind and hesitant to ask for help.
"I decided to add a year, slow down a bit and give myself space to grow," she says. As a result, she pursued international interests while staying near her family and community.
Pursuing the personal and political
Sandhu's passions for global studies, anthropology and religion are rooted in her family's history and background as Punjabi Sikhs. Her father was born and raised in the United States, while her mother immigrated from Punjab, India. Sandhu is the oldest of four children—three sisters and one brother—ranging from 20 to 9, all deeply involved in their community.
The Sikh population faced genocide in India's Punjab region in the 1980s, when government police picked up and killed young Sikh men and orchestrated military operations on Sikh holy places. In class, she wrestled with the history of international relations—and why the global system allowed this to happen.
"I try to bring the Punjabi Sikh topic into the classroom, as it's under-studied," she says. "I want to make a difference and have an academic understanding of these issues."
Sikhs can face discrimination in the U.S. due to appearances. They may stand out visually due to their five articles of faith, which are required for both male and female devotees.
These include uncut hair covered in respect for God's creation; a comb to represent cleanliness and a tidy, organized life; a steel bangle to remind of wise use of the hands and community bonds; a small sword for the defense of others at risk of abuse or oppression; and undergarments for self-respect and mental control.
"The idea is that a Sikh is visible and recognizable and carries tools to help them be a better person and to protect and defend others," Sandhu says.
Although Sandhu initially hesitated about attending PLU, she felt relieved that the school's Lutheran foundation wasn't dogmatic or proselytizing. "Everyone at PLU wants to learn about different people and break down barriers," she says. "I felt very welcomed in this space."
Sandhu even minored in religion out of a two-way respect for faith. "I want people to understand my faith and background to lessen discrimination. So, I was responsible for educating myself about faiths and religions, as I want others to do the same with my faith."
She also appreciated PLU's interdisciplinary focus and the ability to explore intriguing and important coursework topics. For her capstone, Sandhu and her group melded social justice and computer science, crafting a web-based advocacy platform for hate crime mapping that combines national and state-level statistics.
In her 2023 J-Term, Sandhu spent a month researching and studying forced migration at Oxford University. Oxford's tutorial system required her to do all of the reading—such as 10 academic articles on the topic—outside class, then meet with a doctoral student for discussion. "Being in a different country and educational system, you're forced to learn in a new way," she says. "And you can't learn that unless you live it."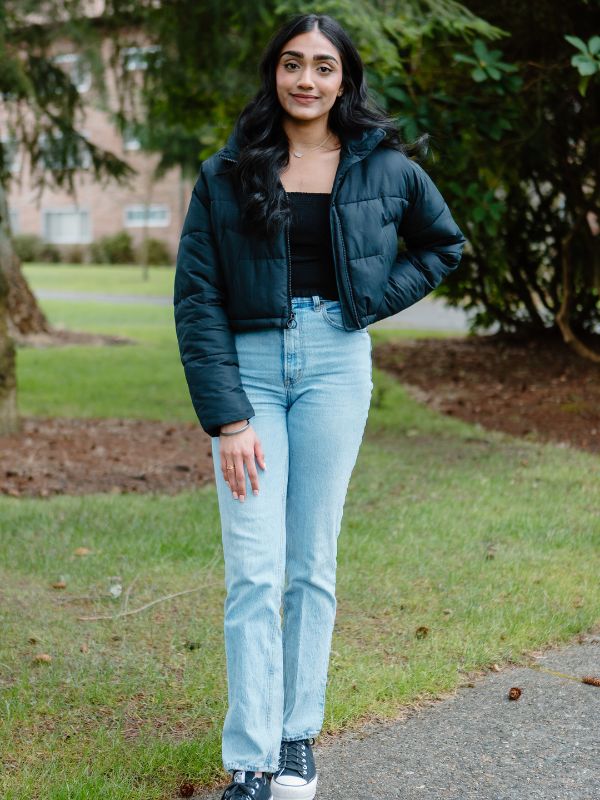 Making the best of PLU's offerings
For new PLU students, she recommends taking advantage of a professor's office hours. Two professors have helped define Sandhu's experience—Dr. Jeff Caley, Assistant Professor of Computer Science, and Dr. Ami Shah, Associate Professor of Global Studies.
"Both supported me, and having them in my corner guided me through PLU, including my rowing team, degree changes, law school application and even my resume editing. In every facet of my experience, I could count on those two professors."
Living at home and commuting to school, Sandhu worried about building connections with peers and professors. She chose PLU for the opportunity to build relationships with professors and fellow students. "Smaller class sizes and cohorts help build a community you can turn to, even after you leave PLU," she says. She also joined the rowing team for two years. "When you struggle together at 5 a.m. in the water, a community is built."
Sandhu will attend law school this fall with the goal of supporting and advocating for marginalized communities, including immigration law, domestic violence and other issues.
The Sikh community is very family-oriented, she says. So, while she applied to out-of-state law schools, she plans to stay close to home. "My family has allowed me to be where I am today."