Currently Reading:
How the PLU School of Business is adapting with the times to stay true to its mission
How the PLU School of Business is adapting with the times to stay true to its mission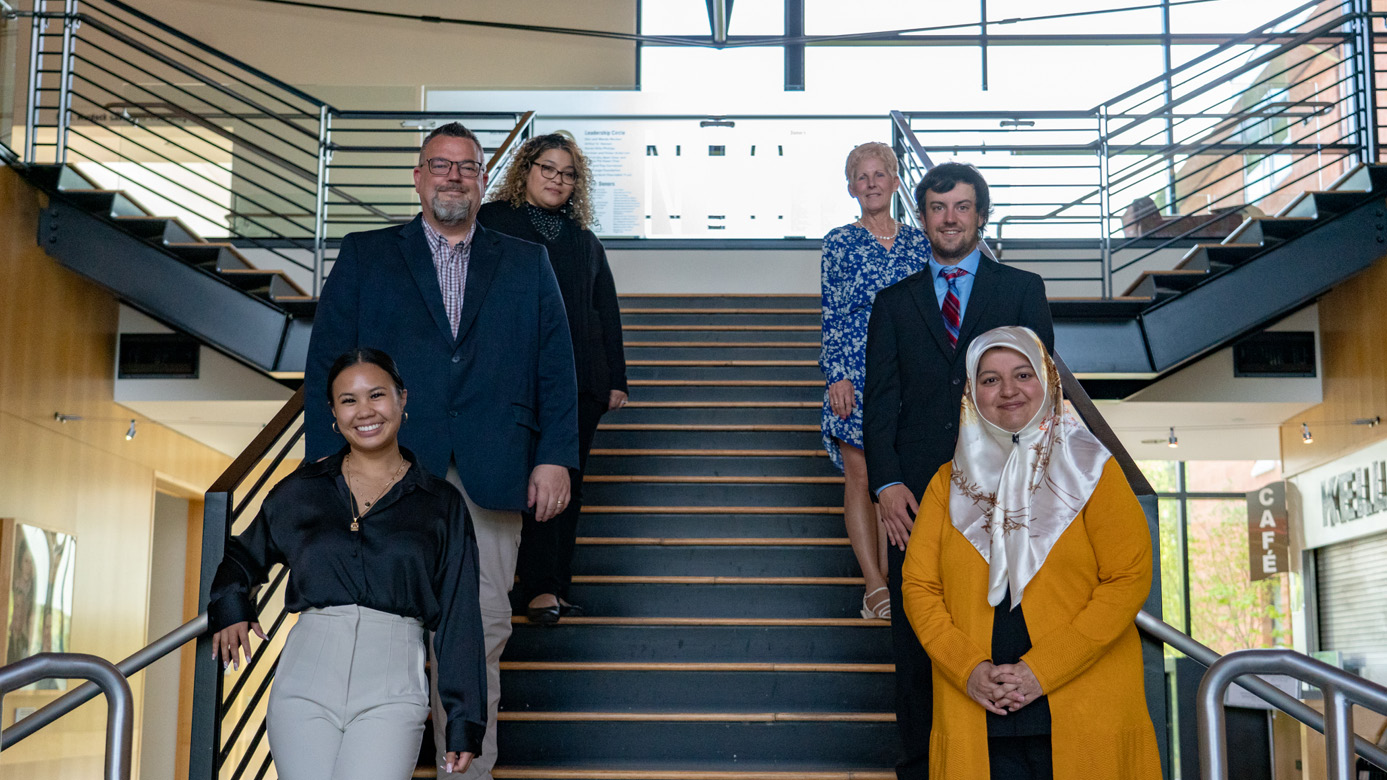 May 13, 2021
By Zach Powers '10
PLU Marketing and Communications
The world of business is always changing. Markets trend up and down, technologies evolve, and ethical standards constantly progress. To many private sector veterans this rate of change can be daunting, but to students and faculty members at Pacific Lutheran University's School of Business, they are endlessly exciting.
"As we look back, we can see that business has indeed changed over the past few decades. As we look forward, the pace of change seems to accelerate," says Mark Mulder, who was named dean of the PLU School of Business last summer. "In the School of Business, we focus not only on the skills students will need in the future, we also focus on the timeless skills that we know are critical."
"Students need to be ready for 2030 in their skills, though they also need to be highly effective communicators, teammates, innovators and leaders," continues Mulder. "We seek to help students stay ahead of the curve, and as we see in the success of our alumni, a PLU business degree is a great foundation for an excellent career."
Somaye Nargesi, a second-year business professor, came to PLU from a large research institution. She immediately noticed a stark difference in how her new institution approached the field.  
"At PLU, the business curriculum is mostly designed around soft skills, meaning how you build insightful inquiries, how you're able to connect the dots, connect the concepts that you're learning across your business and general courses."
"All companies can have their own set of desired skills and they can train their employees. Here, we're not just doing that," Nargesi continues. "We're not training people to go be successful workers. We are trying to raise a generation of business people that care, who see the big picture and who are able to be problem solvers at an integrated level. Not just workers who repeat quantitative techniques."
That perspective rings true to business and sociology double major Allisa Ouanesisouk '21. "My classes have the perfect balance of learning about how businesses are run and how to make the most ethical decision-making," she says. 
"With my core business classes, I am able to learn how the systems are implemented in order to make a successful business. In other classes, I am able to have discussions on how to come up with the best decision method or how to be a supportive leader or manager." 
A critical foundation to this balance is a nuanced understanding of business ethics. A welcome emphasis for Melanie Brisbane '21, a working student who has been with Boeing for 15 years. 
"I feel like there has been a strong focus on ethics in all of my classes and a lot of learning about management styles," Brisbane says. "As a student with a career within a large company I feel like what I learn at PLU is very aligned with the way business is run where I work and also a good example of how things should be run."
Collaborative projects and problem solving are a hallmark of working in business, which is why they are also a hallmark of the PLU business curriculum. 
"Very rarely do people work completely independently," says Mulder. "Much of the business ecosystem is fueled by collaboration with colleagues, customers, and our communities. Team collaboration, and opportunities for team leadership, abound in business classes. It's a critical foundation in our curriculum and one that sets a PLU graduate apart from others."
Business major and Men's Golf standout Ryan Pearson '21 says that team projects have helped bring principles he's read about to life—dating all the way back to his first business course.
"In 'Intro to Business' we had to actually create a product idea that we wanted to bring to market and we had to do all the marketing, production, and selling behind our product," Pearson remembers. "It was a great introduction to see how much work goes into making a product successful."
"I also really benefited from a stock market project that was part of a finance course," he continues. "We had to select stocks that we wanted to invest in. We were given a beginning balance and we could allocate that money however we wanted to in the stock market. We then went through the semester seeing if we were going to make or lose money from our investments."
Ouanesisouk, who was offered a job by Amazon Web Services months before graduation, says team projects that connected business lessons with the needs of local businesses have been a highlight of her years in the program.
"In a business marketing class we had to reach out to local or PLU organizations in improving their marketing strategies," she says. "This meant we took over their social media, created a plan of what kind of content we needed to post, and evaluated where they needed improvements and how the changes can be long-term."
Partnering with Community
Projects like the one described by Ouanesisouk make Mulder light up with enthusiasm. A former Tacoma-Pierce County Chamber of Commerce board member, Mulder has helped spreadhead countless collaborative connections between PLU business students and local businesses and nonprofits.
"It's a lot of work and really difficult to embed real-world projects into courses," Mulder explains. "It's why faculty at other universities typically don't do it, as they may not want to invest the time, or they don't see the value when their focus as a faculty member is research and not teaching."
"In the School of Business, we live the mission of service, leadership and care through our projects. Our faculty help mentor students in these projects and relationships, and they are really neat professional experiences embedded in our courses."
One of the many new PLU business initiatives Mulder is excited about is called Nourish, a pilot program that prepares students to be effective consultants. Nourish matches teams of two to three students with woman-owned and/or minority-owned businesses, many of which have been recommended by the local Chamber of Commerce.
"For these students, being a great consultant is about applying their business knowledge from class, but also teaching them how to serve as a consultant, how to come alongside a business as a great teammate or helper," explains Cosette Pfaff, an adjunct business professor who is managing the new program.
The program was piloted with one team and one business in fall 2020. In spring 2021, it expanded to include collaboration with the chamber and matched two student teams with two local businesses. The small business owners involved have been thrilled with the results. One of the collaborating businesses this spring has already made plans with a graduating senior to continue contracting with them as a professional consultant.
Emphasis on international—and multicultural—business
For decades, The School of Business has offered a focus on global business education. Undergraduates can partake in PLU study away programs that send students around the world. In the PLU Master of Business Administration (MBA) program, a highlight is the required (and included) 10-day International Experience. Mulder describes it as "an opportunity to use the world as a classroom and meet with industry executives to learn about business best-practices all over the world." In the past decade alone, business students have traveled to places like Chile, South Korea, Singapore and China. In the years ahead, faculty members are planning learning programs in Peru, Germany and Costa Rica.
As this tradition of global learning continues, it is now being paired with a refined understanding that an emphasis on international business isn't just about understanding foreign markets and economies, but also about preparing students to thrive doing business domestically.
"The rapid change of demographics in the United States will result in America becoming a minority-majority nation in the near future," says Nargesi. "That's why understanding and embracing different cultural mindsets, attitudes, and nuances is going to be critical for businesses moving forward."
Nargesi recently created a new 300-level business course titled "Multicultural Marketing." The course is one of many School of Business offerings that delves deep into global and multicultural business.  
"It's different from international marketing, it's multicultural marketing," Nargesi explains. "We're talking about different cultures within the United States. It's essential that our students understand why this is such a critical part of doing business."
One way the School of Business tracks the pulse of the ever-changing private sector is keeping alumni connected to the program through its Business Executive Advisory Board, internship programs, regular guest speakers, and new initiatives like the "Guide by Your Side." 
Started in spring 2021, "Guide by Your Side" is a new mentoring program for first-and-second-year business students. "It's less about learning about the discipline of business and more about providing a 'PLU life coach,'" explains Mulder. "Our alumni are really excited about this program, and we see it as especially beneficial for first-in-their-family (to attend college) students who can use a bit of extra support forming great habits and getting acclimated to learning and life in the School of Business at PLU."
Mulder, who majored in business at PLU in the early 90s and earned an MBA from PLU in 2000, thinks constantly about the long, proven track record of the School of Business; how current business students are being supported, challenged, and prepared for success; and how the program must continuously grow and adapt. He believes the program is well positioned to live its mission for decades to come. 
"There are many business schools that focus the time and energy of faculty on research," Mulder says. "That's great, though it comes at the expense of teaching and relationships with students. At PLU and in the School of Business, our faculty are teachers first, and they are at PLU because they care about their students, understanding what their students hope to explore and achieve at PLU and beyond, and their student's dreams for their future career."'
"Blend that dedication with a continuous dialogue with industry leaders, and the result is a top business program that understands trends and reinforces the core foundations important to industry," Mulder concludes. "This combination allows School of Business graduates to do amazing things in business, nonprofit, and government agencies, and we are so proud of the ethical impact our graduates create throughout their careers."
Learn More About PLU School of Business Programs