About Upper Division Student Housing & Kreidler Community
Transitioning to the Future: Career Preparation, Life After PLU, and More!
South and Kreidler Halls are reserved for students who are 20 years of age or older (by September 1 for Fall Semester and February 1 for Spring Semester) or who have Junior (60 credits) or higher class standing. These Halls promote a more independent living experience, but also support students as they transition into post-collegiate life. We've partnered various campus partners, such as Alumni & Student Connections, to develop an educational and support structure aimed at landing your first job and life after PLU.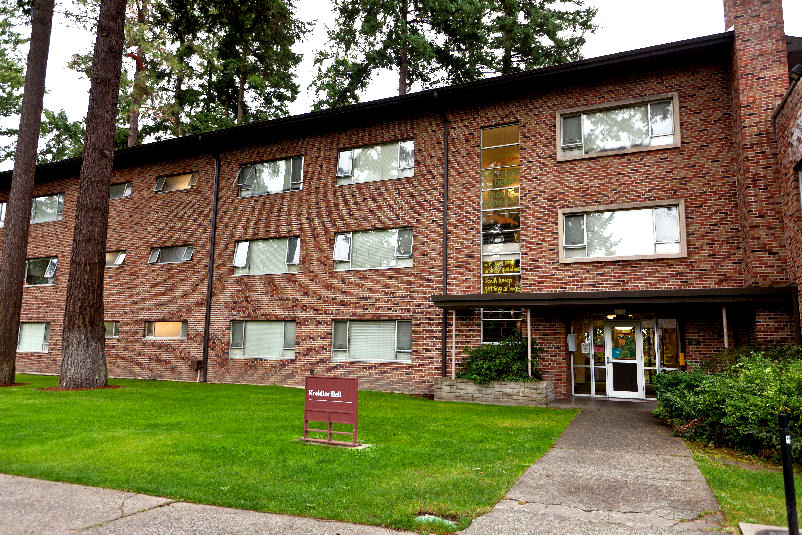 Kreidler - Love campus life but ready for more independence?
This is the only traditional style residence hall that consists of all single rooms and where visitation is not limited. Residents of Kreidler also have the option of a flexible meal plan,(Meal Plan F) and if you are 21 or older, you may now have alcohol in your Kreidler Hall residence under certain guidelines. Space is limited so learn more and sign up now!
Kreidler Community - a place for upper-division commuter, transfer, and veteran students
The Kreidler Community is co-sponsored by the Diversity Center and located on upper campus in the Kreidler Hall first floor lounge. It also houses a commuter, transfer, veteran and junior/senior study space every day from 7:30am to 5:00pm and the CAs (both Community Assistants in Residential Life and Commuter Advocates with the Diversity Center) host a variety of programs weekly. Come check it out!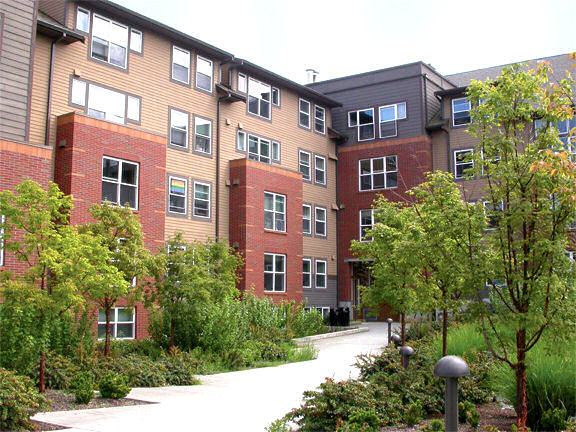 South Hall is Apartment-style living on the edge of campus.
South features a fitness room, individual bedrooms and full kitchens. It also houses married and domestic partnership couples and does not require residents to have a meal plan. Additionally, if you are 21 or older, you may now have alcohol in your South Hall residence under certain guidelines. These apartments are in high demand, so apply early!
Great For Residents Who ...
are 20 years of age or older and/or who have Junior or higher class standing
are looking for an independent living experience on-campus
are preparing to transition to post-collegiate life and are interested in programming related to life after PLU
are upper division commuter, transfer, and/or veteran students seeking a vibrant community
are looking to live on-campus with one's spouse/domestic partner
Program + Learning Outcomes
By participating in Upper Division Student Housing, residents will:
be able to identify academic and personal/professional resources at PLU that will help them navigate their next steps after PLU (e.g., job/graduate school application processes)
practice a more independent living experience in order to ease transition to life after living on-campus
create communities that demonstrate wellness and care for themselves and the world through the lens of diversity, justice, and sustainability
discern their vocation through the lens of leadership and service to positively change their local and global communities
By participating in the Kreidler Community, students will:
have a place on campus where upper division commuter and residential students can connect
experience programming and other support services aimed at supporting inclusion and success for transfer, veteran, and non-traditional students
Location(s)
South Hall (all-hall, apartment style, married & domestic partnership housing available)
Kreidler Hall (all-hall, traditional residence hall style, all single rooms)
RLC Supplemental Application Required?
NO (Kreidler) – Nothing in addition to the continuing student housing application (for returners) and the new student housing application (for new transfer students)
*Note: All residents must complete either the Kreidler Hall Alcohol Module or South Hall Alcohol Module for their respective hall
Example Programs
Below are a few examples of programs that have occurred in South and Kreidler in the past! If you have an idea for a program, contact your Community Assistant to see about planning it!
Adulting 101 | Learn more at: https://www.plu.edu/student-engagement/adulting/
hOMMe cooking | cooking lessons with Campus Restaurants using ingredients from Old Main Marketing (OMM)
Cookies and Careers | resume workshops, interview tips, and more with Career Connections
Financial Planning | including basic tax info, setting a personal budget, and loan payment info with Financial Services
Fire & Ice | Annual BBQ and Ice Cream Social Event hosted by South and Kreidler Residence Hall Council
Contact
For more information about this Residential Learning Community option contact:
Dan Murray, Community Director for South and Kreidler Halls | murraydj@plu.edu