Lucas Kulhanek-Arenas '14

February 22, 2022
By Nolan

Funeral homes and PLU's Diversity Center may seem like contrasting environments, but not for Lucas Kulhanek-Arenas, '14.
His experience with a positive environment like the Diversity Center helped him succeed at his current job as a funeral director, where he works closely with grieving families. Though the job can be heavy, he says that his time with the Diversity Center shaped how he understands and interacts with these families.
The Diversity Center, which celebrates its 20th anniversary this year, is a place for people of all identities to feel safe and cared for. It's been a special space for Lucas since before he even knew he was going to be a student at PLU. "I was doing a student tour and visited the campus and I went to the Diversity Center. There I met Angie Hambrick, who was at the time its director, and she started getting me connected immediately." His initial tour of the Diversity Center left such a positive impression on him that he knew he had to be a Lute.
Throughout his student career, Lucas spent a lot of his time working on projects for the Diversity Center. He particularly remembers working on the Tunnel of Oppression, a program that led students through an exhibition where scenes of violence and discrimination against minorities were acted out to get people to understand the struggles people of those identities deal with. "You go through this dark space, and it can be traumatizing for some people. But it's also a space that shows people the realities of certain marginalized groups in the world. So it's always been an enlightening experience."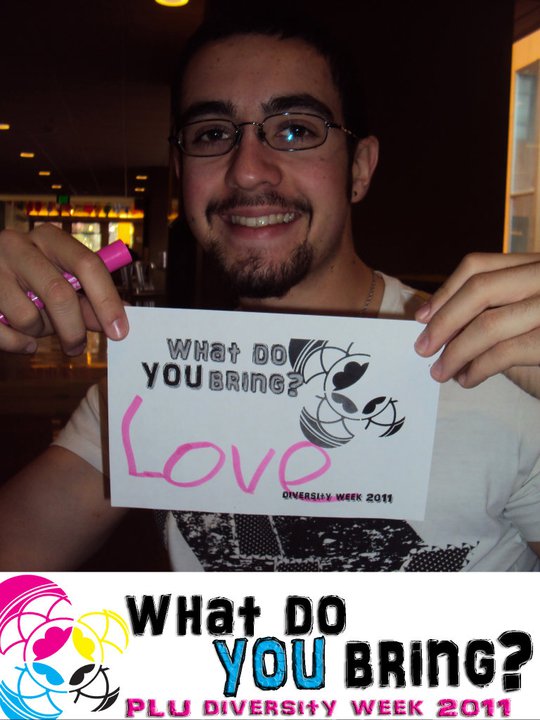 Outside of the Diversity Center, Lucas was heavily involved with campus ministry. He worked as a worship facilitator at one point. His experiences with both intersected all the time, and the programs he worked on for one were often influenced by the other. His interest in the two fields was reflected in his double Religion and Hispanic Studies majors. Faith and diversity are both extremely important topics for Lucas, and led him to want to work with people of all faiths needing assistance dealing with the afterlife.
Lucas' job as a funeral director presents many challenges. People experiencing grief can be unpredictable and hard to work with. "Deep, intense grief when you lose somebody close will make people say things that they don't really mean." However, his time with the Diversity Center has helped him work with these people, and find success and enjoyment in his job. "The Diversity Center has taught me exactly how to respond in delicate situations, then respond accordingly, and how to interact with multiple kinds of people."
Lucas and his husband just finished moving to Spokane Valley and are ready to settle down. It's been ten years since he graduated, but his time at PLU and with the Diversity Center have played a major role in where he is today. "The biggest thing I got from the Diversity Center was empowerment and knowledge of other people, of understanding other communities, and that has deeply impacted my life."