7:00-8:00 p.m. | April 18, 2023 | AUC CK Hall Room 214
SHELF LIFE: Finding Community (and Yourself) in the World of Books
Author Minh Lê discusses the role of the imagination and stories in challenging times—and how books can create the opportunity for deep connections that transcend the page.
About the Speaker
Minh Lê is the author of the picture books Lift (a Washington Post Best Book of the Year), Drawn Together (winner of the 2019 Asian/Pacific American Award for Literature), and most recently The Blur. He also wrote Green Lantern: Legacy, a middle grade graphic novel for DC Comics and the recently released follow up, Green Lantern:  Alliance. In addition to writing books, he serves on the Board of We Need Diverse Books and is on the faculty of the Hamline MFA in Writing for Children and Young Adults.
During the day, he is a federal early childhood policy expert who has worked in education at the national, state, and local level — both in and out of the classroom. He got his bachelor's in Psychology from Dartmouth College and received a master's in Ed Policy from the Harvard Graduate School of Education.
Outside of spending time with his wonderful wife and children at their home in San Diego, his favorite place to be is in the middle of a good book.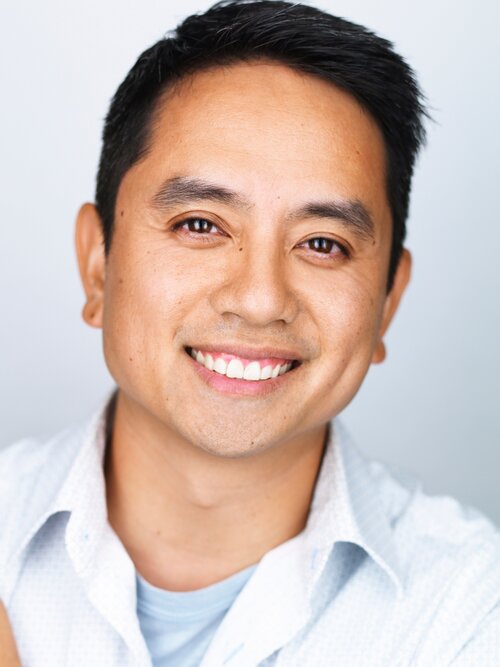 Event Details:
Speaker: Minh Lê
Time: 7:00 – 8:00 p.m.
Date: April 18, 2023
Place: AUC CK Hall Room 214
Book Signing: After the lecture at AUC CK Hall
Free and open to the public 
Three Compliments: Ways to Feel Seen as an Invisible Student
Before she grew up and became a published author, Newbery Medalist Erin Entrada Kelly was an underperforming student who nearly failed English and graduated high school with a 1.7 GPA. When you're quiet and make mediocre grades, it's easy to get lost in the shuffle. In this lecture, Erin will share the three compliments from teachers that she remembers to this day, how those brief moments of praise influenced her writing life, and ways that teachers can change a young person's life in the briefest of moments.
Erin Entrada Kelly is one of the most celebrated children's authors writing today. She received the 2018 Newbery Medal for Hello, Universe, a 2021 Newbery Honor for We Dream of Space, the 2017 APALA Award for The Land of Forgotten Girls, and the 2016 Golden Kite Honor Award for Blackbird Fly, among many other honors. She is also the author and illustrator of the Maybe Maybe Marisol Rainey collection.
She is a New York Times bestseller whose work has been translated into several languages. Her fifth book, Lalani of the Distant Sea, was a finalist for the 2020 Mythopoeic Award for Children's Fantasy and was named one of the best books of the year by the New York Public Library, The Horn Book, Booklist, BookPage, and others.
Before becoming a children's author, Erin worked as a journalist and magazine editor. She received numerous awards for community service journalism, feature writing, and editing from the Louisiana Press Association and the Associated Press.
Erin has a bachelor's degree in women's studies and liberal arts from McNeese State University and an MFA from Rosemont College. She lives in Delaware. She teaches in the MFA programs at Hamline University and Rosemont College. She also teaches fiction with Gotham Writers Workshop.
Rough Patch: On Writing About Painful Experiences for Kids
Presented by Meg Medina
Meg Medina is an award-winning and New York Times best-selling author who writes picture books, as well as middle grade and young adult fiction.
Her works have been called "heartbreaking," "lyrical" and "must haves for every collection." Her titles include:
Evelyn del Rey is Moving Away / Evelyn del Rey se muda, 2020 Jumpstart Read for the Record Selection;
Merci Suárez Changes Gears,  2019 John Newbery Medal winner, and 2019 Charlotte Huck Honor Book;
Burn Baby Burn, long-listed for the 2016 National Book Award,  short-listed for the Kirkus Prize, and a finalist for the Los Angeles Times Book Prize;
Yaqui Delgado Wants to Kick Your Ass, winner of the 2014 Pura Belpré Author Award;
The Girl Who Could Silence the Wind, a 2012 Bank Street College Best Children's Book of the Year;
Mango, Abuela, and Me, a 2016 Pura Belpré Author Honor Book; and
Tía Isa Wants a Car, winner of the 2012 Ezra Jack Keats New Writers Award.
When she's not writing, Meg works on community projects that support girls, Latino youth, and/or literacy. She serves on the National Board of Advisors for the Society of Children's Book Writers and Illustrators, and is a faculty member of Hamline University's Masters of Fine Arts in Children's Literature. She lives with her family in Richmond, Virginia.
These Three Words
Presented by Jason Reynolds
Jason Reynolds discussed the three words he keeps at the forefront of his mind when writing stories for young people. They serve as his compass to ensure the stories connect and feel like true representations of young life, leading to a more engaged reading.
Jason Reynolds is an American author who writes novels and poetry for young adult and middle-grade audiences, including Ghost, a National Book Award Finalist for Young People's Literature.
Born in Washington, DC and raised in neighboring Oxon Hill, Maryland, Reynolds found inspiration in rap to begin writing poetry at nine years old. He focused on poetry for approximately the next two decades, only reading a novel cover to cover for the first time at age 17.
His books have received numerous awards including but not limited to:  Coretta Scott King for Ghost (2016), Schneider Family Award (2017) for As Brave as You, Printz Honor and Newbery Honor (2017) for Long Way Down. His latest book, Look Both Ways, will be released October 2019.
Reynolds say, "Here's what I know: I know there are a lot — A LOT — of young people who hate reading. I know that many of these book haters are boys. I know that many of these book-hating boys, don't actually hate books, they hate boredom. If you are reading this, and you happen to be one of these boys, first of all, you're reading this so my master plan is already working (muahahahahahaha) and second of all, know that I feel you. I REALLY do. Because even though I'm a writer, I hate reading boring books too."
My Journey From Reluctant Reader to Author
Presented by Matt de la Peña
Matt de la Peña's presentation centers around his journey from reluctant reader to published author, and the transformative power of literature. "I didn't fall for books until I was in college — I got there on a basketball scholarship — but once I did, it changed my life," says de la Peña.
Matt de la Peña is the New York Times Bestselling, Newbery Medal-winning author of six young adult novels (including Mexican WhiteBoy, We Were Here, and The Living) and four picture books (including Love and Last Stop on Market Street). In 2016 he was awarded the NCTE Intellectual Freedom Award. Matt received his MFA in creative writing from San Diego State University and his BA from the University of the Pacific where he attended school on a full basketball scholarship. de la Peña currently lives in Brooklyn NY. He teaches creative writing and visits high schools and colleges throughout the country.
Looking in the Mirror
Presented by Kirk Robbins
In this interactive lecture, science education presenter Kirk Robbins guided participants through a learning experience to consider each individual's role in improving the learning of science in the K-12 education system. Participants uncovered and shared their personal "science stories" and used those stories to define the K-12 system of science education both in and outside of school. Participants then used an equity and diversity lens to identify opportunities to change and disrupt the K-12 science education system in order to maximize student learning outcomes for students.
Robbins is a science education consultant and adjunct lecturer (University of Washington, Western Washington University, Central Washington University) in the Puget Sound Region. Robbins has a background as a lab technician with a degree in molecular biology and extensive experience in many levels of the education system. He has worked as a classroom teacher, regional science coordinator, district office science coordinator, supervisor of student interns, consultant, instructional coach, and advocate for science education reform.
Robbins shares science education resources through his blog, teachscience4all.org and he has developed a reputation as an engaging and effective presenter and professional development provider. Robbins is currently partnering with multiple school districts, Educational Service Districts, Pacific Education Institute, and the Puyallup Watershed Initiative to assist with implementation of the Next Generation Science Standards.
Unlocking Your Students' Superpower
Presented by Suzie Boss
A Learning Revolution Goes to School: The Maker Movement
Presented by Sylvia Martinez and Gary Stager
Daniel Willingham earned his B.A. from Duke University in 1983 and his Ph.D. in Cognitive Psychology from Harvard University in 1990. He is currently Professor of Psychology at the University of Virginia. Dr. Willingham's current research concerns the application of cognitive psychology to K-16 education. Dr. Willingham is the author of Why Don't Students Like School?, When Can You Trust the Experts?, and Raising Kids Who Read (forthcoming).
Six Edges of Innovation in Education
Presented by Dr. Milton Chen
Chen shared his thoughts and examples of these six edges including: The Thinking Edge, The Curriculum Edge, The Technology Edge, The Edge of Time and Place, The Co-Teaching Edge, and The Youth Edge.
Six Edges of Innovation in Education
Catching Up or Leading the Way
Presented by Dr. Yong Zhao
Zhao, addressed issues of globalization and technology in a dramatically changing world. He addressed questions including:
Is education reform in the U.S. headed down the right path?
Are schools emphasizing the knowledge and skills that students need in a global society?
Are education systems in China and other countries really as superior as some people claim?
Moving the Needle on Adolescent Literacy
Presented by Dr. Don Deshler
Jolita Hylland Benson Endowed Chair in Elementary Education
In 2009, a gift from the Benson Family Foundation of Portland, Ore., created the Jolita Hylland Benson Endowed Chair in Elementary Education at PLU. The chair position is in honor of Jolita Benson's tireless work as an educator.  Dale and Jolita Benson, both attended PLU in the early 1960s.
The Benson Chair in Elementary Education is funded through the Benson Family Foundation whose purpose is to involve the Benson children and their families in charitable activities on behalf of supported organizations.
Dr. Wendy Gardiner
Dr. Wendy Gardiner is the current Jolita Hylland Benson Endowed Chair in Elementary Education at PLU. Her teaching and scholarship address equity literacy teacher education and new teacher mentoring. Dr. Gardiner publishes and presents nationally on these topics. She is also co-primary investigator on the National Science Foundation, Robert F. Noyce Funded project, Pathways to Culturally Sustaining STEM Teaching. In facilitating the annual lecture, Dr. Gardiner seeks to promote a community-engaged experience centering on diversity and justice in teaching and learning.
Dr. Leon Reisberg
Dr. Leon Reisberg is the first recipient of the Jolita Hylland Benson Endowed Chair in Elementary Education at PLU. His current research includes the uses of technology with students with reading and other learning disabilities and the state of technology in regional school districts. Reisberg is involved in collaborative research projects with other faculty throughout the Department of Instructional Development and Leadership and serves on the board of several community educational organizations.