Interfolio Log-In Information
Interfolio is an electronic system for the submission, and review of tenure and promotion materials.
Interfolio RPT case packet is customized to follow PLU's tenure and promotion processes.
Submission deadlines are noted on each sections of your RPT case packet in Interfolio.
Dossier – ALL FACULTY
Dossier serves as the main archiving platform for your teaching, scholarship and service materials.  You can add documents and files into Dossier at any time and you can share any Dossier materials with PLU colleagues.
Review Promotion and Tenure (RPT) –  TENURE AND PROMOTION CANDIDATES ONLY
After the required meeting with candidates and the Rank and Tenure Committee, candidates will be able to access their own RPT account with a sign-in link via email or sign in directly to interfolio.com.
Within the RPT module, each candidate will assemble a packet of required materials for teaching, scholarship and service. (The packet may also be referred to as your "case".) Candidates will transfer materials stored in Dossier into their RPT packet.
RPT is accessible only to the candidate before the submission deadline. After the submission deadline, the candidate's RPT packet is accessible only by the Rank and Tenure Committee, the Provost and the President.
Internet Browsers – Google Chrome is currently highly recommended.
File Types – DOC, DOCX, DOT, ODT, WPD, RTF, TXT, HTML, PDF
Your files can be up to 100MB in size. During the upload process, Interfolio will automatically convert all files to PDF format for document integrity and consistency.
Please be patient during the upload process—the more files, the slower the upload time.
A reminder and it is also recommended that you occasionally clear your cache or history and refresh often.
If your file is too large or have technical issues, contact Scholar Services at help@interfolio.com or at (877) 997-8807 for support.
Sign in with email or sign in with Partner Institution (search for or type in Pacific Lutheran University)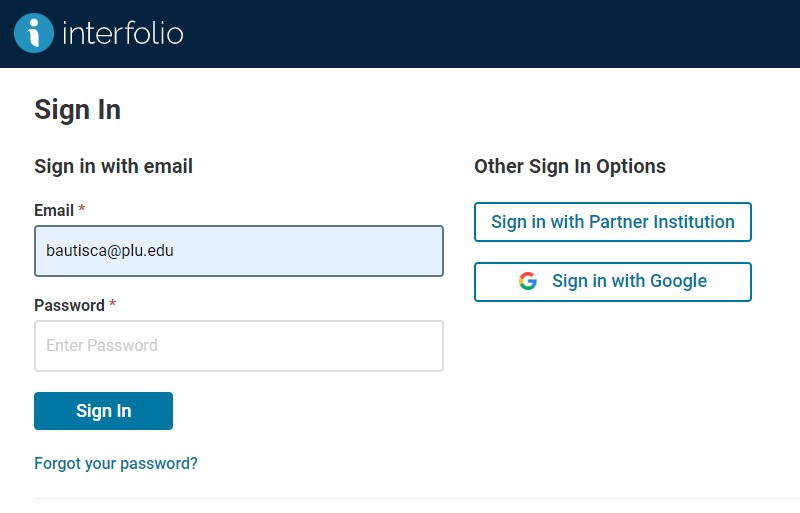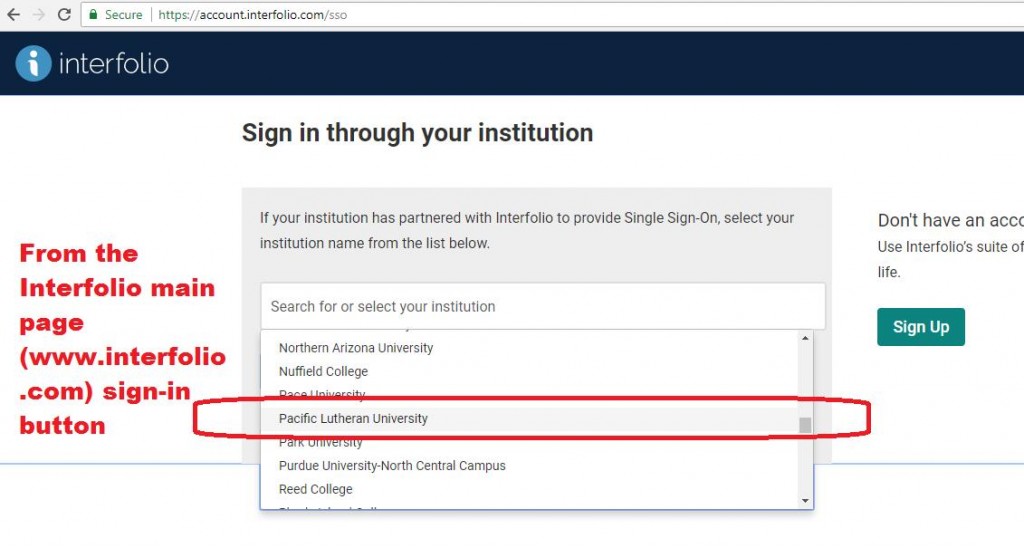 1.  Click "log in" (top right hand corner). You will be taken to a page to sign in.
2.  Search or enter Pacific Lutheran University as your institution and sign in with PLU single sign-in credentials (ePass).
Any faculty member can sign into Interfolio and access Dossier.