They hid in an attic to escape the violent systematic and repeated anti-Jewish rioting. They would not all make it out alive. It was a time when innocent men, women and children were being murdered, raped and their property damaged or stolen.
You might be thinking that this story is from the Holocaust, but in actuality, it took place during the pogroms that were taking place in Russia, during the early 1900's. When the Russian militia started going into the towns and villages, murdering Jews, Nancy Powell's grandfather, Solomon Palatnik, his wife, son, and two daughters all went into hiding.
While in hiding, her grandfather's son was killed. Wanting to leave the violence and the enormous sadness behind, Nancy's grandfather made the decision to flee to the United States. He also left his faith behind. After these dark events in his life, he became an atheist.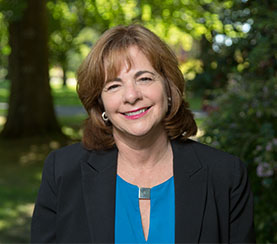 Upon entering through Ellis Island after a harrowing journey, the family name was changed to Powell and Nancy's grandfather settled in Bronx, New York. Solomon Powell had a struggling furrier business and rented out rooms in his home to provide for his family. Soon after settling down here in the U.S., Nancy's father, Arthur Powell was born.
With the encouragement of Nancy's grandfather and through student loans and aid from the military, Arthur Powell was able to receive a college education and went on to build a legacy. Arthur, unlike his father, reconnected with the Jewish faith and became deeply philanthropic, even when he had very few means. He wanted to give back to help educate others and assist people and organizations in fulfilling their dreams, just as others had helped him. This message was instilled in his children throughout their lives. Nancy's father had accomplished all of his dreams with regards to family, business and philanthropy when he passed away in June, 2014, at the age of 92.
Nancy has shared openly that there have been times in her life when she has given herself permission to think deeply about these events from her past, and in these quiet moments, she cannot help but realize how unbelievably fortunate her father was to have been born and then to have become such a successful businessman. In a recent keynote address, Nancy shared, "There were so many others who were not so lucky; there have just been so many lives lost. It pains me to think about how the victimization of Jews has not diminished over time. The recent anti-Jewish incidents taking place at universities across the United States is a heartbreaking reminder that there is still so much to do."
Nancy is a visionary in holocaust education. She was the catalyst for the establishment of the 2008 Kurt Mayer Chair in Holocaust Studies and the 2014 minor in Holocaust and Genocide Studies. She was also pivotal in forming the nationally-recognized PLU Powell – Heller Holocaust Education Conference in 2008 and the Powell Fellowship conference for Holocaust Education in 2016. Nancy's commitment is personal and unwavering. Continuing her father's belief that "we must use the lessons from the past to educate and influence people into the future," Nancy's committee of the Powell Family Foundation supports numerous educational programs in the U.S. and around the world including the Friends of the Forum School of Dialogue in Poland. Their purpose: "To promote dialogue between Poles and Jews by teaching children the history of their towns and showing them how to educate their neighbors, community members, and visitors from around the globe."
Powell-Heller Conference for Holocaust Education is now in its ninth year, and Nancy Powell continues to work closely with others to plan and host each year's events. As she puts it, "Let's continue the momentum by keeping in touch, staying connected, and remembering those whose lives were lost in the past and striving to impact the lives of those shaping our future."