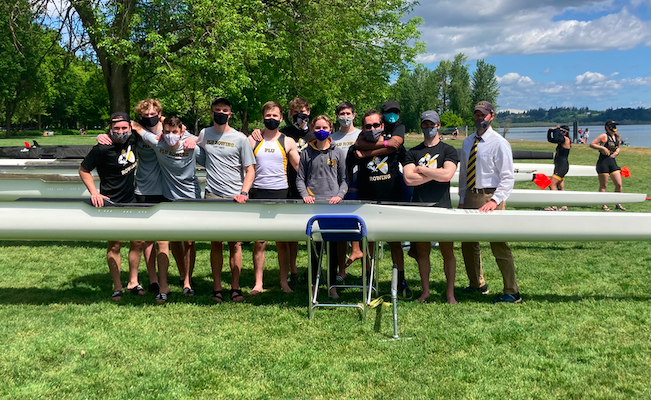 Team at Rainier Cup Regatta, May 2021

Men's Varsity 4+ Racing at Rainier Cup, May 2021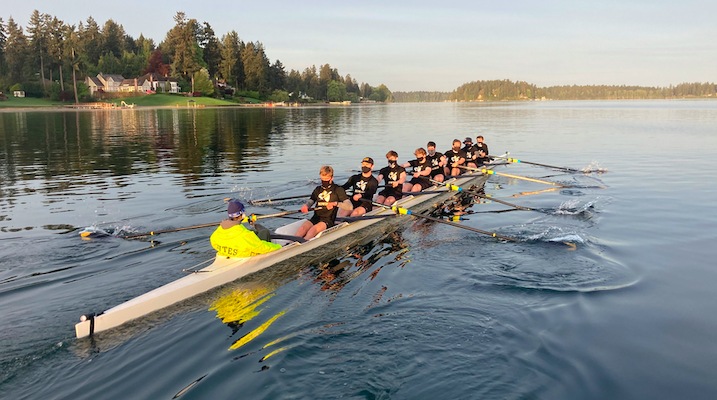 Training on American Lake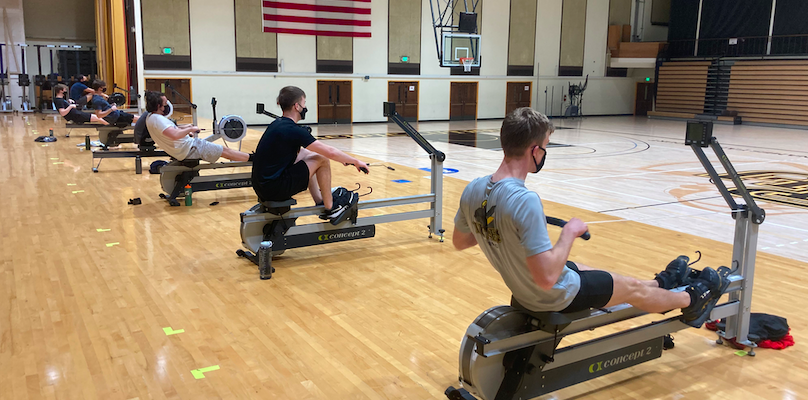 Training on Campus- Distanced and Masked, March 2021

Racing at WIRA Championships on Lake Natoma, CA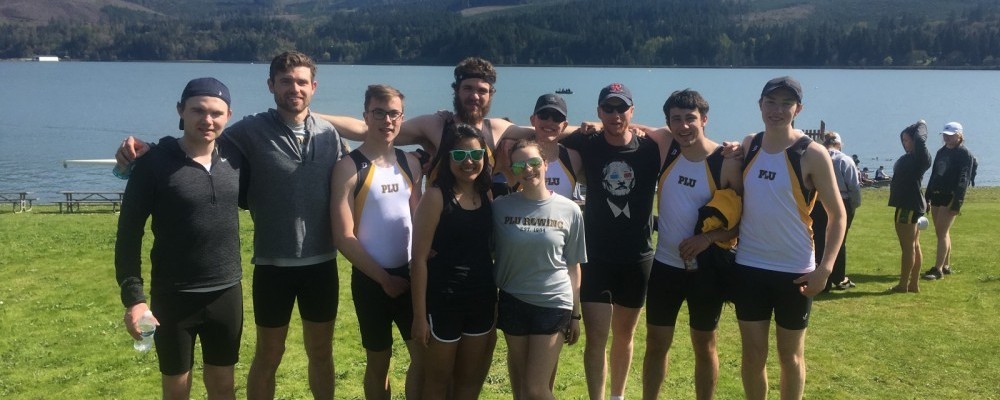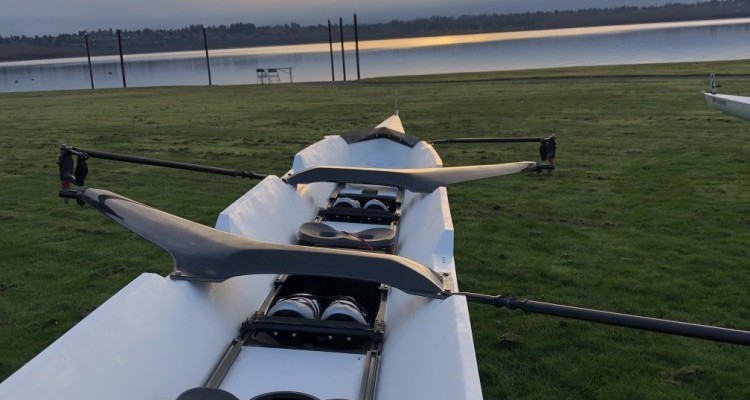 Ready to race. Sunrise at Vancouver Lake, WA.
Team News
Now recruiting for the 2022-2023 season!  
Interested in rowing?  We are seeking new rowers and coxswains.  No experience required.
Contact Coach (claire.ratcliff@plu.edu) for more information or with any questions and to RSVP for the team info meeting for current and potential rowers and coxswains. (Date TBD)
Team members are expected to work hard in the classroom, on the water, and in the erg room.  We believe that through hard work, fun, challenging ourselves and supporting each other we learn, become stronger and realize our potential.
Rowing is a unique team sport that requires mental toughness, a commitment to the success of the team and a willingness to push your physical limits.  PLU Men's Rowing provides an avenue for fitness, fun, teamwork, competition, and lifelong friendships.
Leave the campus world to train on American Lake where you will experience the challenge of both strength and finesse; coming together as a team to move the boat with a combination of power and technique.  
The spring Fall is about to begin!  We are looking for new team members with an eagerness to learn to row, forge friendships and establish positive habits with regard to sleep, time management, training, and nutrition.
The shorter Fall season begins in mid-September, running through early November, with the opportunity to row on our very own Ameican Lake.
In the Spring Season, we aim to compete in regattas in WA, OR and CA against D1, 2 and 3 programs from the western US. The season culminates with the WIRA Championship Regatta, a 30+ team event in Sacramento, CA. 
The Men's Rowing team will seek to continue building on its recent success.  Rowing at PLU is a long-standing tradition and is backed by a generous alumni board.  
4 team members graduate!  (May 2021)
Congratulations to our graduating seniors:
Isaiah Banken (Wenatchee, WA)
Bay Faubion (Snohomish, WA)
Salma Ibrahim (Federal Way, WA)
James Waltz (Olympia, WA)
Your energy and commitment will be missed. We wish you all the best in your future endeavors… and you are expected to stay in shape for the Alumni Race in March 2022.
New shell named in honor of 1970 V4+ that finished 3rd at National Championships.
The support of over 65 donors helped the team purchase a Pocock 4+.  We are incredibly grateful for the generous support we received from alumni, family, faculty, staff and friends.  The boat represents a significant upgrade to our fleet and  will serve the program for many years to come.
The shell will be named in honor of the 1970 PLU Men's Varsity 4+ which defeated the University of Washington twice that season and finished 3rd at the IRA National Championships.  
| 2022-2023 Schedule | | | |
| --- | --- | --- | --- |
| Date | Regatta | Location | Time |
| Oct 2022 | American Lake Fall Classic | American Lake | 8am |
| Nov 2022 | Head of the Lake Regatta | Seattle WA | 8am |
| Mar 2023 | PLU Invitational | American Lake | 8am |
| Mar 2023 | Logger Invitational | American Lake | 8am |
| Mar 2023 | Meyer/Lamberth Cups and Alumni Regatta | American Lake | 8am |
| Mar 2023 | Husky Open | Univ of Washington | 8am |
| April 2023 | Covered Bridge Regatta | Dexter OR | 8am |
| April 2023 | Rainier Cup | Vancouver Lake | 8am |
| April 2023 | WIRA Championships | Sacramento CA | 8am |
| Name | Hometown | Major | Class Year |
| --- | --- | --- | --- |
| Dillon Benacerraf-Gajda | Los Angeles, CA | Nursing | 2024 |
| Charlie Cutter | Wenatchee, WA | Business | 2023 |
| Christian Cutter | Wenatchee, WA | Business | 2024 |
| Ian Gutierrez | Tacoma, WA | Business Administration | 2023 |
| Jessica Ordaz | Los Angeles, CA | Engineering | 2023 |
| Matt Shaps | Las Vegas NV | Communications | 2024 |
| Parker Zieschang | Tabernash, CO | Music: Organ Performance | 2025 |
| Claire Ratcliff | Spokane, WA | claire.ratcliff@plu.edu | Coach |