``World Balance vs. Personal Salvation:
An American Indian Postcolonial Perspective``
Rev. Dr. George "Tink" Tinker
Tuesday, April 20, 2021
7:00pm (pacific time)
Zoom Webinar
Contact person: Dr. Erik Hammerstrom, Chair of the Religion Department
hammerej@plu.edu
Free and Open to the Public
The major worldview difference that separates American Indian peoples from the eurochristian West is the difference between hierarchy and genuine equality. Dr. Tink Tinker explores this difference in terms of a cognitive linguistic framework of image schemas: the up-down (hierarchic) worldview of eurochristian folk and the collateral-egalitarian worldview of American Indian Peoples. The eurochristian notion of salvation, for instance, is rooted in the up-down hierarchy worldview. Tinker's lecture will explore this worldview difference in terms of American Indian peoples' deep sense of relationship with all life in the cosmos, as relationships between equals and the constant need for balance in those relationships. In this worldview, humans can never be in charge, because humans are not higher up in the hierarchy.
Since Indigenous folk traditionally live in community-ist cultures, argues Tinker, the spiritual priority is always balance and harmony of the community and its world rather than the more isolated individualist salvation of the person. Hence, American Indian people's focus on everyday living in ways that ensures and enhances balance becomes the necessary core of these spiritual traditions. This is in stark contrast to the theologies of personal salvation that thrive in the context of eurochristian individualism along with the conflict and competition inherent in both the history of missionary conquest and the resulting colonized world we have inherited. Given the reality of the radical imbalance of eco-devastation threatening life today, and the historical trauma experienced by American Indian nations, Tinker will explore how the survival of American Indian cultures and cultural values may make the difference for the survival and sustainability of the earth as we know it. But, he notes, it is a whole new way of living.
Biography
Rev. Dr. George E. "Tink" Tinker is a citizen of the wazhazhe, Osage Nation. A professor emeritus at the Iliff School of Theology since 1985, he continues to teach courses in American Indian cultures, history, and religious traditions; cross-cultural and Third-World theologies; and justice and peace studies, and is a frequent speaker on these topics both in the U.S. and internationally. His publications include American Indian Liberation: A Theology of Sovereignty (2008); Spirit and Resistance: Political Theology and American Indian Liberation (2004); and Missionary Conquest: The Gospel and Native American Genocide (1993). He is co-editor of Native Voices: American Indian Identity and Resistance (2003), and Fortress Press' Peoples' Bible (2008).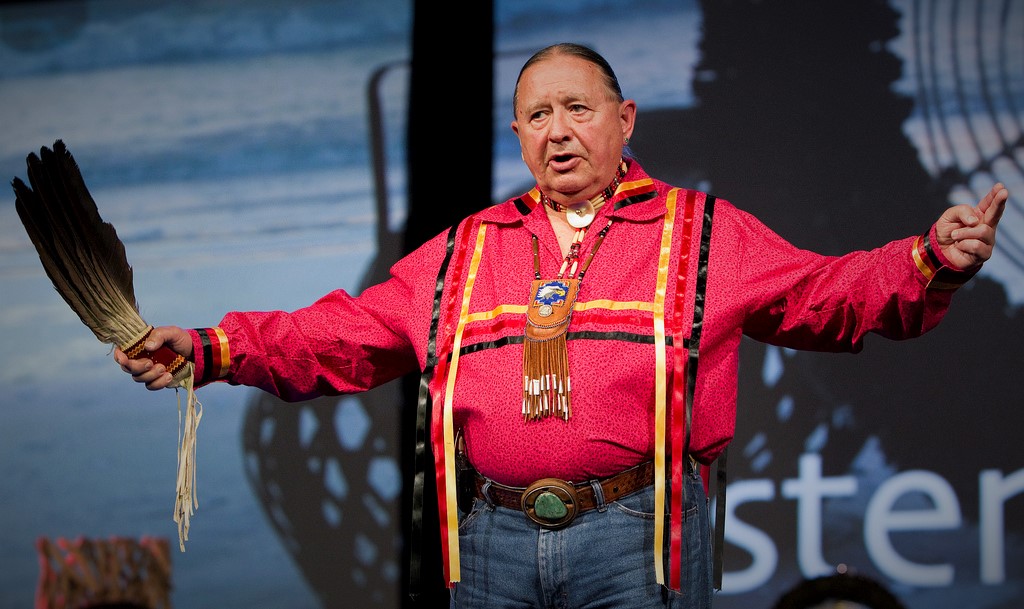 Professor Tinker holds a B.A from New Mexico Highlands University, a M.Div. from the Pacific Lutheran Theological Seminary and a Ph.D. from Graduate Theological Union. While Tinker is retired as emeritus professor of American Indian studies, he started his adult journey as an ordained Lutheran pastor (in his Lutheran mother's tradition) and did a Ph.D. in biblical studies before shifting his attention to his father's culture. It was sorting out the tension between these two radically different traditions that led to his identification of the distinct worldview differences he will discuss in his lecture.
Previous Knutson Lecture Scholars
2012 – Robert N. Bellah
2011 – Marcus J. Borg
2010 – Mark Brocker
2009 – John Dominic Crossan
2008 – Susan Ross
2007 – John Pahl
2006 – Martin E. Marty