PLU Alumni Travel Opportunities
Upcoming travel opportunities
Alumni Travel Seminars
Beginning in 2018, through a collaboration between the Office of Alumni and Student Connections and the Wang Center for Global and Community Engaged Education, PLU has offered Alumni Travel Seminars. Led by PLU faculty, these programs provide a study away like experience for PLU alumni and friends of the university. Unlike a destination vacation, this program aims to provide an academic lens in locations around the globe, through readings, on-site experiences and discussion arranged by the faculty leader. Due to the pandemic, this program was paused for the last few years. We are excited to once again offer a new travel opportunity in the spring of 2024!

2024 - Trinidad & Tobago Alumni Travel Seminar
This travel seminar will introduce you to the story behind today's Trinidad and Tobago – the Trans-Atlantic trade that produced Calypso music, the Carnival that is also an annual act of resistance to oppression, and the balance between celebrating the heroic struggles of the past with the challenges of emerging as a post-colonial society that can compete with and indeed offer solutions to an increasingly connected, tumultuous and fragile world.
Dr. Greg Youtz has been taking students to Trinidad and Tobago since 1999 and directed the PLU Gateway Program in T&T from 2015 to 2022. On campus his courses focused on music composition, music history, ethnomusicology and the intersections between music and culture.
LOCATION: Port of Spain, Trinidad with overnight excursions to Grand Riviere Village, Trinidad, and Speyside, Tobago
TRAVEL DATES: April 7 – 16, 2024
Total fee for 9 nights/10 days $4,250*
*Does not include airfare.
Payments are to be made in three installments leading up to the program's departure.
$1,000 at registration (non-refundable deposit per person)
$1,625 – 3 months pre-departure
$1,625 – 1 month pre-departure
Includes:
All accommodations based on single occupancy, most dinners, all entrance fees, all guides, domestic flight to Tobago, ground transportation during the program and associated tips
2024 Diversity Center Alumni Trip: Dominican Republic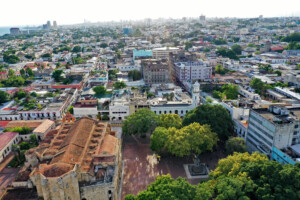 May 29 – June 6, 2024 | Santo Domingo & Punta Cana Dominican Republic
We are excited to announce our next dCenter Alumni trip to the Dominican Republic May 29-June 6, 2024! We hope that travelers will be able to immerse themselves in the rich history of the Dominican Republic, exploring the complexities of race and nationality of the "first colony of the New World." The registration fee for the trip is $450 per traveler.  The fee includes eight meals, some ground transportation, and two excursion.  Registration will open September 1; deadline for registration is February 26, 2024.
We will continue to update our site this summer with the full itinerary and other logistics.  Stay tuned!  For questions, please feel free to email Angie Hambrick (hambriaz@plu.edu).





2019 Diversity Center Alumni Trip: Trinidad & Tobago
PLU's Diversity Center hosted the Second Annual Diversity Center Alumni Trip to the Republic of Trinidad and Tobago in July 2019. Alumni had the opportunity to learn about the history and culture of Tobago and enjoy the festivities of their Heritage Festival. Visit the dCenter's website for upcoming opportunities.

2019 Galápagos and Ecuador Alumni Travel Seminar
The Galápagos Islands are without question one of the great destinations in the world. Faculty Tour Leader Dr. Charles Bergman, Professor Emeritus, Department of English and Environmental Studies led a PLU Alumni Travel Seminar designed expressly for alumni and friends. They experiences the charm and incredible importance of these islands with other graduates, and do it the PLU way—passionate faculty leaders, authentic experiences, intimate attention to nature and animals and culture, short readings chosen to deepen and enrich our experience. Central themes include evolution, conservation and environmental awareness. This seminar will include an itinerary with suggested readings and discussions.
The program included seven nights on a ship in the Galápagos Islands, stays in Quito and visits to the wonderful colonial center of town, and two nights in the nearby forests of the Andes Mountains. For those interested, there were optional excursions to Peru: Cusco, the Inca Trail, the Sacred Valley, and Machu Picchu. Galápagos Islands—7 nights, Andes mountains—2 nights, Quito—3 nights. Peru and Machu Picchu—7 nights.





2018 Northern Ireland Alumni Travel Seminar
The pilot seminar for PLU Alumni Travel launched in April 2018 to Derry, Northern Ireland with Professor Ann Kelleher, alumni and friends. The seminar, "Local Peacebuilding in Practice", enabled its participants to find their own favorite experiences as they discover the wide range of possibilities open to them in a place becoming known as "peace city." This opportunity was made possible by the partnership between Pacific Lutheran University and local community development/peacebuilding groups that have been engaging in inter-community work for 29 years. Learning about their efforts to build sustainable peace in a deeply divided society can teach a great deal. Healthy societies require creating constant interconnections among people on all sides of communal divides as they diligently work to improve the quality of life for their communities.
PLU at Holden Village

In the future, PLU would like to plan a week-long getaway for Lutes at Holden Village. PLU enjoys a long and happy connection with Holden Village, a Lutheran retreat and learning center in the heart of the Cascades. Many Lutes have spent time there with families, youth groups, or in January term courses. Whether you have been there before or have always wanted to go, this will be a wonderful opportunity to experience Holden in the summer with a group from PLU. PLU's mission to "educate students for lives of thoughtful inquiry, service, leadership, and care- for other people, for their communities, and for the earth" highlights our university commitments to environmental stewardship and thoughtful inquiry. Holden Village provides the ideal locale to learn, reflect, and share ideas about these commitments.
Stay tuned for more details. If you are interested and would like more information, please contact Kathy Engle at engle@plu.edu.