PLUS
PLUS is a space for us to create community as students, alums, and clinicians from ethnically underrepresented and historically excluded racialized groups. This space will be a meeting in which we, as a community, share resources for survival, hold each other through hard times and relate the work we do as MFTs to the healing practices people of color have used to thrive for generations. Additionally, the hope is that PLUS will build a bridge of the work MFT students of color have done at Pacific Lutheran University (PLU) across cohorts, and remind us all that we are numerous and powerful.
~Dr. Montinique McEachern, LMFT
PLU Core Interim Faculty, Class of 2020-2021
MONTHLY MEETINGS
This group is for current MFT students and alumni of the program.
Second Thursday of the month from 12:00pm – 1:00pm
To join or if you have questions, please email Jessica Grout at: svedbejd@plu.edu
First Annual PLUS Conference: Friday June 30, 2023 from 9:00a.m. to 4:30p.m.  Featuring renowned Guest Speaker Dr. Kenneth Hardy.
SUMMER BREAK – no meetings scheduled in August.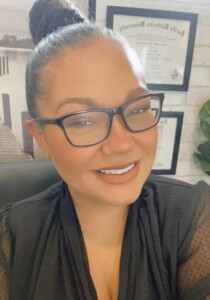 Jessica Grout, MA, LMFT, CHMHS, EMMHS
Pronouns: She/her/hers
Professionally, I am a Marriage and Family Therapist, licensed in both Washington and Oregon. I have also been credentialed as a Mental Health Professional (MHP), Child Mental Health Specialist (CMHS) and Ethnic Minority Mental Health Specialist (EMMHS). I graduated from Pacific Lutheran University with a MA in Marriage and Family Therapy. I have spent my career working with individuals, couples and children ages 3-17 on issues such as anxiety, depression, anger management, social skills, grief and loss, trauma, racial identity, parenting, etc. My style, in both therapy and in life, is collaborative, personable and non-judgmental. Personally, I was raised all over the world in a multiracial military family, which most definitely sparked my passion for understanding people and their stories. I am a football wife and the proud mama of two incredible little humans.