12th annual David and Marilyn Knutson Lecture
"The Oppressed Luther – His Biblical Critique of Capitalism"
Dr. Ulrich Duchrow – Professor of Theology – University of Heidelberg
7:30 p.m. | Tuesday, Nov. 7 | Lagerquist Concert Hall
Free and Open to the Public 
The PLU Religion Department welcomes you to the 12th Annual David and Marilyn Knutson lecture at 7:30 p.m. Tuesday, Nov. 7 in Lagerquist Concert Hall in the Mary Baker Russell Building. To honor the 500th Anniversary of the Reformation, this year's lecture will be given by Dr. Ulrich Duchrow, Professor of Theology at the University of Heidelberg and the leader of the international Radicalizing Reformation Project. The lecture is free and open to the public.
The title of Duchrow's lecture is "The Oppressed Luther – His Biblical Critique of Capitalism." Concerning his lecture he writes, "In the 11th century the bank- and trading cities of Northern Italy started to transform the money economy of antiquity into early capitalism. During the Middle Ages this process penetrated western civilization, including the church and its quantification of salvation. Luther's 95 Theses against this development did not just address questions of piety but hit at the core of the emerging capitalist civilization. This he elaborated in the course of his life theologically, economically and politically. Today we live in a society ruled by money and capital accumulation and therefore by an economy which, some say, must grow. Let us listen for Luther's voice and the guidance he offers in a time when the international ecumenical movement and Francis of Rome share a broad consensus concerning Christian commitments to the poor and to God's creation."
This is the 12th annual David and Marilyn Knutson lecture, in memory of David Knutson and in honor of Marilyn Knutson. Both are alumni of Pacific Lutheran University, where David was also a longtime member of the Religion faculty.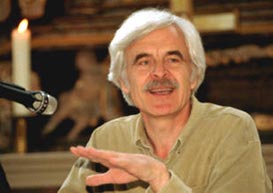 Event Details
Speaker: Dr. Ulrich Duchrow, Professor of Theology, the University of Heidelberg
Time: 7:30 p.m.
Date: Tuesday, Nov. 7
Place: Lagerquist Concert Hall, MBR
Free and Open to the Public