10 ways to take care of your mental health as a college student
Being a college student, honestly, can be really stressful - in lots of different ways.
Posted by:
mhines
/ June 28, 2023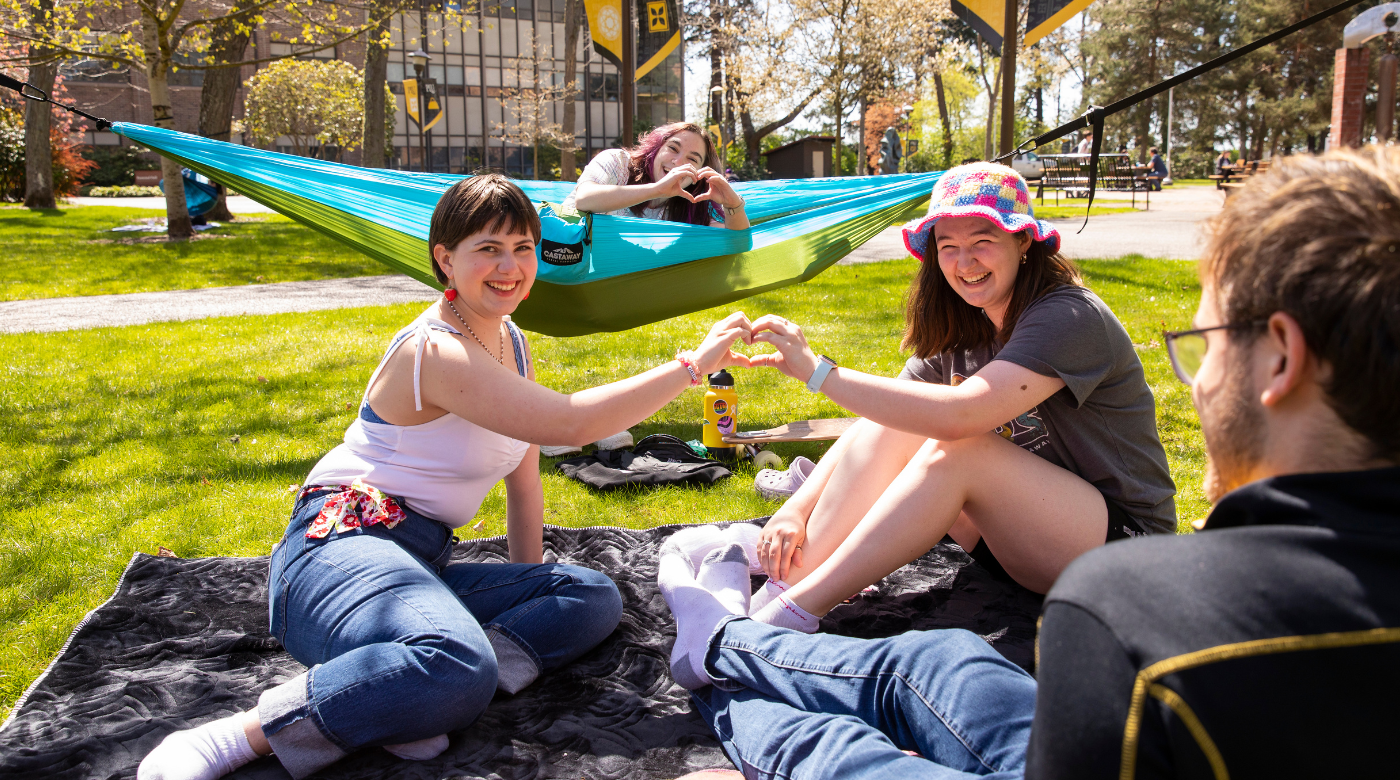 June 28, 2023
Taking care of your mental health and overall well-being (and taking care of each other) is vital when you're in college. PLU is all about having your back, making sure you have the support you need, and fostering a community of care. When it comes to your mental, emotional and physical well-being, we're all in this together.
The following list doesn't cover everything we have on campus to help you navigate the ups and downs of college life, but it does give you some great starting points to make sure you're taking care of yourself and your fellow students in the best ways possible.
1. Get involved
Being part of caring communities has many mental health benefits. PLU has A LOT of active clubs (more than 50!) where you can build your communities, connect with an affinity group, explore interests and talents, and develop your leadership skills. Two student-led clubs with a specific focus on mental well-being are Active Minds and the Student Neurodiversity Club. Active Minds is a club dedicated to changing the conversation surrounding mental health. They host yoga sessions and painting classes to connect with other Lutes. The Student Neurodiversity Club provides a supportive community on campus for neurodivergent individuals, offering a space to share their college and life experiences and discuss the challenges and triumphs that come with diverse disabilities.
2. Stay active
Engaging in physical activity enhances your mental well-being by diminishing anxiety, depression, and negative mood, while simultaneously boosting self-esteem and cognitive function. Our Names Fitness Center offers cardio and strength training equipment and is attached to Memorial Gym, where group exercise, intramural sports, and physical education classes are offered. Love being outside? Outdoor Rec is PLU's wilderness adventure club (think hiking, camping, kayaking, climbing, etc.). They lead trips pretty much every weekend around the Pacific Northwest, rent gear out to the PLU community, and provide the resources necessary for any adventure!
3. Nourish your body
Feeling physically healthy has a huge role in feeling mentally healthy, and you probably already know that a diet with diverse foods will help you in feeling your physical best. PLU's three campus cafes and market offer nutritionally sound (and delicious) food options to help you fuel your body and mind. Our campus restaurants also make sure to accommodate any dietary restrictions you might have. Vegan, vegetarian, non-dairy? They got you covered!
4. Utilize counseling, health & wellness services
PLU's Counseling, Health & Wellness Services (CHWS) offers compassionate and confidential in-person and 24/7 online mental health and medical care services. Their website also has a great list of wellness resources covering numerous topics from alcohol to sleep.
5. When it comes to your academics, ask. for. help.
Yes, there's the whole social side of college, but the primary reason you go to college is to earn a degree, right? Sometimes the academic expectations in college can feel really overwhelming, but there are two very important things to remember: #1 – there's a reason you were admitted to college; you can do this! #2 – you can do this, but you don't have to do it alone. PLU professors are well-known for their deep care for their students and have office hours throughout the week, so you can connect with questions and concerns or just chat. And our Center for Student Success offers (free!) tutoring, studying resources, and professional academic advisors to help you navigate your college academics.
6. Join a learning community
Whether you live on- or off-campus, you'll have the opportunity to be part of a PLU learning community. Want to live in a community specifically focused on promoting well-being? The Wellness House is a community of students who are interested in engaging in conversations and activities that promote and sustain healthy lifestyles. Or maybe you want to join the Diversity, Justice & Sustainability community, with residential wings for First in Family, Students of Color, Environmental & Social Justice, and LGBTQ+. Love expressing yourself through art, music, theatre, etc.? Check out the Community for Creative Expression. Or maybe your passion is all STEM, all the time. There's a STEM House. (P.S. You can find all of our learning communities options here.)
7. Connect with the Office of Accessibility & Accommodation (OAA)
The PLU Office of Accessibility and Accommodation (OAA) is dedicated to ensuring equitable access and inclusion for all students. They serve students with either temporary or permanent physical, health, learning, sensory or psychological disabilities. You can partner with OAA, faculty, and staff to establish reasonable accommodations and services (at no cost) to receive equitable access to academic and co-curricular opportunities.
8. Build meaningful relationships
PLU has had long-standing values of diversity, justice and sustainability (DJS) – we even have an entire center dedicated to living out those values! The Center for Diversity, Justice & Sustainability is committed to working with students, faculty and staff to create equitable systems and relationships where everyone can thrive and offers a network of advocacy resources, including a (very comfy) community gathering space, facilitating identity programs and communities, hosting a variety of events and celebrations and providing students vital leadership opportunities.
9. Take care of your emotional/spiritual self
Taking care of your mental health means taking care of your emotional health, too. And for some people, an important part of mental and emotional health includes spiritual well-being. So here's a stat: 90% of PLU students come from non-Lutheran faith backgrounds or have no religious affiliation at all, and we wholeheartedly welcome everyone with open arms. Fortunately, our Lutheran heritage (we are Pacific Lutheran University, after all) means that we're not ignoring the spiritual component of well-being thanks to an active Campus Ministry, which is fully committed to "welcoming, celebrating, and engaging people of all gender identities, gender expressions, sexual orientations, races, economic standings, documentation statuses, ages, faiths and spiritual orientations and practices, abilities, and ethnicities." PLU Campus Ministry offers weekly chapel opportunities, interfaith working groups and events, a multi-faith meditation and prayer space, runs the PLU Pantry (for students, staff, and faculty experiencing food insecurity in any way), and supports our variety of religious-based student-led clubs. We also have an amazing full-time campus pastor on campus, who is here to provide pastoral care for all students, no matter their religious background and faith journey.
10. Know who to contact in a crisis
There are three different resources we want to highlight here, all available if you or someone in your PLU communities finds themselves in a crisis: the PLU Crisis Line, PLU's Advocates, and Campus Safety. The PLU Crisis Line is 24/7 access to mental health crises (and non-crisis, too) support. PLU's Advocates offer a safe, private setting to talk with individuals who have questions or concerns about sexual assault, stalking, intimate partner violence or domestic violence. Those who speak with an advocate can share as much or as little information about their situation as they like. And Campus Safety, also a 24/7 resource, is well trained to respond to and help in emergency situations.
Please seek immediate help if you or someone you know is feeling that life isn't worth living or if you are having thoughts of harming yourself or others. You can also contact the National Suicide Prevention Lifeline at 1-800-273-TALK (8255) or SuicidePreventionLifeline.org.