Dylan Ruggeri '23 and Kenzie Knapp '24 make a musical about climate change
By Lora Shinn | PLU Marketing & Communications Guest Writer
Posted by:
mhines
/ July 7, 2023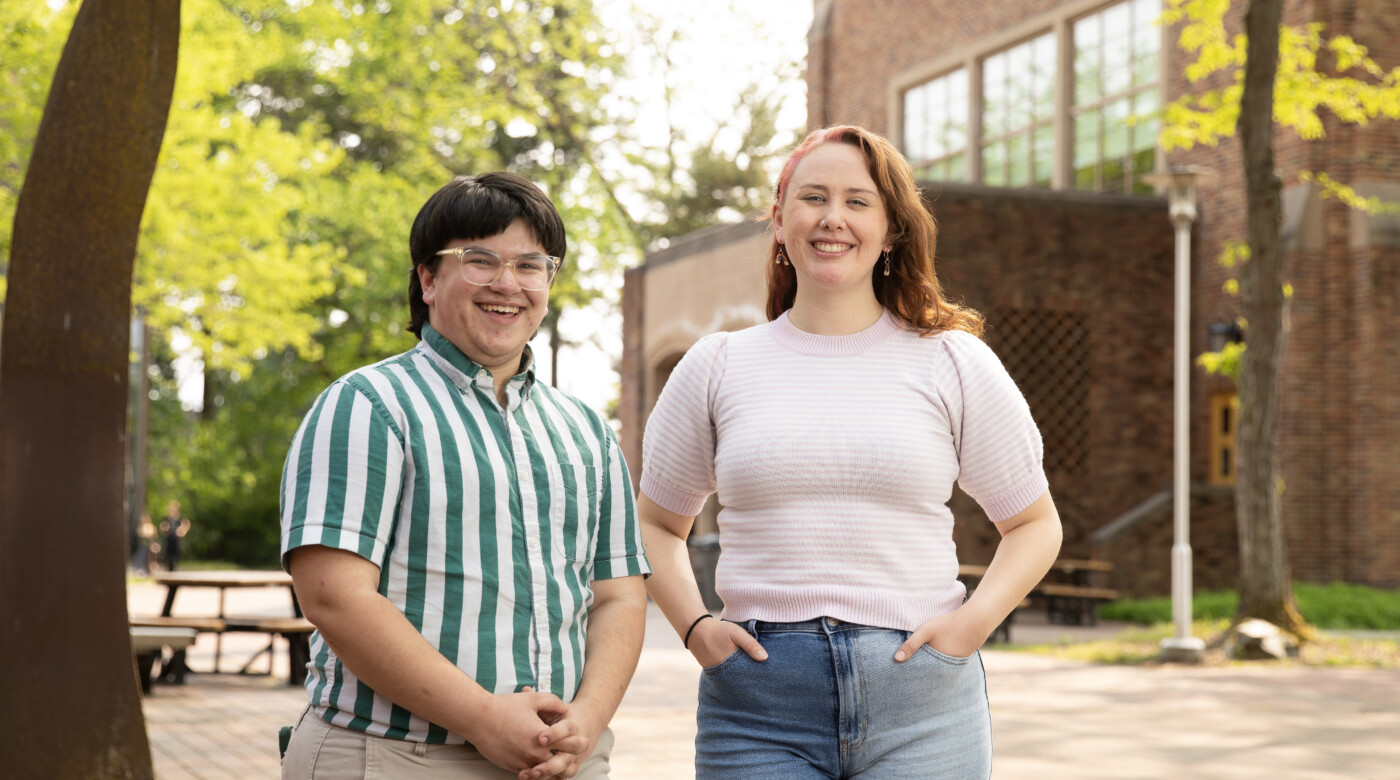 July 7, 2023
Together, senior Dylan Ruggeri '23 and junior Kenzie Knapp '24 created an innovative climate science musical performance on PLU's campus in 2022. Both students are majoring in environmental studies and theatre, and the duo drew on their passions to create art, transforming audience perspectives on climate change.
Where did you grow up, and why did you choose PLU for undergraduate studies?
Ruggeri: I grew up in South Florida and wanted to go out of state for college, specifically a liberal arts college offering a theater program with a directing focus. I hoped to find a smaller community and had summer camp friends who had gone to PLU. And PLU gave me a good scholarship!
Knapp: I grew up in Bellingham. I loved growing up there but wanted to attend college outside my hometown…but not too far. When I toured PLU, everyone was so personable. There was so much individual attention and care for every student on the tour, which continues that way today. I was also drawn by the values placed on diversity, justice and sustainability.
What is your major and/or minor?
How do your majors interact with each other?
Ruggeri: PLU's liberal arts program really encourages us to connect our studies. You see great examples of political theater with "Hamilton," for example. My political science and environmental studies inform how I create active political and social change with theatre.
The storytelling lessons learned from theater help me share why we need policy that leads to change. In campaigning, we tell people stories about how policies can affect everyday life, a skill I developed in theater. "Normalcy" [our climate-themed musical] used all three of my majors.
Knapp: When I tell people those are my majors, they get confused if they're not involved in the fields. "Why those two?" I wasn't planning on integrating environmental studies into my college experience until the summer after high school graduation. Climate change was one of the most critical issues we could tackle, so I had to commit myself to this work.
But I also grew up in the community and high school theater scenes. Storytelling is such an important aspect of the human experience. I was encouraged to connect the two and have realized that environmentalism, activism and art have historically been interconnected. Climate change involves a lot of data. Numbers and statistics are a lot for folks to digest, but art, theater, visual and music can help get information across to a much larger audience.

I understand the two of you came together to put on a musical called "Normalcy: The Climate Fiction Musical," which Kenzie wrote. What is it about?
Knapp: I was initially inspired by the wildfires happening more frequently now in late summer/early fall, referred to as "fire season." I wondered, if "fire" was an actual season like summer, what would come after that?
So, the musical is set in "New Seattle" in 2040. There are four seasons: smog season, acid rain season, drought season, and fire season. Greenwashing has become so rampant that seasons are celebrated with festivals, and people wish each other happy smog or fire season. They pretend it's good and ignore a past where these "neo-seasons" didn't exist.
At the same time, because resources are so scarce, children are forbidden. So the story focuses on four young teens living outside the city alone, in the landscape's scraps. The characters realize they can't go on living like this and want to wake up the populace to create change.
The piece is classified as the climate fiction genre, similar to the way science fiction is inspired by scientific concepts, but the underlying plot is grounded in climate science. It's a future reflection of the present. It's called "Normalcy," because despite the smog, people continue with daily life. If we look around in the present day, we shouldn't normalize today's climate changes, either.
How did this project evolve?
Knapp: I floated a climate-focused musical at a theater student town hall, which decides next year's campus plays. The idea wasn't selected. But Dylan was enthusiastic and had considered something similar. We agreed it would be cool to work together to make this happen.
Ruggeri: We're both environmental science and theater double majors, so our minds came together to use storytelling as a call to action for the ecological crisis.
Knapp: I wrote most of the play while sitting in cafes for long periods at my Oaxaca study abroad in January 2022.
Ruggeri: Over the summer of 2022, we found music composers and designers and figured out how to make the show happen.
Knapp: We had 15 actors and 10 crew members and couldn't have done this alone. We had the support and passion of the crew, and the cast was unbelievable. We had seven weeks of auditions and rehearsals and performed right after that.
Ruggeri: We worked together to determine the resources required to make an independent show at PLU. Independent student shows outsource everything, even borrowing and making costumes. We used ticket sales to reimburse our designers.
Kenzie was the main director, and I co-directed, particularly the scenes involving music. I did some choreographing and production work, which included poster design and distribution of money.
How did things turn out?
Ruggeri: It was successful and sold out the studio theater for the run of three days—two nights and one matinee. We also conducted a survey gauging the lessons the audience took away from the show. About a third of ticket buyers responded and were super engaged. The audiences were incredible, and we got a standing ovation every night.
Even many cast members didn't grasp how climate change could impact our everyday lives, how our lives could look in 30 years. As Gen Z, we know it will affect us, but not always how.
What was special about your PLU experience?
Ruggeri: There aren't a lot of schools where you can get three BAs in five years. In International Honors (IHON) Program, I feel like I'm always talking about all three majors together. IHON is a different way to do your general education requirements.
Instead of taking separate subjects like math and art, classes offer integrated topics. So, one course on 1968 combined philosophy, politics and art. It's cool how different perspectives lead to realizations on how subjects are related.
Knapp: I don't know if I could've put on my project so easily elsewhere, with an awesome ability to use the space and resources. Faculty and staff encourage students to go for it, and there's an investment in the students that I felt my whole time here. It's a place to get support and achieve.
Ruggeri: The small liberal arts vibes make it a more tight-knit community. I wasn't super social in Florida but have become a social butterfly here. Getting involved in clubs leads to friends.
Knapp: I was involved in student government, and I'm not sure I would've had the same opportunity at another school. Being student president was an enriching learning curve, and I'm very grateful for my time in student government.
Learning about the legislative process, getting experience writing legislation, and making changes on campus was gratifying. I'm also proud of what senators accomplished, including integrating more authors of color in classroom textbooks and launching a campaign for a $15 unlimited yearly pass for Pierce Transit.
What are your plans for the future?
Ruggeri: After graduation, I'll pursue environmental policy political work and work in theaters. Hopefully, I'll work an environmental job by day and my theater job at night.
Knapp: I'd love to continue acting, directing, costuming or writing. I've applied for environmentally-focused internships and am waiting to hear back. Cross your fingers for me!