The flared shape of these Zulu women's hats (isicholo), dyed with red ochre, reflect the original design of the hairstyle on which they are based. Originally a mother would sew her daughter's hair into this complex design for the initial stage in the series of ceremonies associated with her daughter's marriage.
The hats are a relatively new aspect of Zulu traditional dress that were developed in the late 19th or early 20th century and are based on the cone-shaped hairstyle that indicated the wearer's maturity and marital status. Marriage and its affirmation of maturity is one of five key rites of passage in the life of a Zulu woman alongside: birth, naming, death/burial and ukubuyisa, "bringing home of the spirit".
Once Zulu culture accepted hats as an alternative to the hairstyle, a young bride-to-be would begin sewing her hat as soon as she knew to whom she would be married. They are made by overlaying dyed string on a basketry foundation. Isicholo play a role in the ukukhehla ceremony, the second ceremony in which the future bride and groom exchange gifts and thanks before the actual wedding. For the majority of the ceremony the hat (or originally the bride's hair) would be protected by a wrap of white fabric. At the appropriate moment in the wedding songs, the groom-to-be removes the wrap and pins a note to the headdress. Once married, a Zulu woman would wear this hat on a daily basis to signify her married status. The hat was one of very few adornments worn by married women, who, although part of a culture where beadwork plays an extremely significant symbolic role, wore nearly none.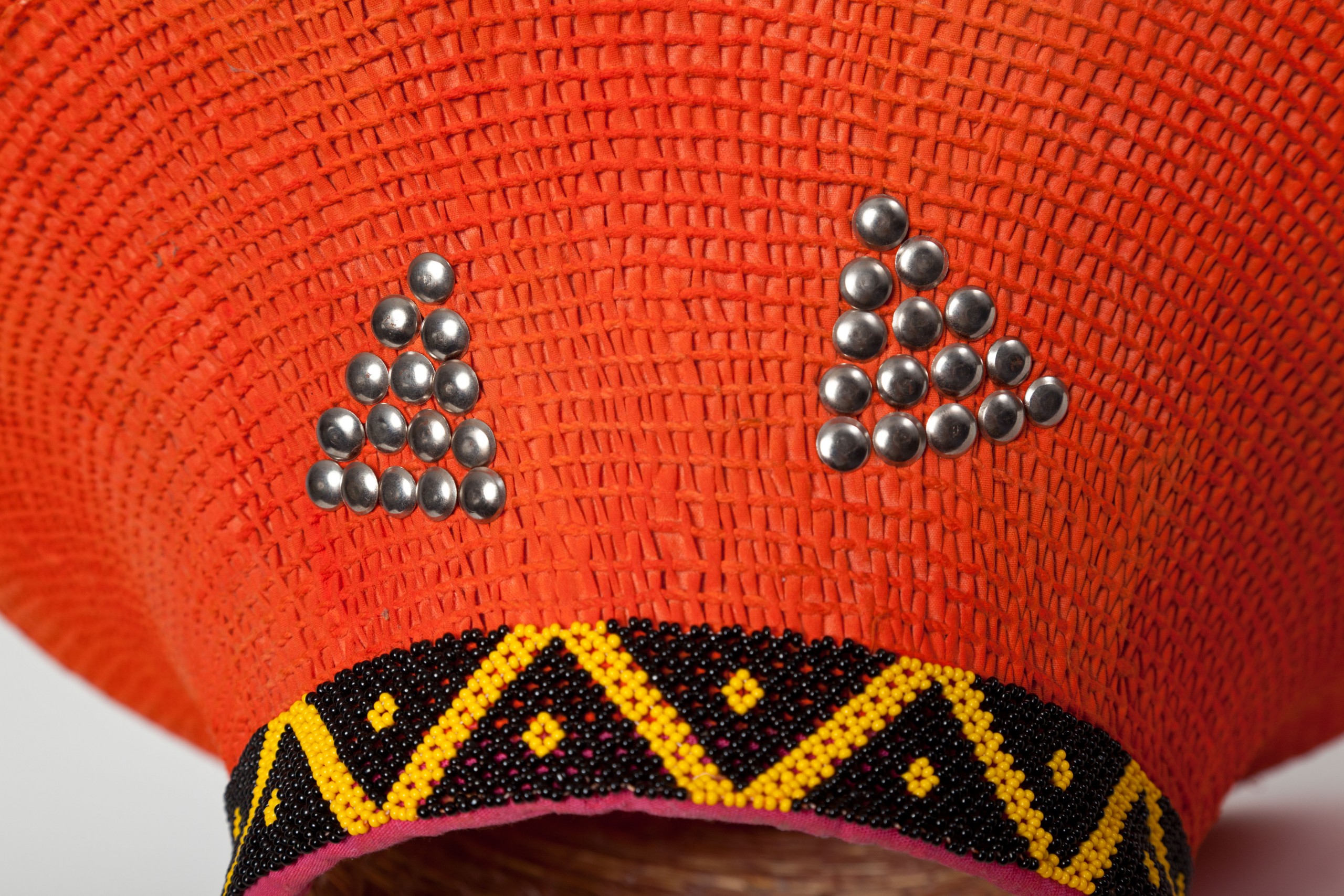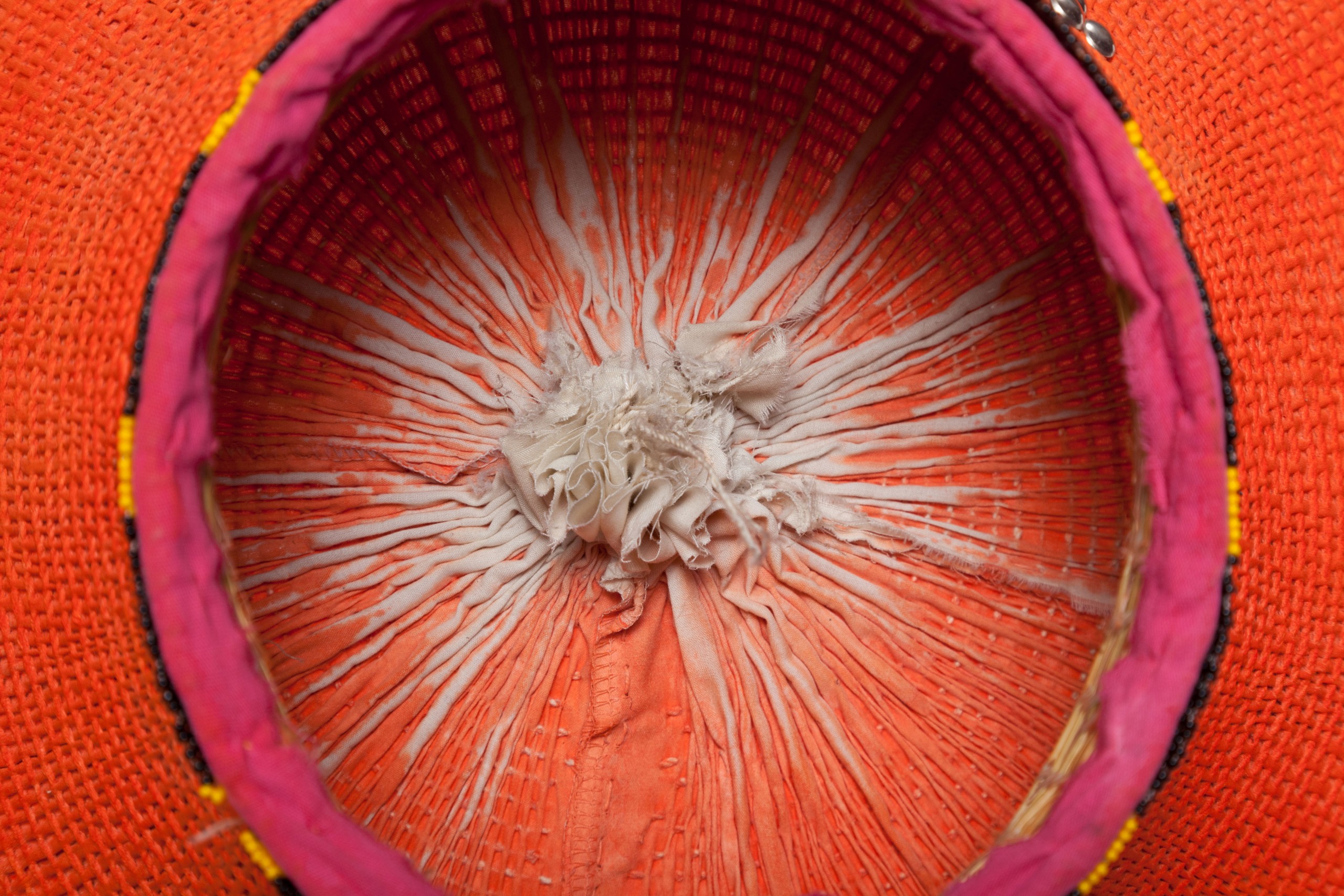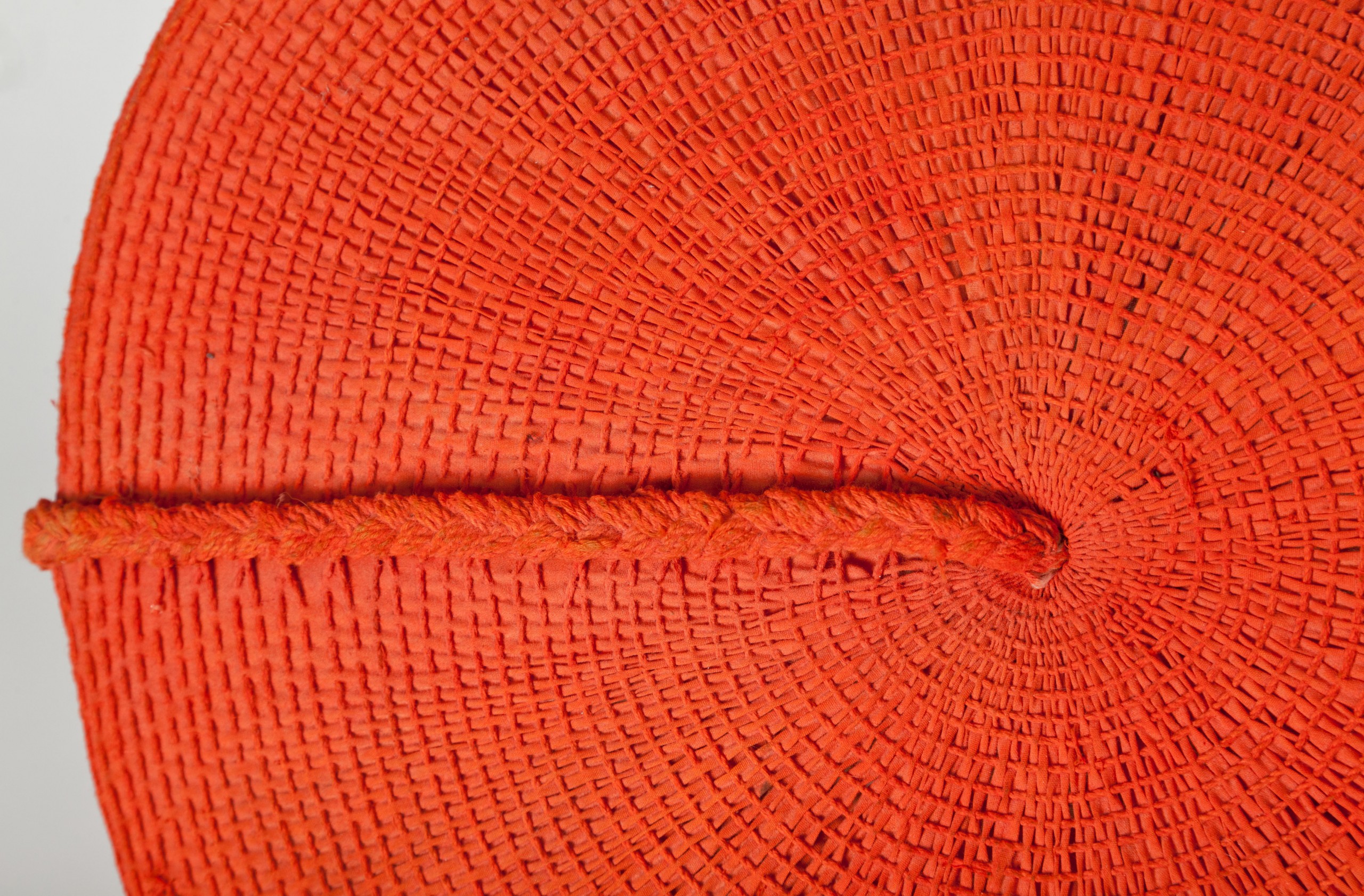 Today the isicholo is no longer worn on a daily basis, but it continues to be used on special ceremonial occasions, when it is commonly worn with an imported scarf tied over the hat to keep the read ochre pigment from rubbing off on the wearer's clothes.
– Leesha Cessna, '13 [Anthropology]
Sources:
Arnoldi, Mary Jo and Christine Mullen Kreamer. "Crowning Achievements: African Arts of Dressing the Head." African Arts 28(1), 1988.
Brottem, Bronwyn V. and Ann Lang. "Zulu Beadwork." African Arts 6(3) 1973.
Joseph, Rosemary. Zulu Women's Music. African Music 6(3): 53-89, 1983.
Smith, Edwin W. "African Symbolism." The Journal of the Royal Anthropological Institute of Great Britain and Ireland 82(1):13-37, 1952.