The Thirteenth Annual Dale E. Benson Lecture in Business and Economic History
A Conversation with Brad Tilden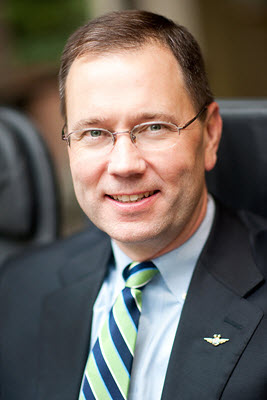 What moments of imagination led to the success of Alaska Airlines? Come find out on Tuesday, October 17, 2017, 7:30 p.m., in the Anderson University Center, Scandinavian Cultural Center (AUC 100), when Alaska Airlines CEO Brad Tilden will engage with students, faculty, and community members in a lively conversation about the past, present, and future of Alaska Airlines. Mr. Tilden and a panel of faculty experts will discuss Alaska Airline's labor practices, environmental policies, and economic impact on the Northwest region.
Panelists: PLU Faculty panelists at this event will include Bridgette O'Brien (Religion), Sergia Hay (Philosophy), Mark Mulder (School of Business), Norris Peterson (Economics), and Master of Ceremonies Michael Halvorson (History).
Mr. Tilden is a PLU alum (1983) and former member of the Board of Regents. Under the leadership of Mr. Tilden and his team, Alaska has earned recognition for ranking highest in customer satisfaction among traditional North American carriers for nine consecutive years. The airline has been widely recognized for its philanthropy, community service, and environmental stewardship. The event is free and open to the public.
Tenth Annual Powell-Heller Conference for Holocaust Education
Our 2017 Conference, "Synagogue & Church", will take place November 1-3 at Pacific Lutheran University.
The conference will dive into the controversial role of the Roman Catholic Church and its relationship to the events of the Holocaust. The speakers will present on the heated debate about the role of Pope Pius XII, examine the role of Catholic anti-Semitism, inaction by many Church leaders, and actions taken by those resisting the Nazis. By contrast speakers will share the courageous stories of individual Catholics who resisted, such as Bernhard Litchenberg.
The final sessions will focus on the changing nature of the Catholic Church vis a vis the Jewish people, with the aim of understanding efforts to improve Jewish-Catholic relations and understanding, providing attendees with a message of hope that antisemitism can be defeated.
The conference is free and open to the public. To register go to: https://www.plu.edu/holocaustconference/