History majors, minors, faculty, and friends
Please join the History Department for a fabulous
Day Hike at Mt. Rainier
to celebrate a new school year and National Public Lands Day
Saturday, September 30, 2017, from 8:30 a.m. to approximately 4:00 p.m.
Note: At 2:00 p.m. on Friday, Sept. 29, we decided to postpone this adventure into the mountains. The weather outlook is for rain/snow on the trail, with temps in the low- to mid-40s. That feels too cold for hanging out together! Please check back for a future date when we can do this!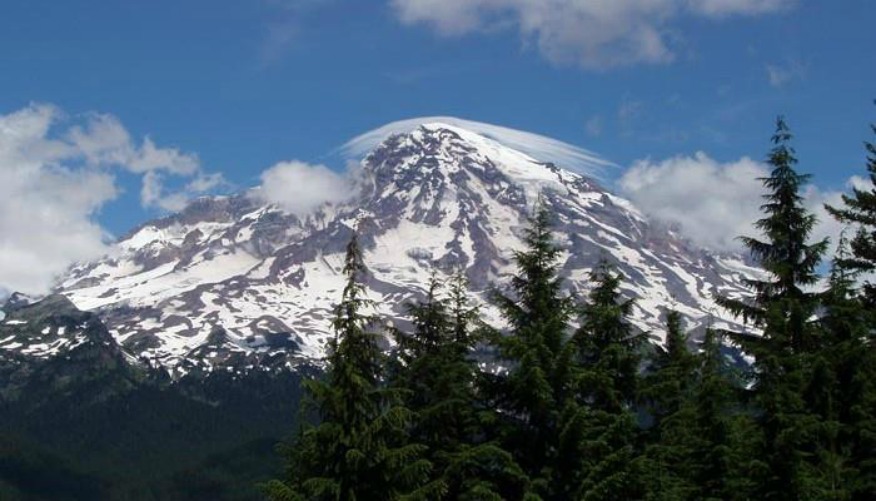 The hike is a 5.4 mile loop trail. 1450′ elevation gain. Average hiking time for introspective historians: 4 hours. Optional readings along the way (John Donne, Petrarch, Rousseau, Muir, Dickinson, Thoreau, etc.)
Departs from Xavier Hall (near front doors) on the PLU Campus. Provide your own transportation – the drive by car is about 1 hr. 40 min. via highway WA-7. The entrance fee to Mt. Rainier National Park (normally $25 per car) is being waved on Sept. 30 to celebrate National Public Lands Day.
Directions: Drive from PLU to Longmire inside Mt. Rainier National Park (SW Entrance), and follow the signs at Longmire to the Trail of the Shadows / Rampart Ridge Trail. For more details, see http://visitrainier.com/rampart-ridge-trail-2.
What to do: Email Mike Halvorson at halvormj@plu.edu to RSVP and get more information. A group email will provide more information and provide final hike details. We are trying to limit this to about 20 people, so sign up asap! Day of hike: Arrive at Xavier Hall, 8:20-8:30 a.m. Bring a day pack, sack lunch, decent hiking shoes, a hat, something warm, a camera, and plan for sun or rain. Amazing selfies with faculty guaranteed!