Michael Diambri Receives Gilder Lehrman History Award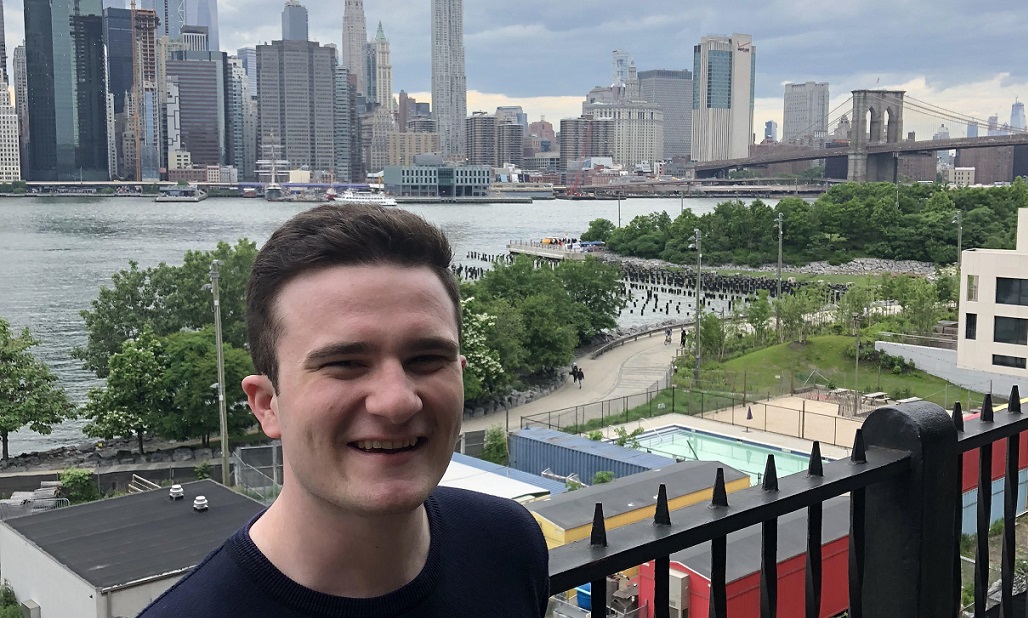 July 31, 2018
By Michael Halvorson, Professor of History.

Welcome to our blog—the place for learning everything about History at Pacific Lutheran University!
Today's post is about PLU History major Michael Diambri '18, a Lute who graduated in May with a B.A. in History along with minors in Women's and Gender Studies and Literature.
Like many PLU students, Michael's interests led him in diverse directions as he sorted out his academic path, but common themes were writing, research, and studying diverse groups on the margins of "traditional" history. Diambri's efforts led him to many fascinating places, including presentations at regional undergraduate history conferences and lots of curious libraries and coffee shops. In Fall 2018, he starts an M.A. program in History at the University of Vermont.
I caught up with Michael shortly after he returned from New York City, where he was visiting to receive the prestigious Gilder Lehrman History Scholar Award (June 2018).
Diambri was one of 15 history students chosen to receive the award from a large nationwide pool of candidates.
While in New York, Diambri met with prominent academics from Columbia University, New York University, The City University of New York, and several other institutions.
Michael also had the opportunity to investigate the Gilder Lehrman Institute's impressive archive as well as materials at the New-York Historical Society. (Historians tend to be pretty geeky when they get the chance to examine historical records up close.)
The long journey was closely related to what Michael had been prepared to do at PLU. "I felt that Pacific Lutheran prepared me well to interact with scholars at these institutions and to discuss archival materials and the methodologies that they use," Diambri said.
"I was especially excited to work with such a diverse and talented group of young scholars, who each brought their own perspective to their work and helped to create such a lively, stimulating environment."
The setting was not that much different than what Diambri encountered in his historical methodology course (History 301) or the history capstone, a mind-expanding treat for most PLU history majors.
A Passion for Research
Diambri had previously published a review of the book Queer Clout: Chicago and The Rise of Gay Politics, by Timothy Stewart-Winter, which he sent along to the awards committee along with a description of his Benson Summer Research Fellowship and Severtson project.
Michael credits his work with PLU faculty members Jenny James (English), Gina Hames (History), Beth Kraig (History), and Jennifer Cavalli (History) for his intellectual growth at PLU, as well as stoking his career interests in History.
Michael Diambri was also active in PLU's chapter of Phi Alpha Theta (the national history honor society), where he served as Vice President during his sophomore and junior years and President during his senior year.
We wish him well as he heads to graduate school at the University of Vermont.
To begin your own history adventures in the Department of History at PLU, take a course or contact department chair Beth Kraig (kraigbm@plu.edu) for more information.
You can learn about the major, minor, and fellowship opportunities on the PLU History website.