PLU adds Innovation Studies minor, helps students transition from college to career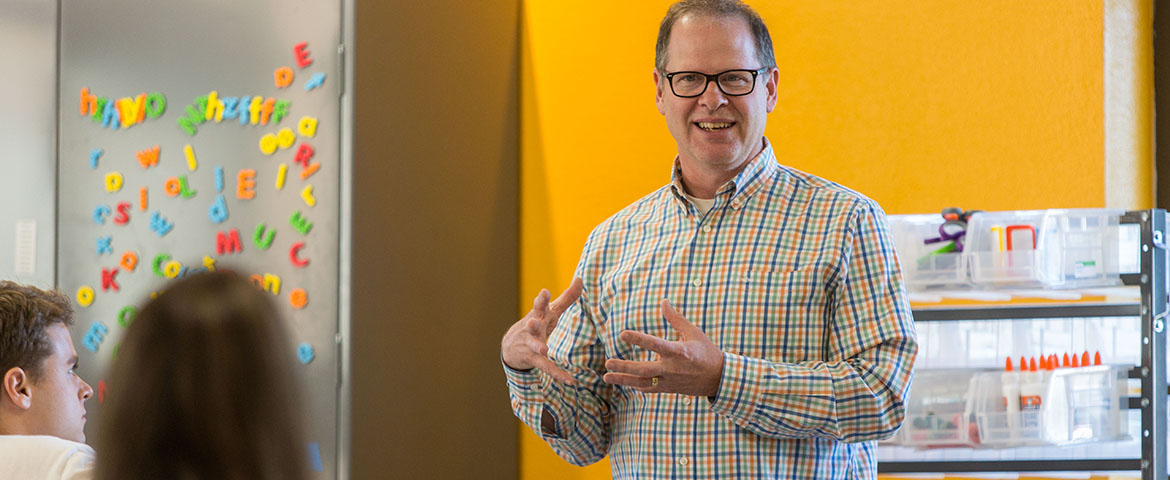 December 21, 2018
TACOMA, WASH. (Dec. 19, 2018) — "Innovation" is a term that gets thrown around a lot. It's had different connotations at different times over the years, both positive and some negative. Through the addition of a new minor, Innovation Studies, PLU students will now get to explore what the concept means conceptually, historically and as a process that builds businesses and unlocks human potential.
"We study a range of fascinating topics but our main focus is on social innovation, which is all about making the world better," said Michael Halvorson, Benson Family Chair and the university's Director of Innovation Studies. "We tried to create a program that aligned with what PLU does best."
Innovation Studies is designed to be interdisciplinary, meaning that it can be packaged with many majors ranging from business to the liberal arts. It's a 20-credit program, which makes it both a flexible and attainable option for students. Halvorson explains that the goal is to create a companion program that supplements a student's major — a bridge from academia to the professional world.
"Let's say you have an art degree and you are a person who's working on graphic design," Halvorson said. "But maybe you don't regularly meet with business or computer science students, and you want to develop a broader range of entrepreneurial skills. The Innovation Studies program is meant to help you achieve the career and leadership goals that you want out of your art program."
The minor embraces creativity and big ideas while leaning into skill-building, providing a toolbox for students to delve into once they've completed their education and started looking for jobs. Those real-world skills include cross-discipline teamwork, problem-solving, hands-on learning, maximizing strengths and limiting weaknesses.
A signature feature of the new minor is the Makerspace, a dedicated area in Hinderlie Hall that allows people to gather, collaborate and stretch their creativity. Whiteboards, art supplies, prototyping materials and communal equipment are available for use, providing an opportunity for creative growth outside a traditional classroom setting.
"We think it's really important for students to use their hands, to work in teams in which they build things," Halvorson said. "We don't just talk about innovation, we put them to work in these specific environments."
For Sarah Cornell-Maier '19, a psychology major who's considering opening her own practice after she's done with school, Innovation Studies was a natural fit.
"I've always been a very creative-minded person," she said. "I think this gives me a very practical addition to my degree … no matter what I choose to do with my career, this is something that can help me."
The minor slipped seamlessly into her graduation path while also checking off additional areas of interest for Cornell-Maier: a business class, a graphic design course, writing for the Innovation blog Halvorson started that's dedicated to highlighting student questions, offering helpful advice and identifying pathways into the minor.
"You get a lot of questions when you say you're an Innovative Studies minor, because few students know what it is," Cornell-Maier said. "They're curious and innovation is a buzzword right now."
As a member of the minor's inaugural cohort, Cornell-Maier spends some time every week volunteering in the Makerspace and helping other students interested in pursuing Innovation Studies. Being such an accessible space is part of Halvorson's plan to grow the campus impact of the program going forward — by making the hands-on learning, questioning and creating something students from all disciplines can take part in, regardless of whether they're pursuing the minor.
"If you look at it from a psych perspective, creating and making things with your hands and having this tangible process of creation or prototyping, it's really beneficial to how you learn and even how you view the world," Cornell-Maier said.
Halvorson has big dreams for Innovation Studies: a stronger partnership with the Parkland community surrounding PLU, more creative spaces across campus, 3D printers for the Makerspace and, ultimately, the creation of an affiliated major program.
But for now, he's really encouraged by what Innovation Studies is accomplishing and the strong interest students are showing in the fledgling program.
"The faculty we have are really excellent," he said. "We have some 20 faculty members who've opted into this curriculum and they bring really strong professional experiences. I think the faculty are having as much fun as the students!"
Find out more
If you're interested in learning more about Innovation Studies minor, click here. If you're looking for the requirements for the minor, visit here.