Sustainability and Innovation: An Interview with Fashion Designer Mariken Lund
An Innovation Studies student explains how she started ELSK the Studio

May 16, 2021
Tacoma, May 16, 2021
This week we interviewed Mariken Lund, a PLU junior and Innovation Studies minor who recently started her own sustainable clothing business in Norway.
Mariken is an international student who normally studies Business and other subjects on the PLU campus. However, during the pandemic she returned to Oslo and took a year of PLU classes remotely. It seemed like a typical distance learning story, until she began experimenting with her mother's 25-year-old sewing machine.
"I saw this old machine sitting in the closet and wondered if I could sew a skirt with it," Mariken recalled. "After some training videos and a little effort, I was making clothes and having fun!"
During the 2020-2021 school year, Mariken also worked through two courses in the Innovation Studies program with Professor Michael Halvorson. Despite learning online, the lessons stuck. "The goal of Innovation Studies is to help us be creative and multiply our impact through teaming and social initiatives. I was hooked!"
Lund continued to experiment with clothing design and her friends began to notice. During Winter 2020, she decided to advertise some of her hand-made products to people in the Oslo area.
The response was strong enough that she launched Elskthestudio.com, a clothing business focused on women's fashion and sustainability initiatives.
In less than six months, Lund had built a website, received a crush of orders, and started averaging 60,000+ views on TikTok and other social media platforms.
Mariken's journey into business and design was enabled by a unique combination of her talents, beliefs about sustainability, and the Innovation Studies curriculum, which trains students to focus on values and entrepreneurial opportunities.
Designer, Student, or Entrepreneur?
We asked Mariken if she was ready to describe herself as an up-and-coming designer or if another label was a better fit. "To be honest, terms like designer and entrepreneur still feel a bit too big for me," Mariken replied.
"What pushed me to start ELSK the Studio was simply a desire to be creative and to do something on my own that didn't feel like office work or a traditional job."
This sentiment about doing something unconventional is typical among students in the Innovation Studies program. The 20-credit minor is designed as a companion program to strengthen each major on campus and make it outward facing. Innovation Studies is currently among the fastest-growing programs at PLU, with students enrolling with core interests in Business, Art & Design, Computer Science, History, Economics, Communication, and more.
Innovation Studies seems to fit a new generation of students that is eager to do something on their own, rather than work at a traditional company.
"I have always enjoyed being creative, and Innovation Studies gave me a push to take my own path," Lund emphasized.
"The Innovation curriculum allowed my creative ideas to take off and flourish. The program gave me permission to try something new that I found inspiring and important. The minor supported my Business degree by giving me the confidence I needed to start a new venture."
Innovation Studies is also embedded in a network of faculty support. "Professor Halvorson inspired our class by encouraging us to start simple with our projects, focusing on social and environmental needs that can be discovered through empathy and compassion."
"We were taught to think about innovation as a design process that walks through several carefully defined stages. This reorientation to problem solving really inspired me."
"I realized that a sketchpad, a laptop, and an old sewing machine were all I really needed. Plus the space to think about my project and its goals."
Mariken's experience speaks to a common misperception about what it takes to start a new venture. Most students think that a new business or campaign needs to be expensive or requires special equipment or expertise.
"I originally thought that I didn't have enough personal capital or confidence to create my own business, " Lund admitted.
"But the Innovation Studies curriculum helped me to understand that the most important work was finding a 'Why' for my venture, and then going through a design process that would help me clarify my ideas, brand identity, and social impact."
A Focus on Sustainability
"In Norway, there is a lot of interest in sustainable products, and I have always been inspired by that," Lund emphasized.
"I was really drawn to the slow fashion industry, which is gaining momentum in Scandinavia and Europe.
This movement focuses on local, hand-made products that have a reduced impact on the environment. My clothing studio recognizes sustainability as an essential component of our design and process. This entails an ethical and empathetic approach to people and the world we live in.
Sustainability means fair wages, a safe working environment, equal pay for equal work, responsible production, full transparency, and more. Today, it is just me at ELSK the Studio, but these design goals will guide our future growth, if that comes."
Right now, ELSK the Studio sells a top in three colors and a skirt in three colors, plus a selection of accessories. "I create them all with my sewing machine, including the hair scrunchies that I make with leftover fabric scraps," Mariken emphasized. "Our goal is to keep all of our products and waste out of landfills."
The slow fashion industry is cautious about industrial manufacturing, especially in countries that have different rules for waste and labor.
"Our orders come mostly from women in Norway now," Mariken explained. "However, I've had several good conversations with sustainable manufacturers in Sweden, and if we chose to make our products there, we will stick to our core  principles."
"Our concept is to create unique, custom-made pieces in classic designs that won't go out of style quickly. We also practice Green Shipping and are inclusive in all respects. Every size, gender, age, ethnicity, and so on are welcome. We are happy to do custom sizing for anyone who wants it."
Trending on TikTok
Mariken has also learned to translate her "Why" to a strong brand message with supporting website and social media marketing.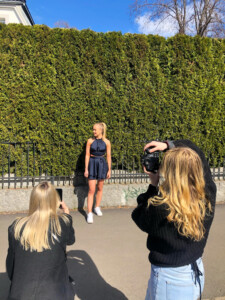 "I created my website using low-cost design software and some essential help from friends."
In the fashion industry, it is also common to offer 'behind-the-scenes' videos for followers about the making process. To establish this momentum, ELSK the Studio released a few short videos on Instagram and TikTok to draw attention to their products.
"Suddenly, some of our videos had over 60,000 views. We were very surprised! In fact, our most popular video had 170,000 views in just one week."
"All of our promotions are designed to attract followers and push our message about sustainability and the value of hand-made designs."
"Basically, the stories are about me and some of my closest friends in Norway, wearing the outfits and having fun together. Most of the photos were taken in Olso, which is a beautiful city with maritime roots, much like Seattle or Tacoma."
Planning for the Future
We asked Mariken what her future goals were, considering she has a successful venture going and a new-found passion for sustainable products.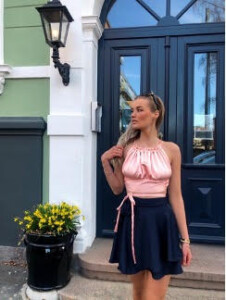 "First, I plan to come back to PLU for my senior year."
"I love the campus, the supportive faculty, and everything about being in America. Throughout the year, I worked with Professor Halvorson and Professor Mulder, and I'd love to get back to campus to see them and all the friends that I have met there."
What about the future of ELSK the Studio?
"ELSK the Studio may be growing in the future. But I didn't start this business to make money. I really just wanted to try a creative venture that would express my values about sustainability and friendship. Clothing design is one way to do that, but there are also other ways, including working on social innovation projects in the South Sound area and beyond."
"At PLU, I learned that entrepreneurship begins with critical thinking—learning about a community, having empathy, defining a key insight, ideating, and creating a range of solutions. All this happens before any checks are written or websites are built."
Lund concluded by emphasizing a core intention of the program: "The problem-solving skills I'm learning in Innovation Studies will fuel a lifetime of creativity."
Links & Resources
To learn more about Mariken Lund and her new venture, visit Elskthestudio.com. Instagram: @elskthestudio. TikTok: @elskthestudio. The book Mariken referred to in this interview is Start with Why, by Simon Sinek (Penguin Books, 2011).
The Innovation Studies courses mentioned here are Hist 248: Innovation, Ethics, and Society and Inov 350: Innovation Seminar, offered each year at PLU.
For more about the Innovation Studies program, visit plu.edu/innovation-studies.