I-94 Arrival/Departure Record
Retrieve I-94 ASAP
It is important to retrieve your I-94 as soon as you return to the U.S. from international travel. You will be asked to provide I-94 number when applying for an Optional Practical Training benefit or at some other occasions.
Trouble retrieving your I-94 number?  Please contact ISS immediately!
How to Retrieve I-94
Get your passport and printer ready! Go to www.cbp.gov/i94 and enter following info:
Family Name
First Name
Birth Date
Passport Number
Country of Issuance (This is your country of citizenship. It is NOT necessarily the country where your passport was issued)
Submit Print Out of I-94 to ISS
Please drop off or email ISS the print out of your I-94 (an example shown below). ISS can keep a copy in your student file just in case you lose your passport. Students who lost their passports were so glad that ISS had a copy!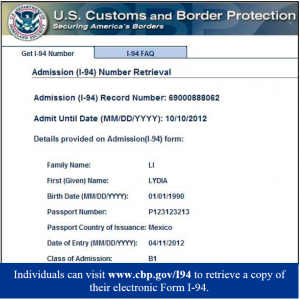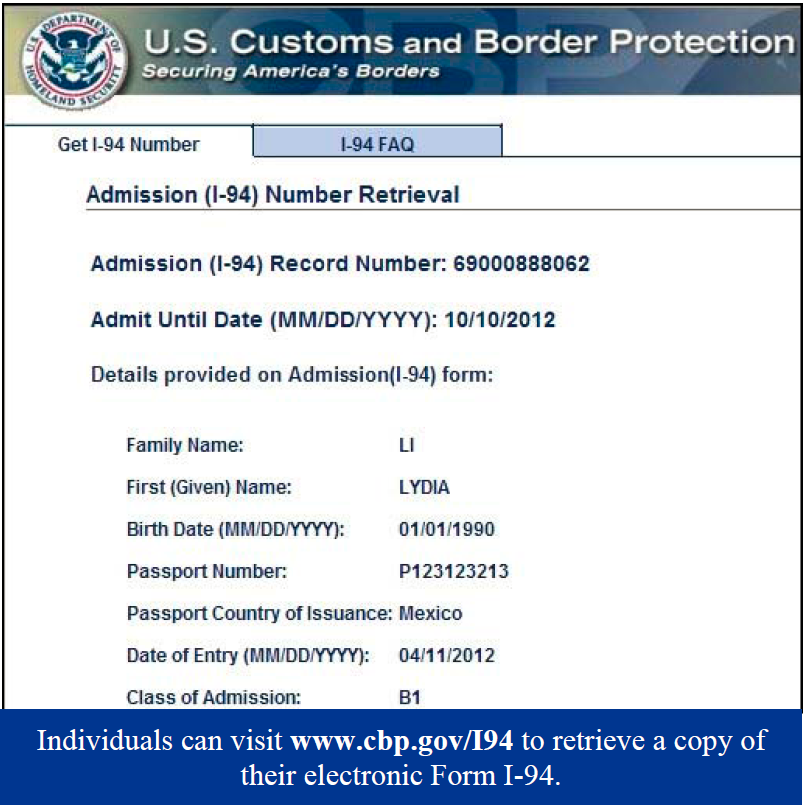 I-94 Corrections
If you notice that Customs and Border Protection (CBP) made an error with your I-94 entry record (misspelled name, incorrect date of entry, incorrect date of birth, incorrect class of admission, etc.), it may be necessary to have your I-94 corrected.
To request an I-94 correction, please follow these steps:
Make electronic copies of the following documents:

Your passport bio page
Your visa page in your passport
The entry stamp in your passport
Your PLU I-20 or DS-2019

Email documents and explanatory statement to CBP's Seattle Deferred Inspection Site at i94.correction.seattle@cbp.dhs.gov

Explain what information is incorrect or missing, and mention which documents you've attached to the email in support of your correction request

Wait for a confirmation email:  It can take several weeks to receive a response from CBP.