The San Juan Islands are an island group in the Puget Sound, known for its magnificent whale watching and nature.
Check out this little island in the Puget Sound where they host a Strawberry Festival every year. It is also home to the All-Merciful Savior Orthodox Monastery.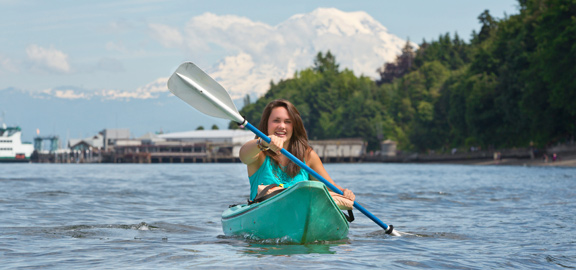 This beautiful waterfall is located 30 miles east of Seattle, and is a popular sight for visitors.
Visit this Bavarian style town and get a taste of German culture. The October Fest in Leavenworth is worth visiting!
Olympia is the state capitol of Washington, and is therefore home to the Capitol Building. Take a tour of the capitol building, or visit the farmer's market in Olympia.
The most famous landmark of the Tacoma area is Mt. Rainier, and for good reasons. Go hiking, snowshoeing or just to admire the wonderful nature.
Part of the Olympic National Park, the Hoh rainforest is one of the largest temperate rainforests in North America. With amazing nature, this is a must-see.
Just a short ferry ride over the Puget Sound will take you to beautiful Victoria, British Columbia.