A Semester in Oaxaca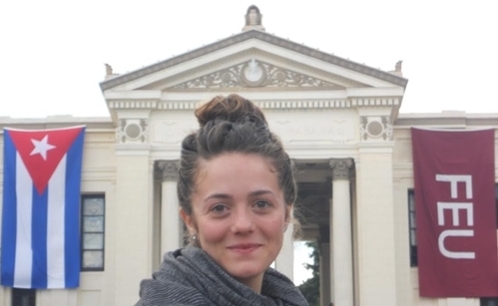 Alexis Stauffer, a junior Hispanic and Global studies double major, spent the fall of 2012 studying the southern state of Oaxaca, Mexico. She remembers struggling to decide between Granada, Spain and Oaxaca before hearing Tamara Williams, director of the Oaxaca program, say that we must get to know our neighbors. "That got me hook, line, and sinker," Alexis says with a smile.
She had been to Mexico three times before to tourist destinations along the coast, but she insists Oaxaca was a different experience. "I really didn't know anything about Oaxaca." The state of Oaxaca is rich in diversity, with sixteen distinct indigenous communities with their own languages and culture. Alexis firmly agrees, "Not everyone in Mexico speaks Spanish."  The Oaxaca program is grounded in social justice, exploring complex and developing human rights issues and movements, including indigenous peoples, women, workers, and more. "I saw development projects for indigenous peoples…and I have a better grasp of what globalization is and what it means, both for us in the U.S. and for people living in Third World countries."  For Alexis, the incredible economic disparities between the United States and Oaxaca helped to put things into perspective. After coming back to the U.S., she saw how invested people were in their material goods over relationships. Just a few hours after being in the airport in the U.S., she saw two children fighting over their mom's iPhone and thought to herself,  "I'm home, I'm back, and I really [thought about] what it means to live here."
In addition to her double major, Alexis is also contracted as a cadet with the National Guard and trains in PLU's ROTC program.  While in Mexico, she always tried to imagine the many perspectives that she has gained as a Hispanic and Global Studies major and as a member of ROTC; "I tried to put myself in the shoes of people who want social rights and the military." It's not an easy job.  Many of Alexis' friends have asked her if she experiences a conflict of morals being a National Guard cadet after having studied social justice in Oaxaca. But she insists on the importance of understanding multiple perspectives of the world. By participating in the ROTC program and studying in Oaxaca, she keeps a hopeful outlook.  "I feel like with ROTC, I will be in a better position to help people."
Alexis also took advantage of the opportunity to study in Cuba during January of 2014 after receiving permission from her National Guard Unit. Her experiences in Oaxaca and Cuba have had an important impact on her goals for the future. "I met a lot of people whose families were up here, or knew someone up here. Almost everyone knows someone in the U.S. It was interesting to hear about their struggles down there as well as [for] their family members [in the U.S.]." She would like to work interpreting or translating in the government, applying both her skills gained from the National Guard and her broader education at PLU.
-Article by Jenny Taylor, 2013-2014 Sojourner Advocate